These really are THE BEST Mashed Potatoes! Made with our special method, they come out extra creamy and are off the charts delicious with the addition of sour cream AND cream cheese.
These mashed potatoes are easy enough that they are our go-to for a family meal on a busy night, but special enough that we use them on the holidays as well! If you want perfect mashed potatoes, you found them!
The Best Mashed Potatoes are EASY + Homemade!
When you find the recipe that is not only the best tasting but super easy and 100% doable on a busy night, you have a WINNER!
These mashed potatoes have been so well loved by our family over the years. When I serve them I constantly get asked for the recipe, so I am sharing it with you today!
The reason why these are the BEST Mashed Potatoes:
EXTRA creamy and full of flavor
EASY – no peeling, babysitting, or extra dishes, just one pot!
Make Ahead– Can be made up to 3 days in advance when needed
Scalable– these are just as easy to make for the holidays to feed a crowd as they are to make for a weeknight dinner for a family of 4.
I hope you enjoy this family favorite as much as we do!
How to Make Garlic Mashed Potatoes from Scratch!
This recipe is as simple and easy as promised. In this section I will walk you through my personal notes, tips, and tricks for this recipe.
Since we have readers with a variety of experience levels that use our recipes, I will add a lot of detail and hope to answer all of the questions that may arise when cooking. If I miss your question, please feel free to leave me a note in the comments.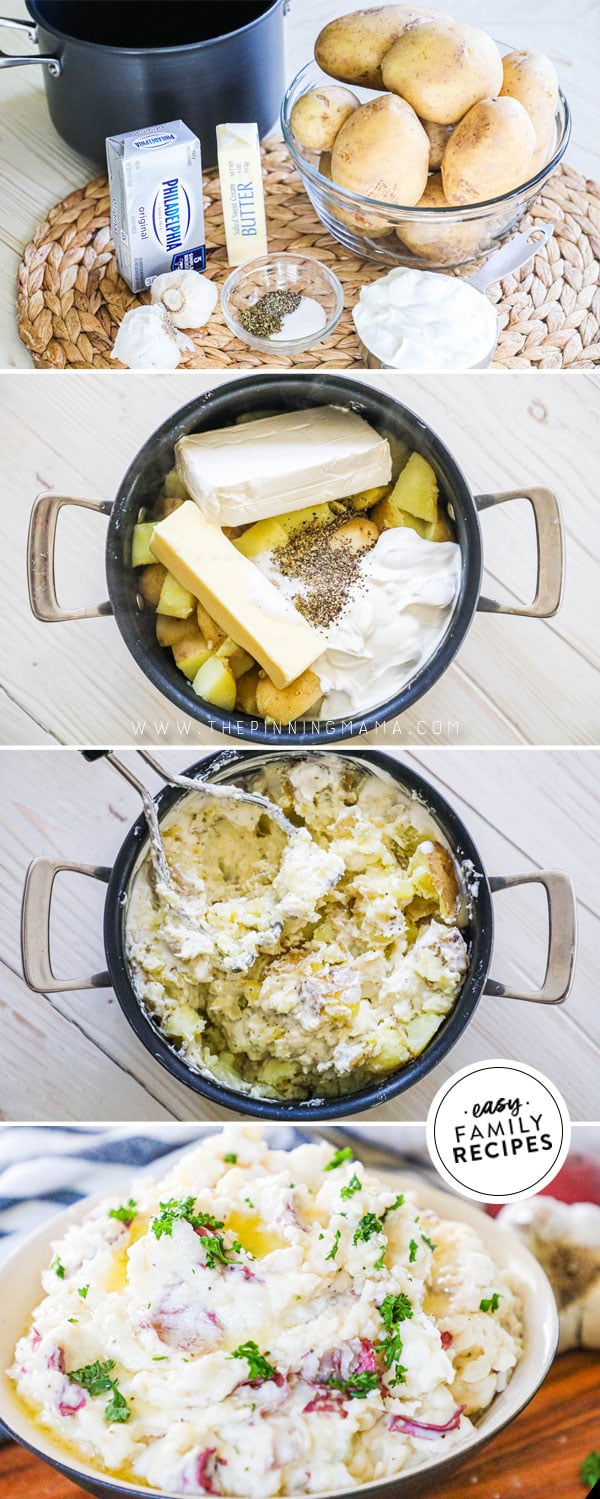 The Ingredients
These are a basic, yet flavor packed garlic mashed potato. We use simple, everyday ingredients to get the most flavor and the best creamy texture possible!
The Best Potatoes for Mashed Potatoes
The best mashed potatoes start right with your selection of potatoes. Yukon Gold or Red Potatoes definitely make the most creamy and delicious mashed potatoes!
It may seem like all potatoes are basically the same, but in reality potatoes have varying levels of starch content which can make the end result after cooking quite different.
Yukon Gold are my favorite pick because:
They boil well
The peel is tender and flavorful so no peeling is needed
They are naturally buttery
They mash without getting gummy
This recipe can be used with both yukon gold or red potatoes, as you can see in my photos, we make them with both!
The Garlic
These Mashed Potatoes use not one but TWO kinds of garlic to flavor them!
It may seem like a lot, but don't worry, our secret little method of boiling the garlic along with the potatoes, not only makes the process easier (no messy garlic presses) but also cooks the garlic perfectly to mellow the flavor.
The garlic powder gives it a little extra boost at the end, and you can add more or less to taste based on how garlicky you like your potatoes to be.
EXTRA CREAMY
The key to getting the potatoes to be extra creamy is the combo of:
Butter
Cream Cheese
Sour Cream
We don't use milk in this recipe, but instead sour cream to make the potatoes even more creamy and give them a hint of tanginess! The cream cheese also adds tons of flavor and supports the texture of the mashed potatoes, while being able to melt right in.
How Long to Boil the Potatoes
This step is KEY!
How we boil the potatoes for mashed potatoes is a huge part of how they turn out in the end.
Always cut the potatoes before boiling. This will allow them to cook more quickly and evenly, resulting in a much creamier and tastier potato!
The potatoes should be cut into 1-2 in chunks as uniformly as possible. Depending on the size of your potatoes, this is usually cutting them into quarters or eighths.
Bring the water to a boil, then cook them for 8-12 minutes or until a fork can easily pierce them.
Dry The Potatoes
This sounds strange but is super easy and another key to what makes these the best mashed potatoes.
All you have to do is drain the potatoes in a collendar, then return them to the hot pot they came from and place them back on the hot burner (that you cooked them on but is now turned off.)
The residual heat from the pot will help the extra water evaporate from the potatoes which allows us to get creamier potatoes instead of watery potatoes.
Mash the Potatoes
Last but not least, we need the perfect mash.
I leave the potatoes on the burner and add the cream cheese, sour cream, butter, garlic powder, salt, pepper and oregano right on top.
Then I use a potato masher to mash the potatoes as I stir the ingredients into them.
Once you get the desired consistency (I like mine a little chunky) you can switch to a spoon and make sure everything is fully incorporated.
Tip: Avoid over mashing the potatoes. When they are over mixed or worked too much, they can start to become gummy.
Recipe Variations
These Garlic Mashed Potatoes are great because they have a flavor that meshes well with many other flavors and different dishes. They make an excellent base to expand on if you want to get creative and try something new!
Here are a few variations for the classic garlic mashed potato recipe.
Garlic Parmesan Mashed Potatoes – Make as directed stirring in 1 cup of shredded parmesan cheese with the cream cheese and sour cream. Top with additional grated parmesan to serve.
Bacon Ranch Mashed Potatoes – Mix in 2 packages of dry ranch seasoning per 5 lbs of potatoes along with the cream cheese and sour cream. Once the potatoes are combined, stir in 1 cup of crispy crumbled bacon.
Fresh Herb Mashed Potatoes – Make as directed. Add 1 tbsp freshly chopped rosemary, 3 tbsp freshly chopped oregano, 3 tbsp freshly chopped basil, and 1 tbsp freshly chopped thyme to the potatoes at the end and stir them in to evenly distribute. Top with melted butter and a sprinkle of coarse sea salt.
Pesto Mashed Potatoes – Reduce sour cream to 1/2 cup and add 1/2 cup freshly prepared pesto when mixing in the cream cheese and sour cream.
Cilantro Cheddar Mashed Potatoes – Make as directed adding 1 cup (or more to taste) of freshly shredded sharp cheddar cheese when mixing in the cream cheese. Once the potatoes are mashed and mixed, stir in 1/2 cup (or more to taste) finely chopped fresh cilantro.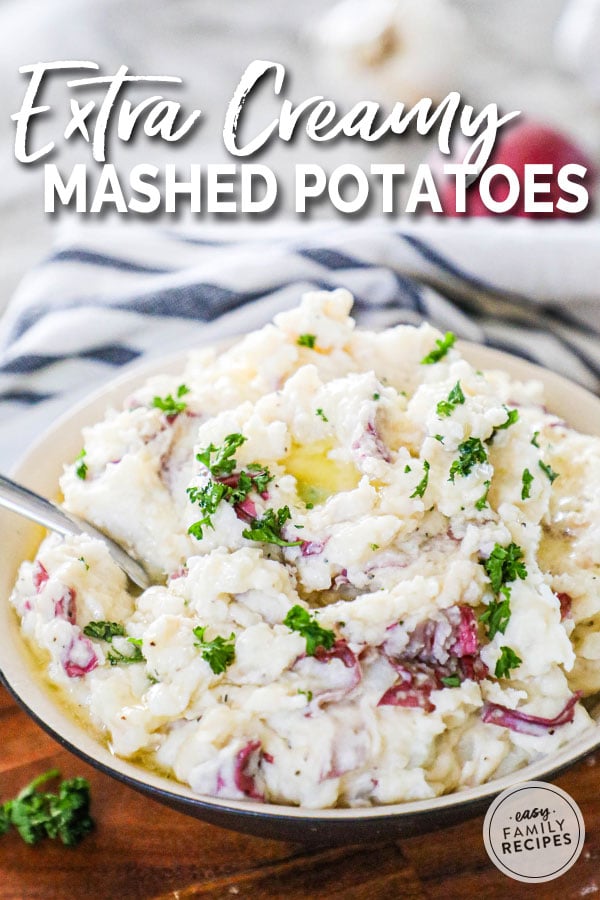 Make Ahead Mashed Potatoes
If you want to get ahead for a busy week, or for a holiday meal, you can prepare these mashed potatoes ahead of time and simply reheat before serving.
Not all mashed potatoes work well for being made ahead, but the combination of using a low starch potato, preserved with dairy fat from the ingredients allows these potatoes to reheat well without becoming watery or grainy like other recipes.
Refrigerator Directions
You can make these mashed potatoes up to 3 days ahead of serving when stored in the refrigerator.
To make ahead:
Make potatoes as directed in the recipe.
Store in an airtight container in the refrigerator.
Reheat per directions below.
Freezer Instructions
Make as directed in the recipe.
Scoop in single servings onto a cookie sheet and freeze, then transfer to a freezer bag or airtight container.
-OR-
Freeze larger portions in a freezer bag. Scoop into the bag, squeeze out air and tightly close, then use a rolling pin to flatten so it can be stored flat and stacked.
When ready to eat, thaw for 24-48 hours in the refrigerator.
Reheat per directions below.
Reheating Make Ahead Mashed Potatoes
When you are ready to serve the mashed potatoes you can reheat them on the stove top, or in the oven or even the microwave!
Stove top
Place mashed potatoes in a pot.
Heat over low-medium heat, stirring regularly.
Stir in milk or cream a tablespoon at a time until they are are the desired consistency using up to 1/4 cup.
Oven
Place mashed potatoes in an oven safe dish and cover with foil.
Place in an oven preheated to 350˚F. Bake 10-20 minutes, or until heated through.
Stir and add milk or cream as needed.
Microwave
Place mashed potatoes in a microwavable dish and cover with a paper towel.
Microwave for 1-2 minutes depending on how much is in your dish.
Stir well, and continue to microwave in 30 sec-1 minute increments until the potatoes are heated through.
Add milk or cream as needed to create the correct consistency.
How to Serve Mashed Potatoes
These homemade garlic mashed potatoes are delicious enough to be eaten on their own, but also flavor neutral enough to be served with white or brown gravy if that is your preference!
Topping options
Here are some other topping options that taste great with mashed potatoes:
Butter
Chopped green onions
Parmesan cheese
Bleu cheese
Crumbled bacon
Main dish pairings
Mashed Potatoes go well with holiday meals and every day meals! Here are some of our favorite entrees that go well with mashed potatoes.
Holiday dishes
Every Day Dinners
Chicken Marsala
Crockpot BBQ Pulled Pork
Healthy Baked Chicken Tenders
Balsamic Pot Roast
Creamy Chicken and Asparagus
More EASY Side dish options
I really hope that you enjoyed my favorite mashed potato recipe as much as my family does! If you did, please take a moment to look through a few more of our side dish recipes and mark something to add to your next dinner!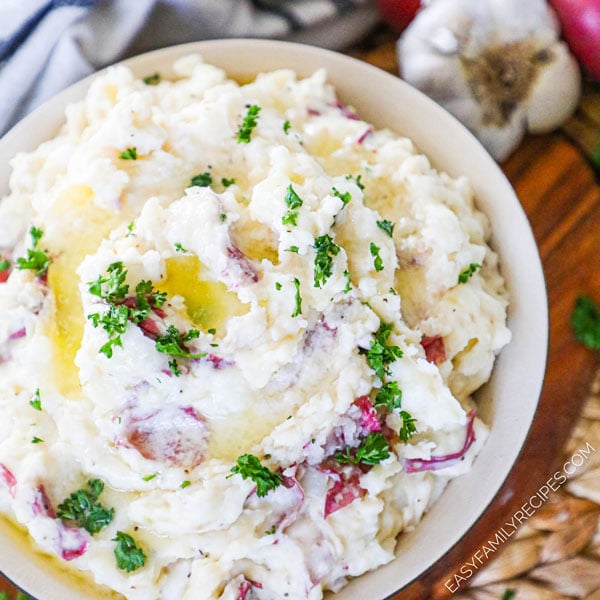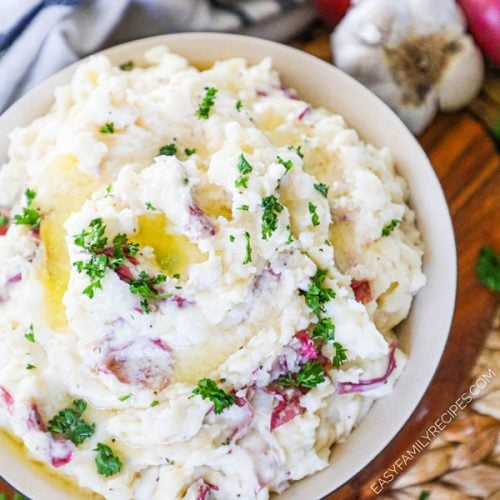 Garlic Mashed Potatoes
This Homemade Mashed Potatoes recipe is a family favorite! Made extra creamy with sour cream and cream cheese and perfectly flavored with garlic, these are packed with the best flavor!
Ingredients
5

lbs

Yukon gold potatoes

,

(or red potatoes) cut into large chunks

8

cloves

garlic

,

fresh

8

oz

cream cheese

8

oz

sour cream

1/2

cup

butter

2

tsp

salt

1

tsp

ground black pepper

1/2

tsp

dried oregano

1/2

tsp

garlic powder
Instructions
Bring a large pot of water to a boil.

Rinse potatoes and cut into large chunks. Place the potatoes and garlic cloves in boiling water and cook for about 8-12 min or until they are fork tender. (Cooking time will vary based on altitude)

Drain water from the potatoes and replace in the pot on hot burner and let sit 1-2 minutes. Add sour cream, butter, cream cheese, salt, pepper, and oregano.

Use a potato masher to mash the potatoes to the desired consistency combining with the cream cheese, sour cream and seasonings as you mash. Once they are at the right consistency, switch to a spoon and stir to make sure everything is incorporated evenly. Serve warm with butter or gravy! Enjoy!
Recipe Notes
Flavor
Both the garlic powder and salt can be scaled up or down to taste.
Potatoes can be topped with butter, gravy, chopped parsley, and/or chopped green onions or scallions.
Smaller Portion
To scale down for a family, use:
2.5 lbs potatoes
4 cloves garlic
4 oz cream cheese
1/2 cup sour cream
1/4 cup butter
1 tsp salt
1/2 tsp pepper
1/4 tsp oregano
1/4 tsp garlic powder
Make Ahead Mashed Potatoes Instructions
These can be made up to 3 days in advance and stored in the refrigerator or up to a month in advance when stored in the freezer.
Prepare as directed.
Refrigerate in an airtight container.
When ready to serve, heat in a pot over medium heat stirring regularly for 5-10 minutes or until heated through. Stir in up to 1/4 cup milk or cream a little at a time, if needed to keep the potatoes the right consistency and creaminess.
-OR-
Heat in a microwave safe dish for 2 minutes. Stir and continue to heat at 30 sec-1 min increments stirring in between until potatoes are heated through. Stir in up to 1/4 cup milk or cream a little at a time, if needed to keep the potatoes the right consistency and creaminess.
Dietary Considerations
This recipe is naturally gluten free!
Nutrition Information
Calories:
212
kcal
(11%)
,
Carbohydrates:
19
g
(6%)
,
Protein:
5
g
(10%)
,
Fat:
14
g
(22%)
,
Saturated Fat:
8
g
(50%)
,
Cholesterol:
38
mg
(13%)
,
Sodium:
413
mg
(18%)
,
Potassium:
631
mg
(18%)
,
Fiber:
4
g
(17%)
,
Sugar:
1
g
(1%)
,
Vitamin A:
456
IU
(9%)
,
Vitamin C:
17
mg
(21%)
,
Calcium:
76
mg
(8%)
,
Iron:
5
mg
(28%)