All of the delicious flavor of cream cheese jalapeño poppers are stuffed into this Jalapeño Popper Chicken Casserole recipe to make a quick, easy, and over the top tasty dinner.  You will find tender chicken breast layered with cream cheese and topped with fresh jalapeño peppers and rich cheddar cheese and finished off with the perfect amount of crispy bacon.  If you love jalapeño poppers as an appetizer you are going to go crazy for this easy dinner recipe. 
Jalapeño Popper Chicken – The EASY WAY!
I have been creating easy chicken dinner recipes for a long time. I have quite a lot of them! When it hit me the other day that I had never put all the flavors of one of my favorite appetizers into a chicken dinner, it was kind of a "well, duh!" moment.
I mean what could be better than chicken layered with cream cheese, peppers, cheddar and bacon? It was meant to be.
So I started playing around, and it did take me a couple of tries to get the recipe just right, but this last one I made was definitely worthy of sharing, especially after it got high praise from my husband, who is pretty hard to impress when it comes to dinner. He is my chief food critic, and after eating all of the hundreds of chicken meals I have made over the years, so he knows what is extra delicious!
Why I LOVE this Recipe
Hands down delicious– It is a crowd pleaser and can be made mild or spicy
Really simple– No fancy cooking techniques, this one is super easy!
Only a few ingredients– and you may already have them on hand
One Dish – one basic casserole dish is needed, so its quick to make and to clean up
FAST! You can get from the fridge to the oven in as little as 15 minutes.
How to serve Jalapeño Popper Chicken Casserole
It is a little hard to imagine this Jalapeño Popper Chicken Casserole not going well with something, but there are a few sides that do pair extra well with this recipe. Once you remove the Jalapeño Popper Chicken Casserole from the oven, you will want to serve it while it is nice and hot.
Generally a serving is about 4 oz of chicken which can vary based on size, but is generally around half of an average grocery store chicken breast. I like to serve the chicken and all the jalapeño popper toppings with a couple of sides to make a well rounded meal. Here are a few suggestions:
Traditional Serving Options
Low Carb Serving Options
I like to combine a veggie and a traditional side to make a nice rounded meal, but you can mix and match however you like and fits your family's diet and taste preferences. If you have a great serving suggestion I missed, make sure and leave me a comment below so I can give it a try!
How to make Jalapeño Popper Chicken Casserole
This recipe is both super tasty and also super quick and easy! I am going to walk through some of my tips on making this Jalapeño Popper Chicken Casserole recipe, so if you have any questions, hopefully they will be answered below. If not, you should always feel free to drop questions in the comment section below and I will try to help!
If you just want the quick version of the recipe, feel free to skip down to the printable recipe card at the bottom of the post.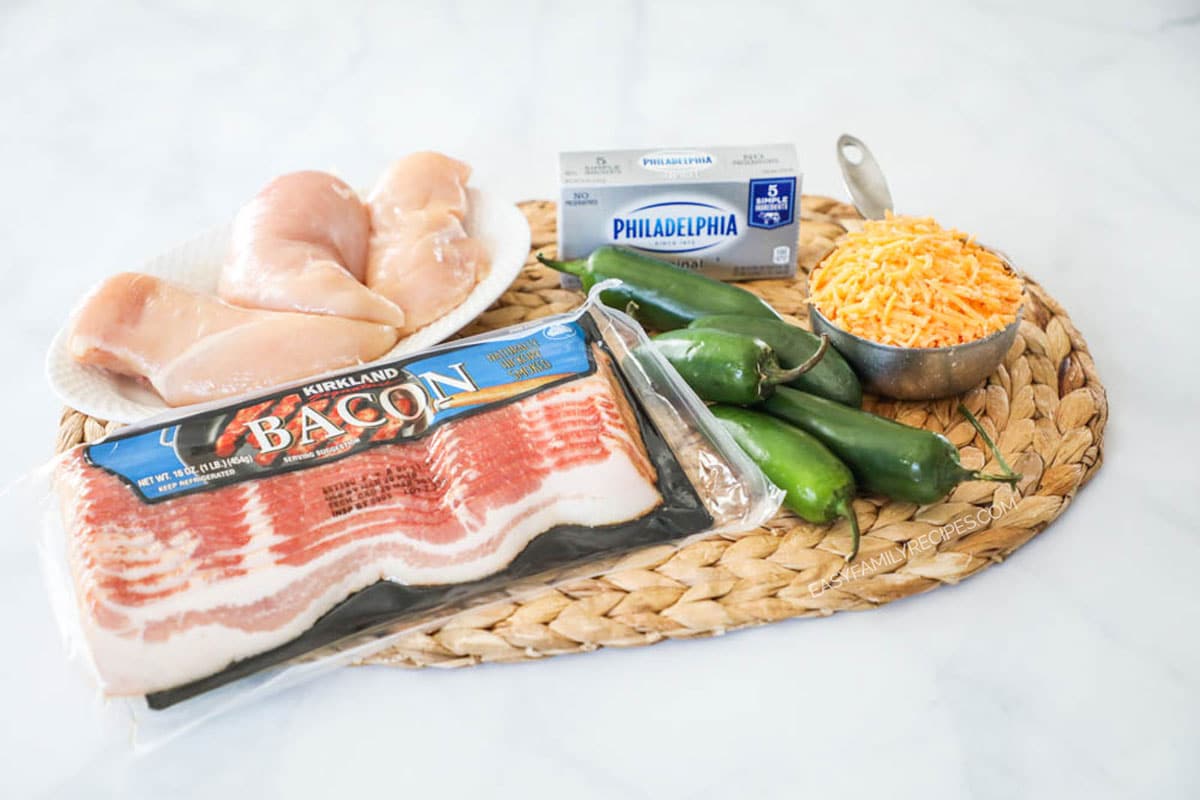 Ingredients
Chicken breast- This will be about 3-4 average sized chicken breasts. If the chicken breasts are thick, I recommend cutting them in half so that they are half the thickness. This will help the dish cook more quickly and evenly.
Garlic powder
Cream cheese- I use regular Philadelphia cream cheese when I make this recipe. You can also sub light cream cheese, but fat free cream cheese will not work will since it doesn't melt the same way.
Fresh jalapeño peppers- You can find fresh jalapeños in the produce department of any grocery store.
Sharp cheddar cheese- I really prefer sharp cheddar for this recipe. It is great because it packs a lot of flavor. If you are in a pinch you can substitute mild cheddar or mexican blend cheese.
Crumbled crispy bacon- I think fresh bacon works best for this. I like to cook bacon in the oven like this and then throw the leftovers in a bag in the freezer so I can reuse them easily in any recipe. Make sure the bacon is nice and crispy, then crumble it up until you get half a cup.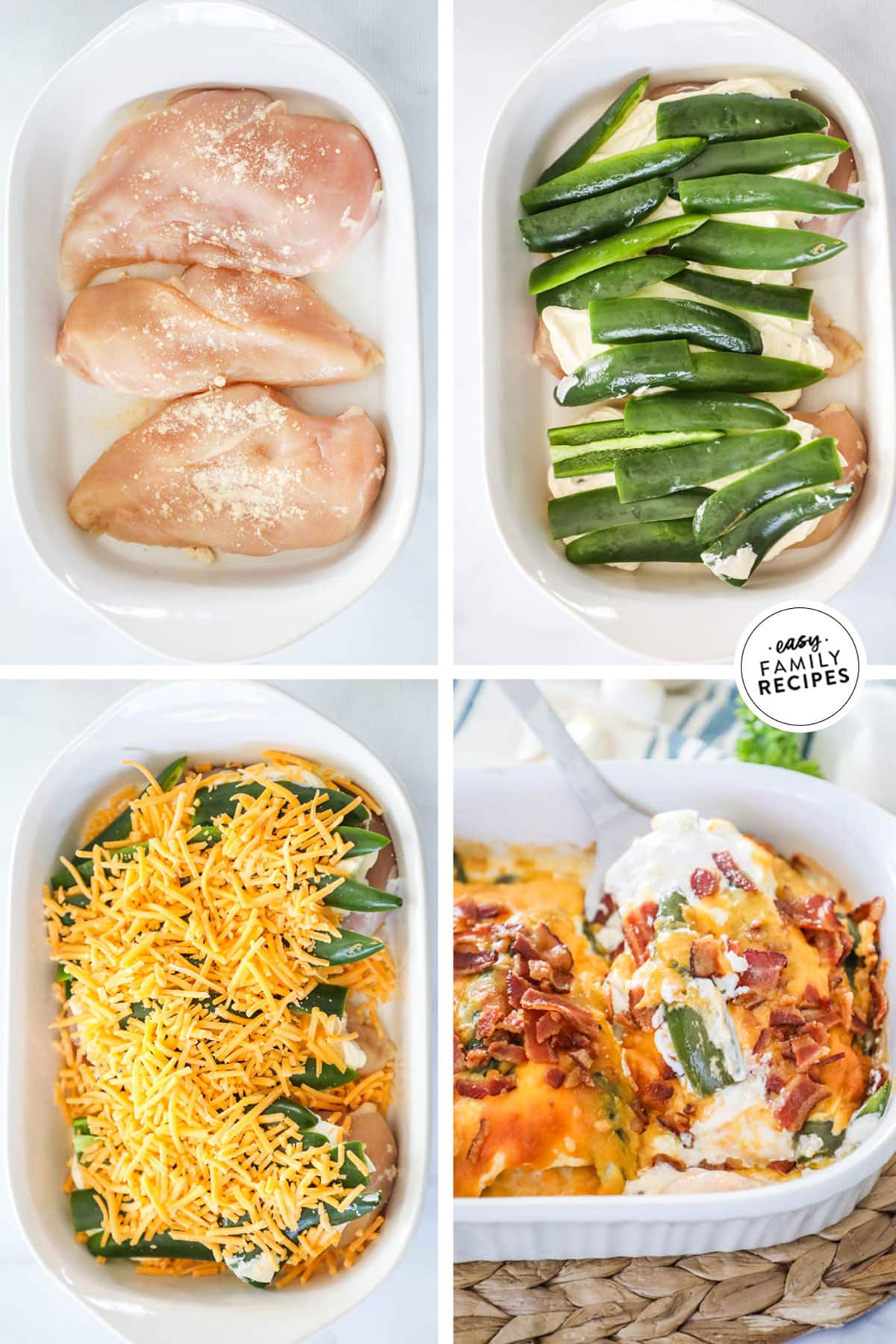 Recipe Tips
Use thin chicken breasts– If you want the most tender, juicy chicken, it helps to either slice or pound the chicken thin. This allows the meat to cook more quickly and evenly, which will help it stay more tender and juicy, not to mention give you more surface area for that delicious Jalapeno Popper topping!

Control how spicy it is- This dish can range anywhere from a mild level of spicy, to very spicy. It will all depend on how you prepare the jalapeños. To make this kid-friendly, I remove all seeds and ribs from the jalapeños which will make them mild.

If you like spicy food, I recommend leaving some or all of the seeds and ribs in the jalapeños. You can also just remove some to take the heat down a notch but still give a little kick.

Use a Large Casserole Dish – Another key tip to even cooking is a large pan. You want to use a casserole dish, or oven safe pan with sides, that allows you to lay the chicken breasts in flat, without overcrowding or layering them. A pan that is too small will make the chicken bake take longer to cook.

Don't overcook – One of the main reasons for dry, stringy chicken is overcooking. For this recipes it is as simple as not leaving it in the oven too long! After you've remove the foil, let it bake for 5 more minutes, then check the temperature with a meat thermometer if possible so you pull them out at the perfect 165°F.
Recipe Short Cuts
If you need to make this recipe, but are extra short on time, here are a few ideas that can help make this recipe even faster!
Use jarred jalapeños– Although I think it gives a more authentic Jalapeno popper flavor with fresh jalapeños, you can save some time by using jarred jalapeños.
Use pre cooked chicken– I have had great luck when time is short, using pre-cooked chicken breast (I use this baked chicken recipe) and then just adding the toppings on and baking to heat everything through.
Prepare as a freezer meal– This can go from fridge to oven when you have already prepped it in advance. See full directions below.
Recipe Variations
If you love this recipe as much as we do and want some quick ways to change it up for variety, these little tips will do the trick!
Jalapeno Popper Stuffed Chicken– If you want to make this a little fancier, you can stuff the filling inside instead of baking it on top of the Jalapeno Popper Chicken. To do this, instead of pounding the chicken flat, cut a slit in the chicken. To prepare the filling, dice the jalapeno, and mix it with the cream cheese and cheddar cheese, then stuff it inside the chicken breast. I recommend searing the outside of the chicken in a skillet, then transferring the chicken to the oven to finish baking.

Crockpot Jalapeno Chicken– To make this recipe in a crock pot, layer the chicken jalapeno, and cream cheese in the crockpot and cook on high for 2.5-3 hours, or low for 3.5-4 hours. Then before serving, sprinkle with cheddar cheese and crispy bacon.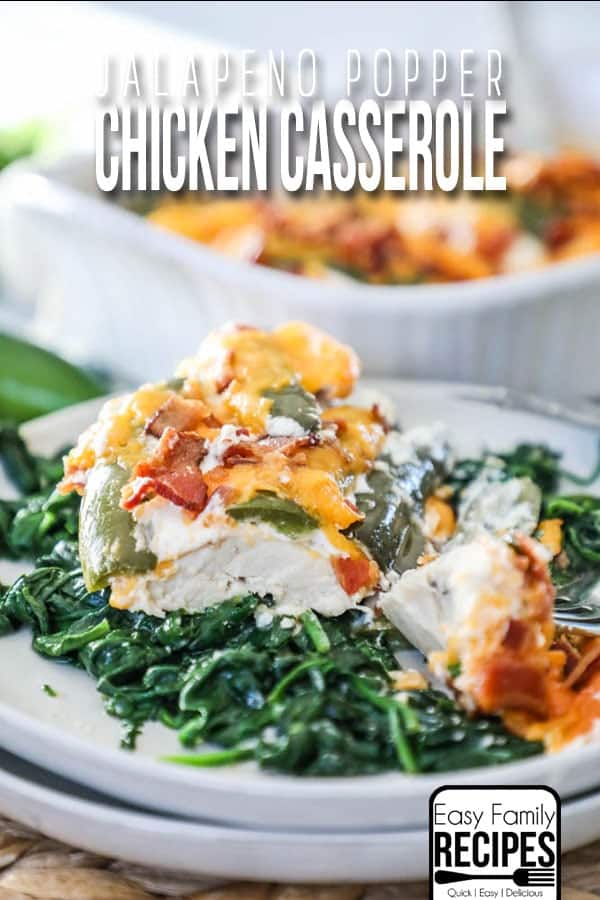 Freezer Meal Instructions
Making this Jalapeno Chicken recipe into a freezer meal is simple! Follow the steps below and you can store this recipe in the freezer for up to 6 months.
Season the chicken as directed and spread cream cheese on top.
Lay the jalapeno peppers on, then top with cheese.
FREEZE
Once ready to cook, thaw for 24-48 hours in the refrigerator and then bake as directed. *Cook time may increase by up to 10 minutes since it will start from a colder point.
Jalapeno Popper Chicken Leftovers
If you have leftovers after making this Jalapeno Chicken then it is your lucky day! They save and reheat well, and can make the start of another delicious dish.
To save leftovers, separate into meal sized portions and then place in an airtight container and store:
in the refrigerator for 3-4 days
in the freezer up to a month
Leftover Recipes
Here are a few ways to repurpose those leftovers and give them a delicious makeover!
Chicken Jalapeno Popper Quesadilla– Dice the leftover chicken and toppings and place in a large tortilla. Top with additional shredded cheese as needed. Grill in a large skillet over medium heat on each side until golden. I recommend serving with our Jalapeno Ranch Dressing.
Jalapeno Popper Chicken Tacos– Heat and chop leftover jalapeno popper chicken. Arrange in tortillas and top with shredded cabbage and corn salsa.
Chicken Jalapeno Popper Sandwich– Heat leftover chicken. Toast a bun, then arrange the chicken on the bun. Top with lettuce and sliced onion. Add Jalapeno Ranch Dressing on either side of the bun.
More Easy Chicken Recipes
If you enjoyed this recipe, I really hope you will take a moment to grab a few more easy recipes for another busy night!
You can check out all of my Chicken recipes here, or see a few of our readers favorite recipes below.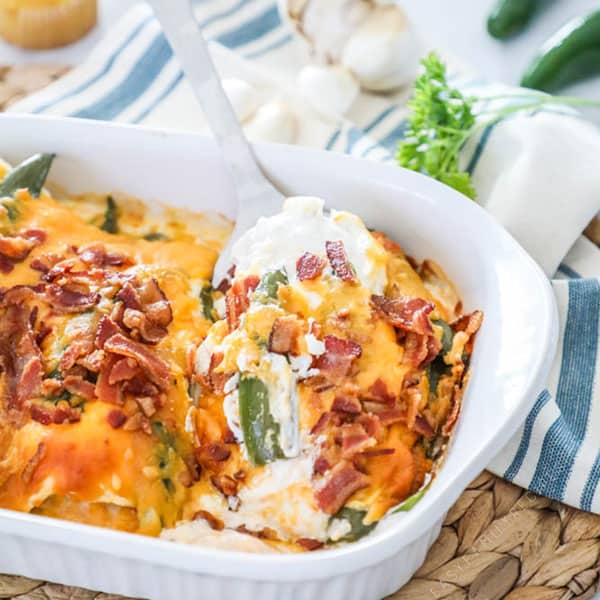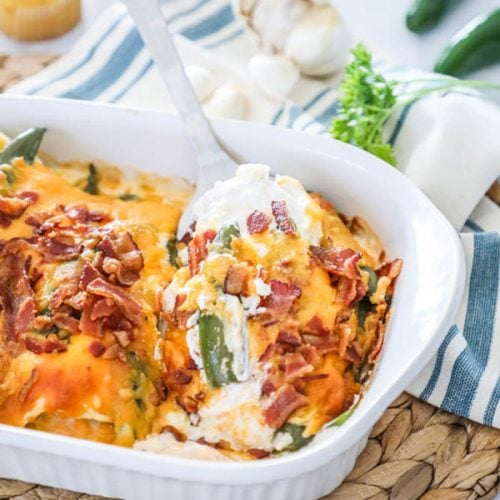 Jalapeño Popper Chicken Casserole
All of the delicious flavors of Cream Cheese Jalapeño Poppers are packed into this delicious dinner recipe! Jalapeño Popper Chicken Casserole is both delicious and quick and easy to make which is a winning combination for a busy day's meal. As a bonus this recipe is also gluten free, low carb and keto diet friendly.
Ingredients
2

lbs

chicken breast

,

boneless skinless, (about 3-4 chicken breasts)

1/2

tsp

garlic powder

8

oz

cream cheese

,

softened

1/2

pound

jalapeño peppers

,

fresh, about 5-6 peppers

4

oz

sharp cheddar cheese

,

grated

1/2

cup

crispy bacon

,

crumbled
Instructions
Preheat the oven to 375˚F

Lay chicken breasts flat in a casserole dish.  Season them with the garlic powder then spread the cream cheese over them evenly.

Wash the jalapeño peppers and then cut the tops off.  Remove the seeds and stems if you want it milder, or leave some if you want more spice, then cut the peppers into strips and lay them on top of the cream cheese then sprinkle the cheddar cheese over top.

Bake for 40-45 minutes, remove from oven 5 minutes before cooking is complete and sprinkle with bacon then return for the remaining cook time.  Chicken is done when cooked through to an internal temperature of 165˚F.

Serve warm with a side of potatoes, veggies, or a baked potato.  Enjoy!
Recipe Notes
You can cut the chicken in half, chunks, or use chicken tenderloins in lieu of full chicken breasts to make serving easier. Cooking time may be reduced.
Leftovers can be stored in an airtight container for 3-4 days in the refrigerator or in the freezer for up to a month.
Dietary Considerations:
This recipe is naturally gluten free, low carb, and friendly for low carb and keto diets.
©2018 Easy Family Recipes- Recipe found at: https://www.easyfamilyrecipes.com/jalapeno-popper-chicken-casserole/
For more great easy dinner inspiration, sign up for our emails here!
Nutrition Information
Serving:
4
oz chicken + toppings
,
Calories:
401
kcal
(20%)
,
Carbohydrates:
3
g
(1%)
,
Protein:
37
g
(74%)
,
Fat:
27
g
(42%)
,
Saturated Fat:
13
g
(81%)
,
Polyunsaturated Fat:
5
g
,
Monounsaturated Fat:
0
g
,
Trans Fat:
0
g
,
Cholesterol:
133
mg
(44%)
,
Sodium:
976
mg
(42%)
,
Potassium:
0
mg
,
Fiber:
1
g
(4%)
,
Sugar:
2
g
(2%)
,
Vitamin A:
0
IU
,
Vitamin C:
0
mg
,
Calcium:
0
mg
,
Iron:
0
mg