This Crockpot Peach Cobbler is an easy summer dessert recipe you'll be making again and again! It can be made with frozen, fresh, or canned peaches that are tossed with cinnamon and sugar, then sprinkled with snickerdoodle cookie mix and slow cooked until tender, juicy, sweet, gooey, and delicious. The best part?! Just 3 ingredients and 5 minutes of prep are needed for this mouthwatering dessert!
Crock Pot Peach Cobbler – The EASY Way!
I have been so excited to share what I think is the best slow cooker peach cobbler recipe of all time!
Peach cobbler has always one of my favorite desserts, so I set out to recreate it with simple ingredients using the slow cooker. And so this 3 ingredient Crockpot Peach Cobbler Recipe was born.
This recipe for peach cobbler requires simple ingredients and, similar to a dump cake style dessert, you can just throw everything into the slow cooker, top it off with the lid, then walk away. When you come back, you have a delicious, homemade dessert ready to go! And since it's all done in the crockpot, you're not heating your kitchen up at all. You don't even need to turn on the oven!
Why I LOVE this crock pot peach cobbler recipe!
Three ingredients. You need just three super simple ingredients to put together this dessert.
Hands-off recipe. Simply stir the peaches, cinnamon, and sugar, top it with the cookie mix and butter, then let the slow cooker work its magic. Come back in a couple of hours to the best peach cobbler you'll ever have.
Delicious flavor. I mean, what's not to love about sweet, juicy peaches coated in the sweet spice of cinnamon and sugar all topped with snickerdoodle cookie?
Doesn't heat up the house– Since there is no oven needed you can keep the house cool while cooking this in the summer. My parents even used to set the crock pot outside so that no extra heat was in the house!
Perfect for sharing– You can make this for a party and keep it on warm to serve it all day, or double the recipe if you need more.
How to Serve Crockpot Peach Cobbler
This quick peach cobbler is a totally satisfying and delicious dessert all on its own. However, there are a few ways you can give it a bit of a twist when it comes to serving. Here are a couple ideas!
Serving Ideas
Serve it warm next to a scoop of vanilla ice cream.
Top it off with a generous dollop of store-bought or homemade whipped cream.
Make it even sweeter with a drizzle of caramel sauce.
Recipe Notes
This slow cooker peach cobbler recipe is as simple as promised! Just a slow cooker and 3 ingredients for a family friendly treat.
In this section I am going to go through a few tips and tricks I use how to make crockpot peach cobbler to get the absolute best and most delicious results.
Make sure to scroll to the bottom for the FULL recipe card.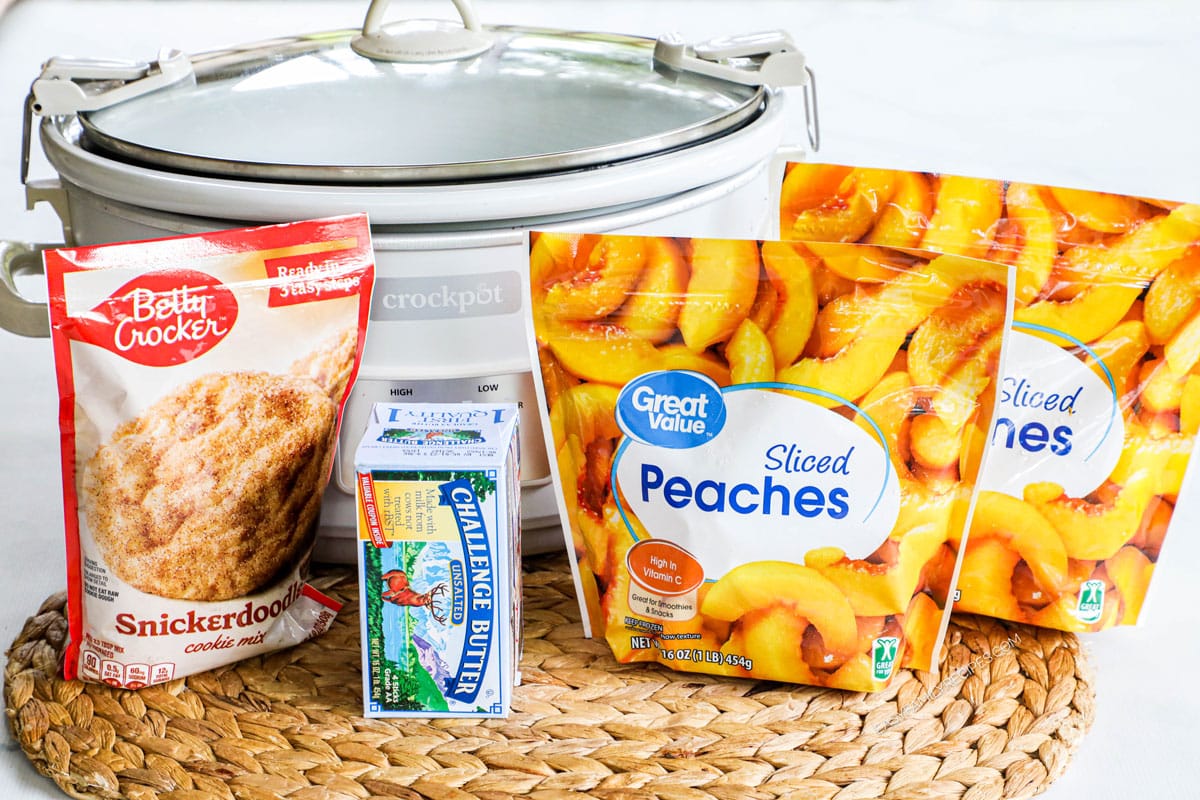 Ingredients + Substitutions
Peaches – I usually use frozen peaches, you can also use fresh or canned if that's what you prefer. Scroll below to "variations" to see substitution instructions!
Snickerdoodle Cookie Mix – I use Betty Crocker, but any brand will work. This is the key to giving you the most deliciosu flavor with the fewest ingredients! You can use the cinnamon sugar packet to season the peaches, and the cookie mix for the topping. I personally think the flavor is even better than using a cake mix!
Butter – You will need just one stick of butter. Unsalted or salted will work just fine. If you use unsalted, you may want to add a sprinkle of salt yourself. Just remember, a little goes a long way.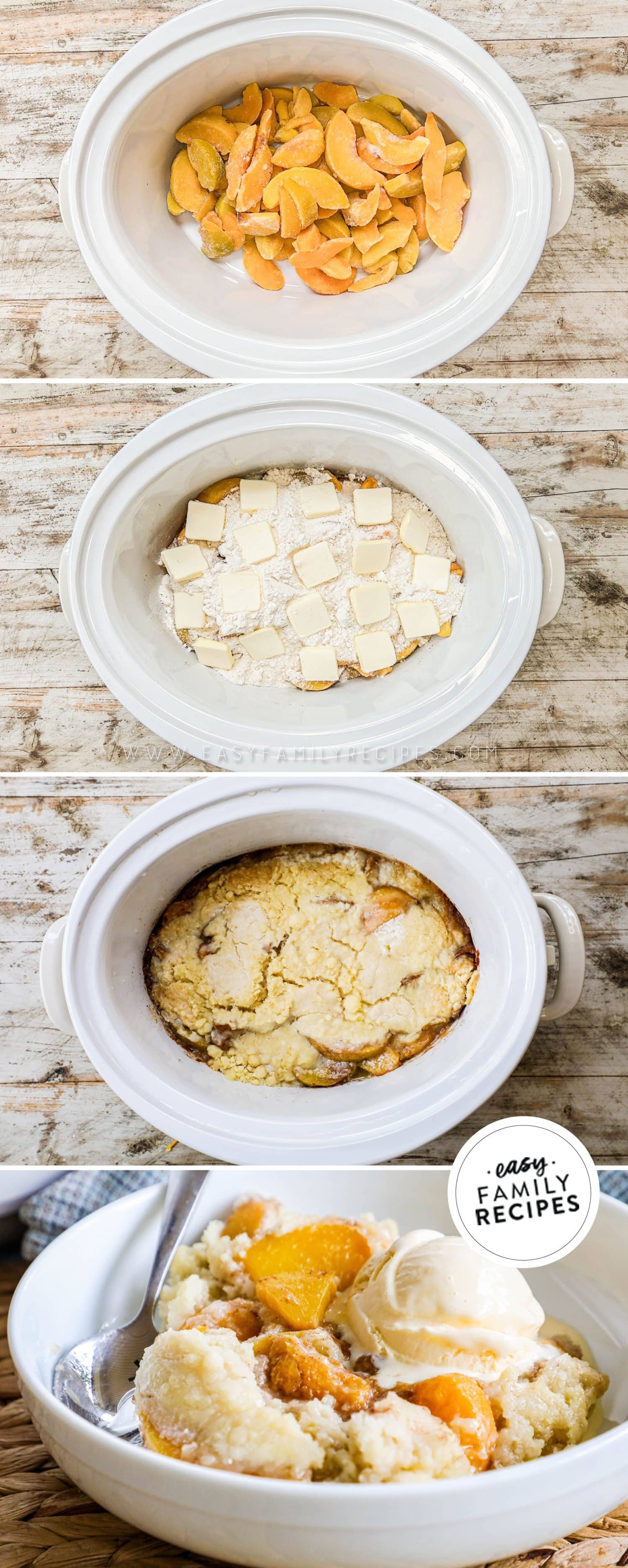 Recipe Tips
Distribute the butter evenly. I recommend cutting the butter into pats, then placing those evenly over the top of the peaches. We want that rich, buttery flavor in every bite.
Serve warm! While peach cobbler is still delicious cooled off, the taste and gooey texture of the dessert warm straight out of the slow cooker really is unmatched. If you need it to stay warm for longer, switch the crockpot to "warm" mode.
Keep it warm. Serving a little bit later? Simply switch your crockpot to the "warm" setting and leave the cobbler inside. It will keep it hot, gooey, and fresh for a few hours!
Want to add some warmth and flavor depth? Try adding a couple drops of vanilla extract or a sprinkle of nutmeg with the cinnamon and sugar.
Recipe Variations
If you love this recipe as much as we do and want some quick ways to change it up for variety, these little tips will do the trick!
Crockpot Peach Cobbler with Fresh Peaches – Swap the frozen peaches out for 3 pounds of fresh peaches instead. Be sure to remove the pits and the stems and slice them into wedges and peel the peaches.

Crockpot Peach Cobbler with Canned Peaches – Use 3 cans of canned peaches in place of the frozen peaches if preferred. You can use peaches in heavy syrup, but I prefer the peaches in juice or light syrup. Either way, make sure you drain the juice out of each can of peaches before making your dessert, otherwise there will be way too much moisture.

Crockpot Peach Cobbler with Cake Mix – I love the flavor of snickerdoodle cookie mix in this recipe, but if you'd rather use cake mix that will work great too! You may want to add cinnamon and granulated or brown sugar yourself. Other than that, the instructions stay the same. Yellow cake mix, vanilla cake mix, or spice cake mix are both great options.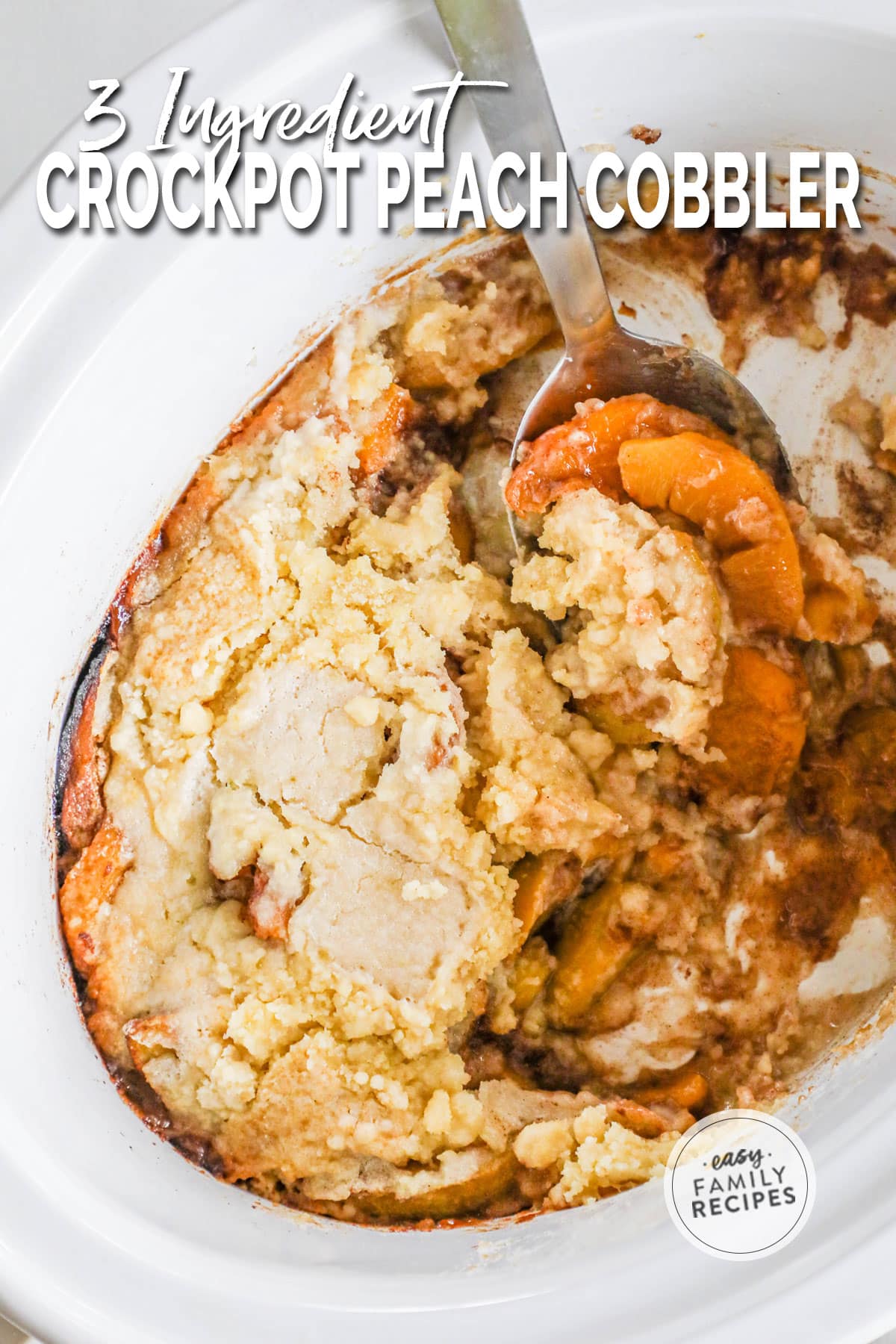 Peach Cobbler Leftovers
If you have leftovers after making this easy crock pot peach cobbler in the crock pot, then it is your lucky day! It saves and reheats well!
To save leftovers, place in an airtight container and store:
in the refrigerator for 3-4 days
in the freezer up to 3 months
When you're ready to enjoy again, thaw overnight in the fridge if frozen, then microwave to warm if desired!
Is it better to use fresh or canned peaches for cobbler?
Either fresh or canned peaches will work in cobbler. Fresh peaches will generally offer superior flavor, while canned peaches save time in making the cobbler. I like to use frozen peaches for the best combination of great flavor and ease of preparation.
Do you have to peel peaches before making cobbler?
Most people prefer peaches to be peeled in their peach cobbler, however, it is not mandatory to do. Peaches can go into a cobbler unpeeled but it does effect the texture of the cobbler.
Why is my peach cobbler soggy?
If your peach cobbler is overly soggy, there are generally two main culprits. One, you may not have cooked it long enough, or two, you may have had too much liquid in the peaches. This generally happens when using canned peaches.
More Dessert Recipes
If you enjoyed this recipe, I really hope you will take a moment to grab a few more easy recipes for another busy night!
You can check out all of my dessert recipes here, or see a few of our readers favorite recipes below.
Hungry for more family-friendly recipes? Sign up for my free recipe club to get new family-friendly recipes in your inbox each week! Find me sharing daily meal-time inspiration on Pinterest, Instagram, and TikTok.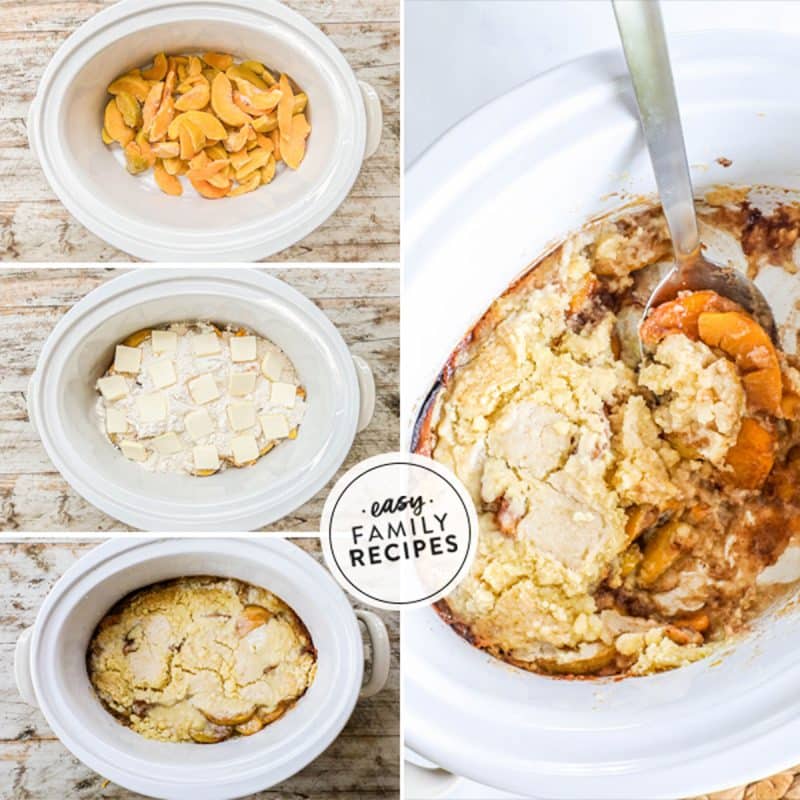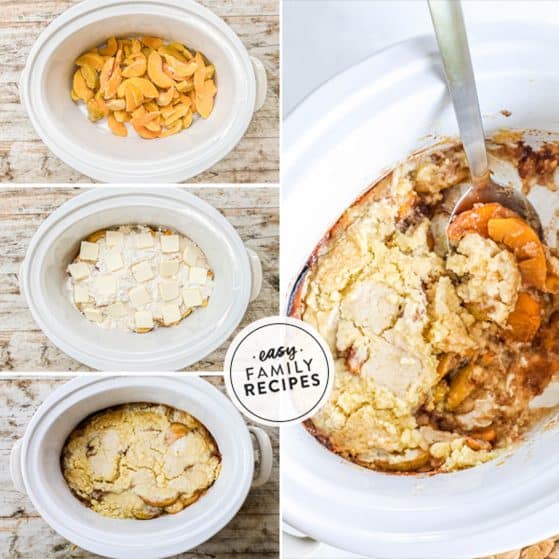 Crockpot Peach Cobbler
This Crockpot Peach Cobbler is a summer dessert recipes you'll be making again and again! It can be made with frozen, fresh, or canned peaches that are tossed with cinnamon and sugar, then sprinkled with snickerdoodle cookie mix and slow cooked until tender, juicy, sweet, gooey, and delicious. Just 5 minutes of prep needed for this mouthwatering dessert!
Prep Time: 5 minutes
Cook Time: 2 hours 30 minutes
Total Time: 2 hours 35 minutes
Serves:8
Hover over "serves" value to reveal recipe scaler
Ingredients
32 ounces frozen peaches see notes for adaption
1 snickerdoodle cookie mix (17.9 ounce)
1 stick butter (8 tablespoons)
Instructions
Pour the peaches on the bottom of the crockpot. Remove the cinnamon sugar packet from the cookie mix and add it to the peaches and mix to combine.

Pour the cookie mix over the peaches. Cut the butter into 16 pats and place them evenly over the top of the cookie mix.

Cook on high for 2.5-3 hours. We love to serve it warm with vanilla ice cream!
Recipe Notes:
Other options for peaches:
Fresh peaches: 3 pounds, pits and stems removed and sliced
Canned peaches: 3 cans, drained
Nutrition Information:
Calories: 296kcal (15%)Carbohydrates: 64g (21%)Protein: 1g (2%)Fat: 3g (5%)Saturated Fat: 1g (6%)Polyunsaturated Fat: 0.1gMonounsaturated Fat: 0.1gTrans Fat: 0.02gSodium: 16mg (1%)Potassium: 138mg (4%)Fiber: 2g (8%)Sugar: 43g (48%)Vitamin A: 370IU (7%)Vitamin C: 5mg (6%)Calcium: 5mg (1%)Iron: 0.4mg (2%)
(Nutrition information provided is an estimate and will vary based on cooking methods and brands of ingredients used.)