This easy Creamy Chicken Noodle Soup is a quick, homemade version of a classic with incredible flavor! A whole rotisserie chicken, fresh vegetables, and egg noodles simmer to perfection in the rich, hearty broth. It's a cozy one-pot meal that the whole family will love and it's made with easy ingredients in just 40 quick minutes.
I'm just going to say it, this recipe is the BEST creamy chicken noodle soup I've ever tasted. It truly is SO flavorful, but it's still a fast and easy recipe that any family can make at home and enjoy. It has the perfect rich and hearty texture, and it packs everything you need from a meal into every cozy bowlful.
This recipe has all the delicious, rich flavor of a homemade soup, but by using some shortcuts like a rotisserie chicken, pre-mixed seasoning blends, and sauteing the veggies first, it becomes a stress-free fast recipe. The final touch to that amazing flavor is simmering the noodles right in the soup. It saves you from washing a separate pot and the pasta gets to soak up the intense soup flavor. My family loves this recipe, and I think yours will too!
Why I LOVE this recipe!
So Flavorful! – This is one of the BEST chicken noodle soups I've ever tasted, I think you'll agree!
Hearty & Filling – The perfect creamy texture, tender pasta, and chicken make this perfect to serve alone for lunch or dinner.
Easy One-Pot Cooking– All you need is one big pot, making cooking and clean up a breeze!
Homemade but Fast – This recipe uses shortcuts like a rotisserie chicken to help develop that amazing, from scratch flavor and still get dinner on the table in 40 minutes.
Recipe Notes
This creamy chicken noodle soup recipe is as simple as promised! Just a one pot for a family friendly meal.
In this section I am going to go through a few tips and tricks I use for how to make creamy chicken noodle soup to get the absolute best and most delicious results.
Make sure to scroll to the bottom for the FULL recipe card.
Ingredients + Substitutions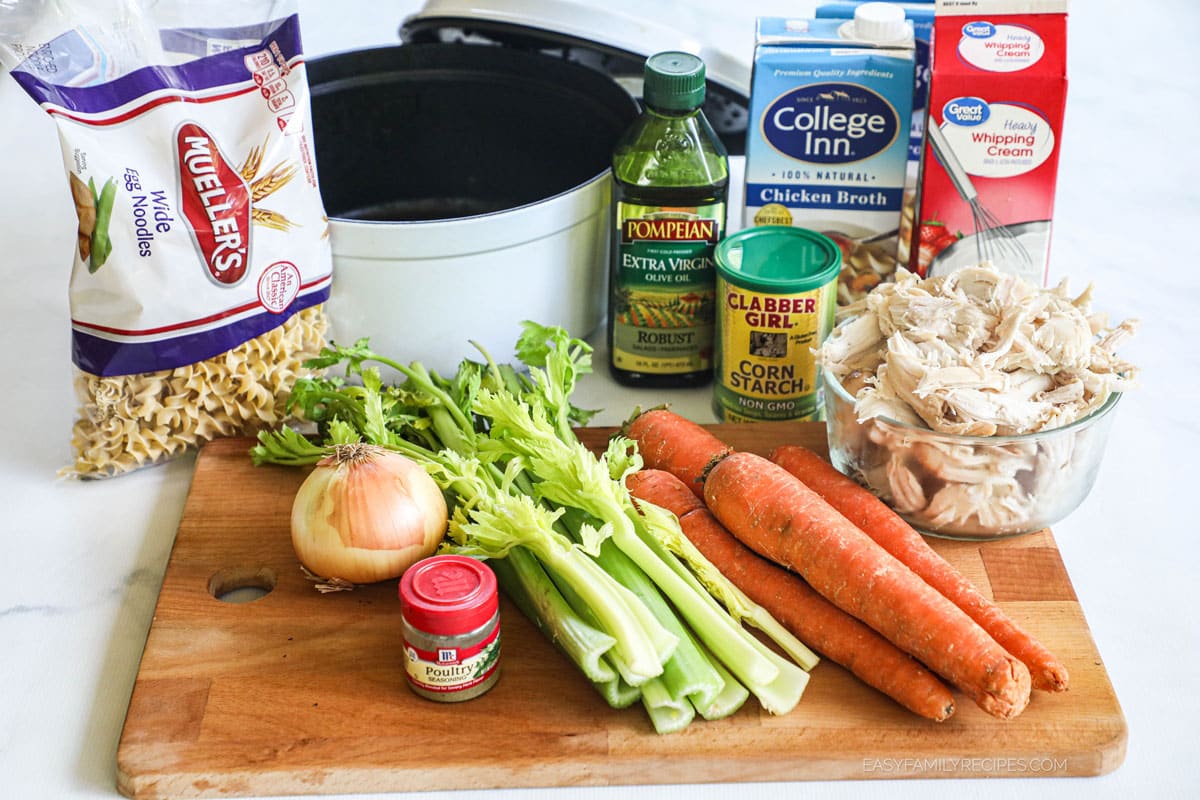 Rotisserie Chicken – Grab a pre-cooked chicken and shred it up to add lots of flavor, protein, and heartiness to your soup. You can also use leftover roast chicken or simple baked chicken breasts if you'd like instead.

Celery

Carrots

Onion

Olive oil – Any form of neutral cooking oil like canola, vegetable, or grapeseed can be used instead.

Chicken Broth – Chicken stock or vegetable broth make good substitutions if you need one.

Heavy Cream

Egg Noodles – I like the wide egg noodles but you can substitute other shapes. Bow-ties, rotini noodles, or broken fettuccine make good alternatives.

Cornstarch

Water
Make sure to see the recipe card at the bottom of this post for the full quantities and ingredients list.
Recipe Variations
If you love this recipe as much as we do and want some quick ways to change it up for variety, these little tips will do the trick!
Creamy Chicken Noodle Soup with Spinach– When the pasta is tender, add in 5 cups of fresh baby spinach to the hot soup just before serving. Stir until wilted.

Creamy Chicken Potato Soup– Instead of pasta, swap in 2 cups of 1″ diced potatoes and reduce the broth by 1 cup, then continue with the recipe as written, simmering the soup until the potatoes are tender.

Creamy Lemon Chicken Noodle Soup– Zest and juice 1 lemon and add the zest to the pot with the vegetables as they sauté. Swap two tablespoons of the water with two tablespoons of lemon juice then mix with the cornstarch. Whisk into the soup and taste, adding more as desired.
Recipe Step by Step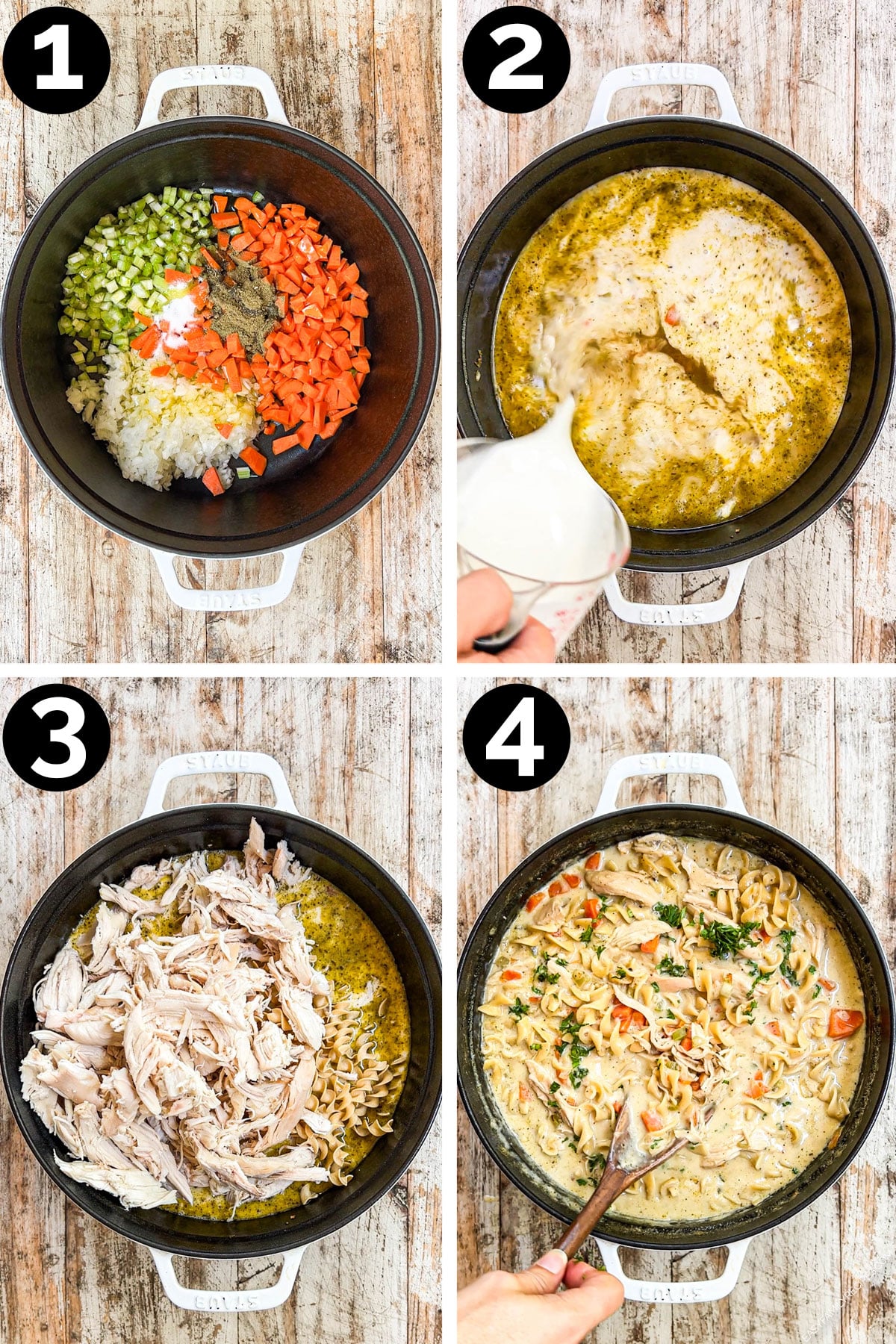 I am going to highlight a few key steps in the recipe here, but make sure to jump down to the recipe card for comprehensive instructions on how to make creamy chicken noodle soup.
Step 1– Sauté the carrots, celery, onions, and poultry seasoning in hot oil until tender.

Step 2– Add the cream and 8 cups of broth with the noodles and chicken.

Step 3– Bring to a boil, then reduce the heat and simmer until the past is tender.

Step 4– Whisk a slurry made of cornstarch and water into the soup and simmer until thickened, then serve.
Recipe Tips
Sauté until tender first – The secret to the quick cook time of this easy chicken noodle soup is making sure you sauté the carrots, celery, and onions until they're tender before adding any liquid. They don't get the long simmer time to become tender in the broth, so cook them for 5-10 minutes in oil first.
Use a large pot – In order to cook this family-sized batch of homemade soup, you'll want to use your largest stock pot.

Adjust thickness to your tastes – It's so easy to make this soup exactly how you like it. After you add the cornstarch you can either leave it super rich and creamy, or add a little bit of broth at a time to thin it out to your tastes!

Keep the noodles from overcooking – If you're preparing the soup in advance there's an easy way to keep your pasta from getting mushy while the soup sits in the fridge. Simply boil the pasta separately and add it into the bowls as you serve. The downside is losing some flavor in the pasta, but it makes sure you won't have soggy noodles when you reheat it for dinner later or eat leftovers. Important! If you choose to use this method you will need to reduce the broth by about 2 cups.
Recipe Short Cuts
If you need to make this recipe, but are extra short on time, here are a few ideas that can help make this recipe even faster!
Use leftovers – This is such a great recipe to use up leftover chicken from the night before. Shred up any simply seasoned chicken you have and turn it into a whole new meal.

Prep ahead – Get ahead by chopping the vegetables and shredding the chicken in advance. Then you can skip the prep time and get straight to cooking when it's time for dinner.

Cook in advance – This soup can be made ahead and reheats really well with one a small adjustment. Leave out the pasta and two cups of broth when you make the soup and boil it in a separate, well-salted pot of water. Store the soup and noodles separately for up to 3 days. Reheat the broth and the pasta separately then combine them in each individual bowl when it's time to serve.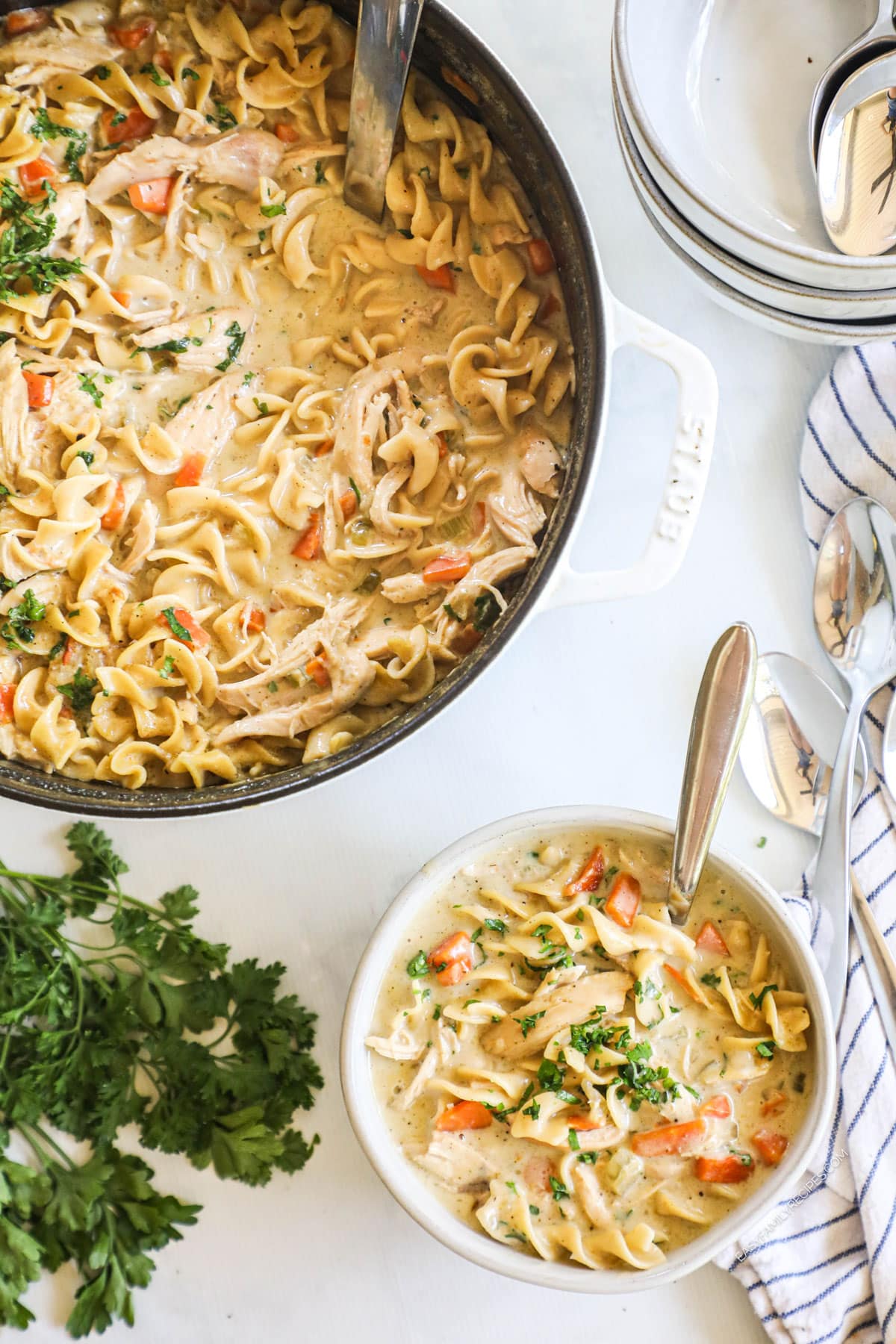 Freezer Meal Instructions
Making this easy creamy chicken noodle soup recipe into a freezer meal is simple! Follow the steps below and you can store this recipe in the freezer for up to 6 months.
To freeze before cooking
Chop the veggies and combine in a freezer safe bag with the seasoning and freeze.
Place the chicken in a separate bag and freeze.
When ready to cook, thaw both in the fridge for 24-48 hours.
Sauté the veggies and proceed with the recipe as written.
How to Freeze Creamy Chicken Noodle Soup After Cooking
Cook the soup and let it cool completely.
Portion into large bowls or bags and freeze.
Let thaw in the fridge for 24-48 hours then heat in the microwave or on the stove and serve.
What to Serve with Creamy Chicken Noodle Soup
Since this complete dinner has the delicious flavors of homemade chicken noodle soup, it will pair well with many of your favorite traditional side dishes.
Choose one or several of these side dishes to create a wholesome, well-rounded dinner. There are both classic options and some healthy options to keep it light.
Side Dish Ideas
Creamy Chicken Noodle Soup Leftovers
If you have leftovers after making this recipe, then it is your lucky day! They save and reheat well, and can make the start of another delicious dish.
To save leftovers, separate into meal sized portions and then place in an airtight container and store:
in the refrigerator for 3-4 days
in the freezer up to a month
Recipe FAQ's
What is the best ingredient to thicken soup?
The secret to the creaminess in this chicken noodle soup is the combination of heavy cream and cornstarch. Heavy cream is rich and higher in fat, so it thickens with less risk of separating when cooked. Cornstarch, when made into a slurry and whisked into a hot liquid, quickly thickens to make the soup even more creamy.
What are the best noodles to use for chicken noodle soup?
A wide flat noodle like egg noodles are perfect for chicken noodle soup because they cook quickly. Any pasta can technically be used, but may require more cooking time or extra liquid.
More EASY Soup Recipes
If you enjoyed this recipe, I really hope you will take a moment to grab a few more easy recipes for another busy night!
You can check out all of my easy chicken recipes here, or see a few of our readers favorite recipes below.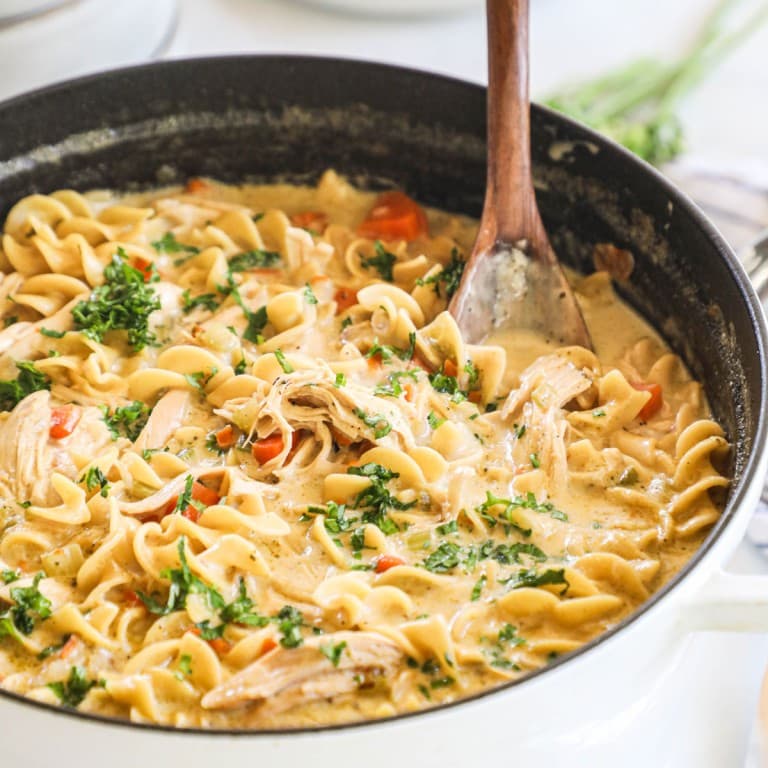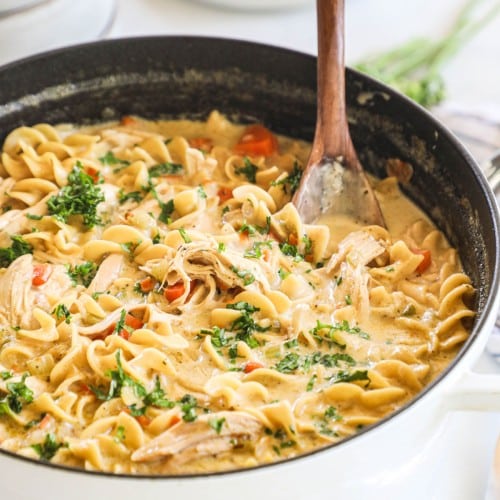 Creamy Chicken Noodle Soup
This Chicken Noodle Soup is made with a whole rotisserie chicken for unbelievable flavor! Not only is it delicious but it's almost too easy to make. The perfect recipe for a cozy meal, or soothing sick loved ones!
Ingredients
4

cups

shredded chicken

,

(about 1 rotisserie chicken pulled)

2

cups

celery

,

chopped

2

cups

carrots

,

chopped

1

yellow onion

,

chopped (medium-large)

3

tablespoon

olive oil

2

teaspoon

poultry seasoning

10

cups

chicken broth

,

plus up to 2 more cups

2

cups

heavy cream

12

ounces

wide egg noodles

,

(1 package) uncooked

1/3

cup

cornstarch

1/4

cup

water
Instructions
Heat olive oil in a large stock pot over medium -medium high heat. Once it becomes bubbly and fragrant, add the celery, carrots, onion poultry seasoning, and salt. Sauté until the vegetables are tender, about 5-10 minutes.

Pour 8 cups of the broth and heavy cream into the vegetables, then add the noodles and chicken and submerge them in the liquid. Bring the pot to a boil, then reduce heat to low and allow soup to simmer for 8-10 minutes or until the noodles are al dente.

While the soup simmers, mix the cornstarch and water until the cornstarch is completely dissolved.

Pour the cornstarch mixture into the soup slowly while stirring continuously. Once it is all combined, let it simmer an additional 2-3 minutes or until it starts to thicken. Stir in additional broth if you want the soup to be thinner.(see notes)

Garnish with fresh parsley if desired. Serve hot!
Recipe Notes
For the noodles
There are two options on adding the noodles. First is adding them as directed. The benefit to this is that they cook in the broth to make a more flavorful noodle. The downside is that if you have leftovers they get soggier in the fridge as they sit. You may have to add more broth as they continue to soak up liquid to keep the soup soupy. This is personal preference. My kids love it when this soup is more hearty and less brothy.
The alternative is to cook the noodles separately and add them to each bowl as it is served. The pro for this is that if you have leftovers you can store the soup and noodles separately which means they stay al dente and don't get mushy. The con is that they aren't quite as flavorful. If you use this method, you may want to reduce the broth by up to 2 cups since you aren't cooking the pasta in the liquid.
How to Store: 
Leftovers of the Chicken Noodle Soup can be stored in the refrigerator 3-4 days or in the freezer for up to 3 months.
See post for detailed directions on how to convert this recipe to a freezer meal.
How to Reheat: 
This creamy chicken noodle soup can be reheated in the microwave using 30 second bursts, or on the stovetop over low heat. If the soup has thickened, add a small amount of stock or water to loosen it up.
How to Scale:
This recipe can easily be halved to reduce the number of servings, or doubled in a large stock pot to serve a crowd.
Nutrition Information
Calories:
591
kcal
(30%)
,
Carbohydrates:
44
g
(15%)
,
Protein:
28
g
(56%)
,
Fat:
34
g
(52%)
,
Saturated Fat:
16
g
(100%)
,
Polyunsaturated Fat:
3
g
,
Monounsaturated Fat:
12
g
,
Trans Fat:
0.03
g
,
Cholesterol:
161
mg
(54%)
,
Sodium:
1211
mg
(53%)
,
Potassium:
565
mg
(16%)
,
Fiber:
3
g
(13%)
,
Sugar:
6
g
(7%)
,
Vitamin A:
6408
IU
(128%)
,
Vitamin C:
4
mg
(5%)
,
Calcium:
103
mg
(10%)
,
Iron:
2
mg
(11%)