This Cinnamon Swirl Cake is irresistible! The tender vanilla cake and is swirled throughout with cinnamon. It is the secret ingredient that sends the flavor over the the top and keeps the cake unbelievably moist!
This post is sponsored by Unilever. All thoughts and recipes are created right here at Easy Family Recipes.
Cinnamon Swirl Cake – The EASY Way!
My entire family loves this cake. When I say love… I mean LOVE! If you enjoy cinnamon rolls, I think you might just love it too.
This Cinnamon Swirl Cake is everything cake should be:
Light
Tender
Amazingly flavorful
The coolest part of this cake is that it uses a special ingredient that elevates the flavor, allows you to use less ingredients, AND keeps the cake super moist and tender. More on that below! It is an EASY way to make a huge impact, and I think you will be so excited to try it.
We are really honored that our Cinnamon Swirl Cake is being featured on the Operation In Touch Meal Solutions page where they provide quick, delicious recipe ideas for military families. As a military spouse myself, this opportunity to contribute is a special honor!
Make sure to check the Meal Solutions Page for more quick, easy, and delicious dinner ideas like this one!
Operation in Touch serves the military community every day as a source for savings, promotions, and recipes and tips, as well as all the latest deals at your commissary. Additionally, Unilever is donating to Camp4Heroes, a sanctuary helping wounded veterans find their purpose.
This Cake is Perfect for
Cinnamon Swirl Cake is wonderful for many occasions. Here are a few that this cake is perfect for:
Dessert
Coffee
Brunch
For a new baby or family in need – can double as dessert or breakfast
Recipe Notes
This Cinnamon Swirl Cake recipe is as simple as promised! Just a few every day staple ingredients for a family friendly meal.
In this section I am going to go through a few tips and tricks I use when making this recipe to get the absolute best and most delicious results.
Make sure to scroll to the bottom for the FULL recipe card.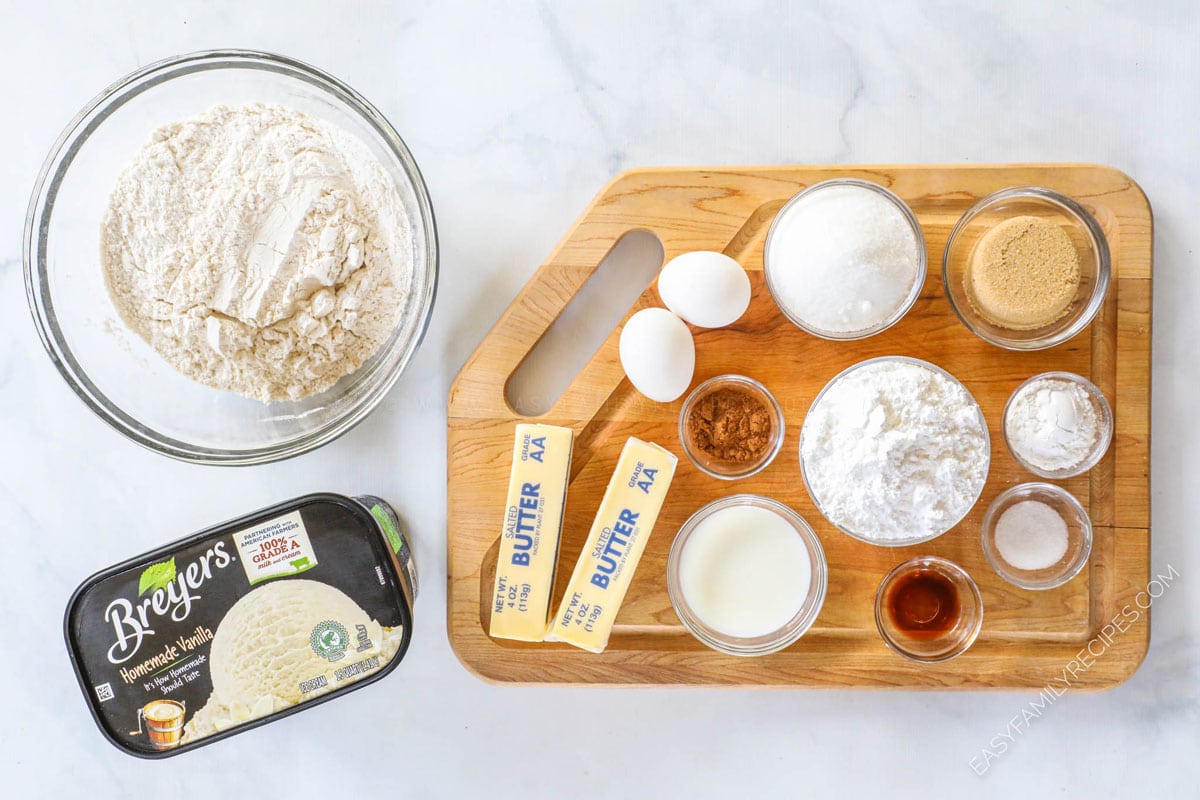 Ingredients
Batter
Flour
Sugar
Baking powder
Salt
Melted Breyers Homemade Vanilla Ice Cream
Eggs
Melted butter
Milk- if needed
The batter is a pretty basic vanilla cake, with the exception of our special ingredient! Using Breyer's Homemade Vanilla Ice Cream that has been melted and incorporated into the batter both transfers that iconic flavor AND keeps the cake super moist and tender!
Breyers Homemade Vanilla ice cream is thick and smooth like it was just
churned. It's how homemade should taste, which makes it the perfect
pairing to your favorite homemade treats, and incorporating that amazing taste into other treats like our Cinnamon Swirl Cake!
Cinnamon Swirl
Softened butter
Brown sugar
Flour
Cinnamon
The cinnamon swirl ingredients are basic, but perfect. This will make enough to give you a moderate swirl throughout the cake with a good cinnamon flavor. If you really love cinnamon, you can double this filling to get more swirl and more cinnamon taste.
Glaze
Powdered sugar
Milk
Vanilla
Salt
The glaze gives the cake that something extra to top it off. I have always added just a dash of salt to my glaze, which will make the flavor more complex and compliment the cake better!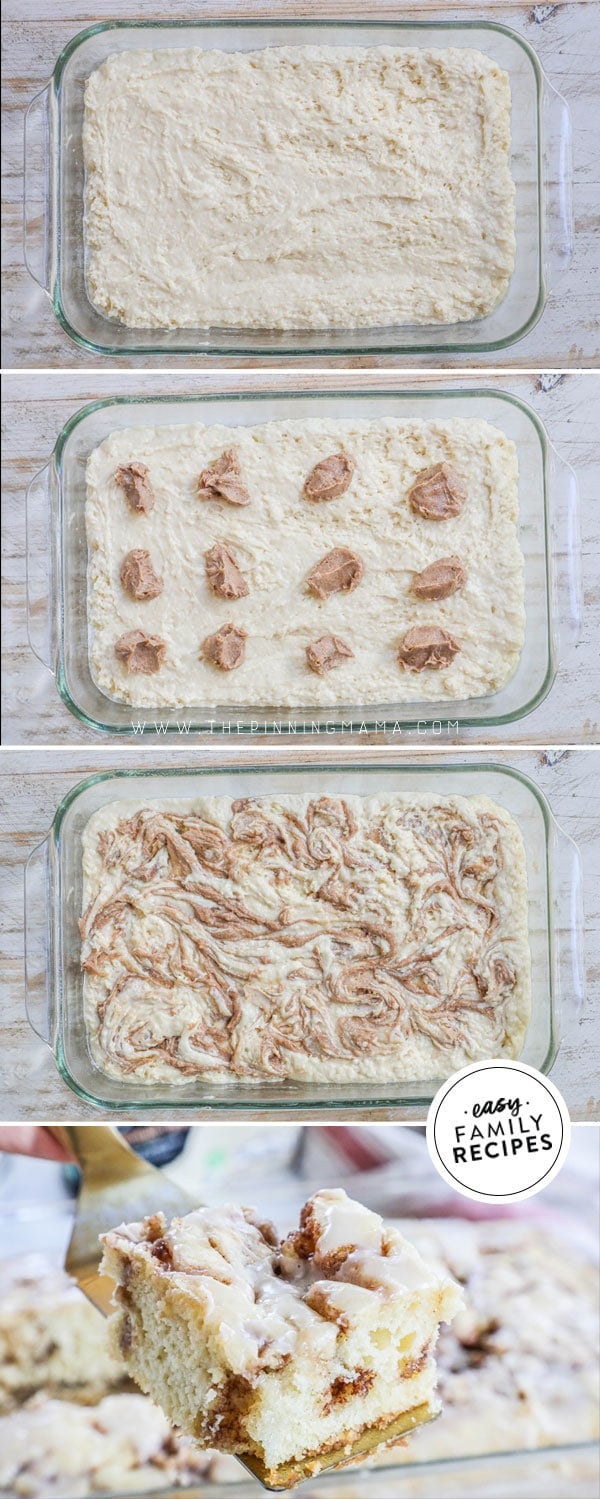 Recipe Tips
Batter Consistency – Depending on how precisely you measure the batter may end up being a little more thick or thin. The perfect batter should be a thicker cake batter, but not so thick that it is lumpy or is hard to stir.

If the batter ends up a little too thick, you can add milk a bit at a time until the cake batter reaches the perfect consistency.

Melted Ice Cream – As I mentioned above, this is the key ingredient! You will want to make sure and measure it already melted. To do this, you can leave the carton in the fridge over night or microwave the ice cream until it is just melted through.

Creating the swirl – To create the perfect cinnamon swirl in the cake, there are a few key tips.

Evenly dollop the mixture over the entire cake
Use a knife to swirl it in. Don't be shy, really get in there and swirl all the way down to the bottom and even swirl through areas multiple times until it has the beautiful swirl effect you want.
Don't miss the edges! Get all the way to the sides and bottom. Try not to leave any larger dollops of the cinnamon mixture sitting on the top or sides.


How long to bake the cake – I suggest you bake the cake for 25-30 minutes. We live at sea level so if you are at a higher altitude, you may have to make adjustments.

You want to make sure the cake is done by ensuring a toothpick will come out clean in the middle of the cake.

Be careful not to overcook the cake because this can also make it more dry or crumbly.
Recipe Short Cuts
If you need to make this recipe, but are extra short on time, here are a few ideas that can help make this recipe even faster!
Measure the dry ingredients ahead of time– You can prepare the dry ingredients as far ahead of time as you want. Then it is just like using a mix when you are ready to bake.
Prepare the cinnamon swirl in advance– you can prepare up the cinnamon mixture up to 48 hours in advance. Keep it in the refrigerator until you are ready to bake the cake.
Make the cake and freeze– You can prepare and bake the cake, then allow it to cool and freeze. Then when you want to serve it you can skip straight to the glaze step.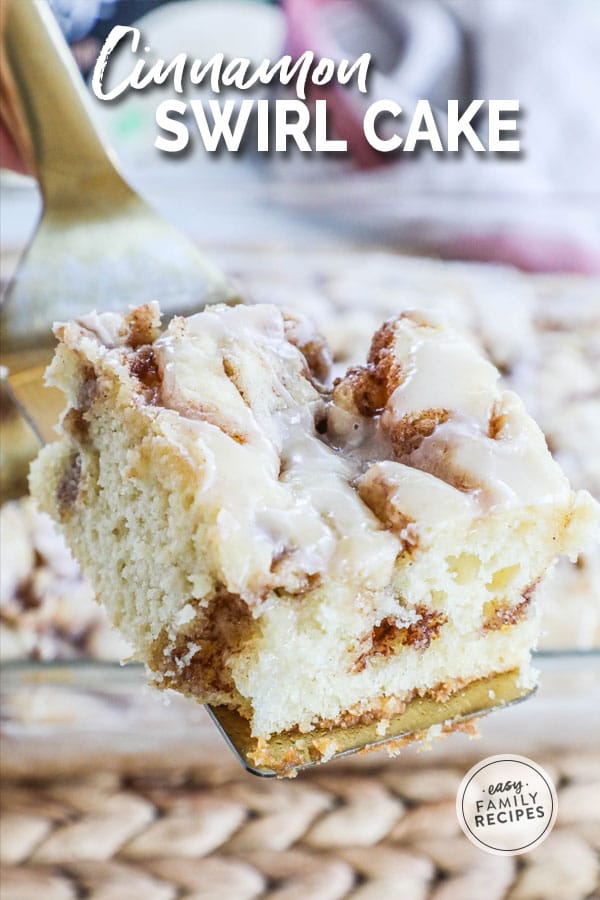 Freezer Instructions
This Cinnamon Swirl Cake freezes beautifully when using this method. You can prepare the cake in advance and then as it thaws it tastes just as fresh and tender as it did on day 1 out of the oven!
Prepare and bake cake as directed. Do NOT glaze.
Cool.
Wrap cake tightly in plastic wrap and then foil.
Freeze flat.
When ready to serve, unwrap and lightly cover. Leave on the counter to thaw.
Prepare glaze and spread over thawed cake. (This will be hard to do if the cake is still cold or frozen.)
The cake has the best flavor when eaten within six months of freezing.
Cinnamon Swirl Cake Leftovers
If you have leftovers after everyone has a slice, you can cover the pan with plastic wrap and leave it on the counter for up to 48 hours. If it is longer than that, I prefer to transfer to an airtight container and refrigerate.
More Delicious Dessert Recipes
If you enjoyed this recipe, I really hope you will take a moment to grab a few more easy recipes for another busy night!
Stop by the Meal Solutions page here, or see a few of our readers favorite recipes below.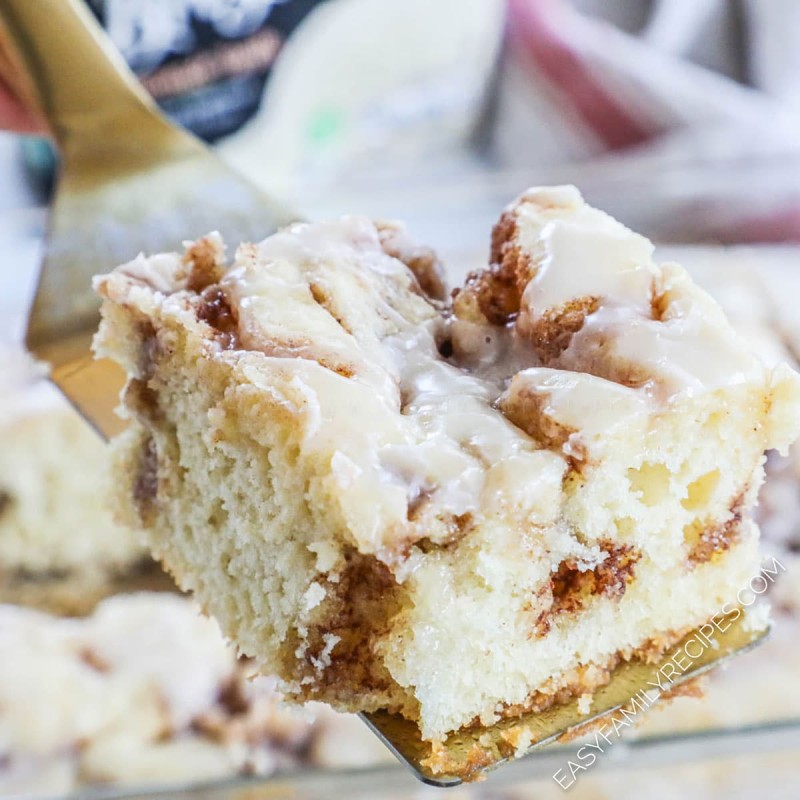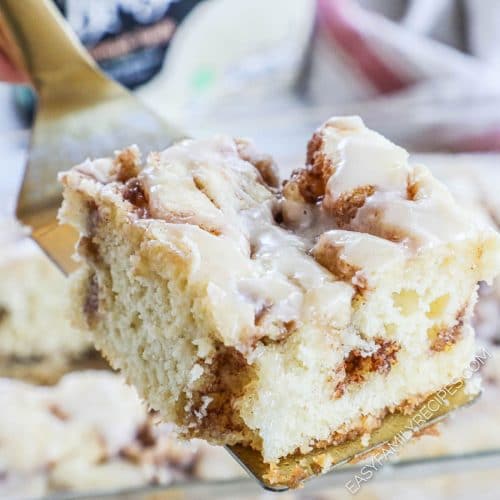 Cinnamon Swirl Cake
This Cinnamon Swirl Cake takes a tender vanilla cake and adds a scrumptious swirl of cinnamon sugar throughout. The cake is every bit as delicious as it is beautiful!
Ingredients
Batter
2¾

cups

all purpose flour

1/2

cup

sugar

4

tsp

baking powder

1/4

tsp

salt

2¼

cups

melted Breyers Homemade Vanilla Ice Cream

,

(measured melted)

2

large

eggs

1/4

cup

melted butter

milk

,

if needed
Cinnamon Swirl
1/3

cup

butter

,

softened

1/3

cup

brown sugar

1

tbsp

all purpose flour

2

tsp

cinnamon
Glaze
1½

cups

powdered sugar

1/4

cup

milk

1/2

tsp

vanilla

1/4

tsp

salt
Instructions
Combine flower, sugar, baking powder and salt in a large bowl. Mix together and make a well in the middle.

Add the melted ice cream, eggs, and melted butter and stir until smooth. The batter should be thick, but easy to stir. If you need to thin it out, add milk, 1-2 tablespoons at a time.

In a small bowl, combine the softened butter, brown sugar, flour, and cinnamon to make the cinnamon swirl.

Spread the batter evenly in a greased 9×13 baking dish. Dollop the cinnamon mixture by the tablespoonful over the top of the cake and then use a knife to thoroughly run through the batter creating a swirl effect.

Bake for 25-30 minutes, or until a toothpick inserted in the middle comes out clean.

While the cake is baking, combine the powdered sugar, milk, vanilla, and salt and whisk until smooth to create the glaze.

Once the cake is done, let it cool for about 10 minutes, then pour the glaze over the top while it is still warm. Slice into 12-16 slices and enjoy!
Nutrition Information
Serving:
1
slice
,
Calories:
367
kcal
(18%)
,
Carbohydrates:
59
g
(20%)
,
Protein:
5
g
(10%)
,
Fat:
13
g
(20%)
,
Saturated Fat:
8
g
(50%)
,
Cholesterol:
66
mg
(22%)
,
Sodium:
375
mg
(16%)
,
Potassium:
106
mg
(3%)
,
Fiber:
1
g
(4%)
,
Sugar:
35
g
(39%)
,
Vitamin A:
430
IU
(9%)
,
Vitamin C:
1
mg
(1%)
,
Calcium:
149
mg
(15%)
,
Iron:
2
mg
(11%)