This Cheesy Broccoli Chicken Rice Casserole recipe is a favorite dish in my family because it's so comforting and delicious. The combination of tender chicken, gooey cheese, and broccoli mingling in a creamy sauce makes it a crowd-pleaser for any occasion. Plus, it's incredibly easy to make, so you won't have to spend hours in the kitchen. Give it a try, and I guarantee you'll love it!
Broccoli Chicken Rice Casserole – The EASY Way!
For a satisfying and easy-to-make meal, try the Cheesy Broccoli Chicken Rice Casserole! You can have a delicious dish on the table in less than an hour. This casserole brings together tender chicken, fresh broccoli, fluffy rice, and a creamy and cheesy sauce made with Campbell's soup.
The result is a perfect balance of flavors and textures that will please adults and kids alike. Whether you're cooking for your family or just looking for a homemade meal without the hassle, the Cheesy Broccoli Chicken Rice Casserole is a great option.
Why I LOVE this recipe!
Quick and so easy! We all have busy lives, but that doesn't mean we must sacrifice taste. This casserole recipe is quick and easy, letting you make a delicious dish without much effort. It's the ideal solution for those busy weeknights when you want a homemade meal without the hassle.
Classic casserole favorite. Chicken, broccoli, and white rice is a classic and popular combination. Our recipe takes these flavors to the next level by adding a creamy and cheesy twist. It's the ultimate comfort food!
Versatile and customizable. This recipe is great on its own, but you can make it even better by customizing it to your taste. You can use different vegetables, toppings, or even cauliflower rice for a low-carb option. The possibilities are endless!
Make-ahead hero– This casserole is perfect for prepping earlier in the day (week, or month) and then baking when you are ready to eat!
What to Serve with Chicken Broccoli Rice Casserole
Since this dish has the classic flavors of chicken, broccoli, and rice, it pairs well with many of your favorite side dishes. There are both classic options and some healthy options to keep it light.
Side Dish Ideas
Roasted green beans – Add some extra freshness to your meal with vibrant green beans lightly seasoned with salt and pepper and roasted to perfection.
Crisp house salad – A simple salad with mixed greens, cherry tomatoes, and a tangy vinaigrette brings a refreshing balance to the rich casserole.
Garlic Bread – Whip up some homemade garlic bread by spreading garlic butter on sliced French bread and toasting it in the oven until golden and crispy. It's perfect for mopping up the delicious sauce from the casserole.
You can choose one or add a few sides to make a wholesome, well rounded dinner.
Recipe Notes
This Cheesy Chicken Broccoli Rice Casserole recipe is as simple as promised! Just 10 minutes of prep and under an hour for baking for a family friendly meal.
In this section I am going to go through a few tips and tricks I use for how to make broccoli chicken rice casserole to get the absolute best and most delicious results.
Make sure to scroll to the bottom for the FULL recipe card.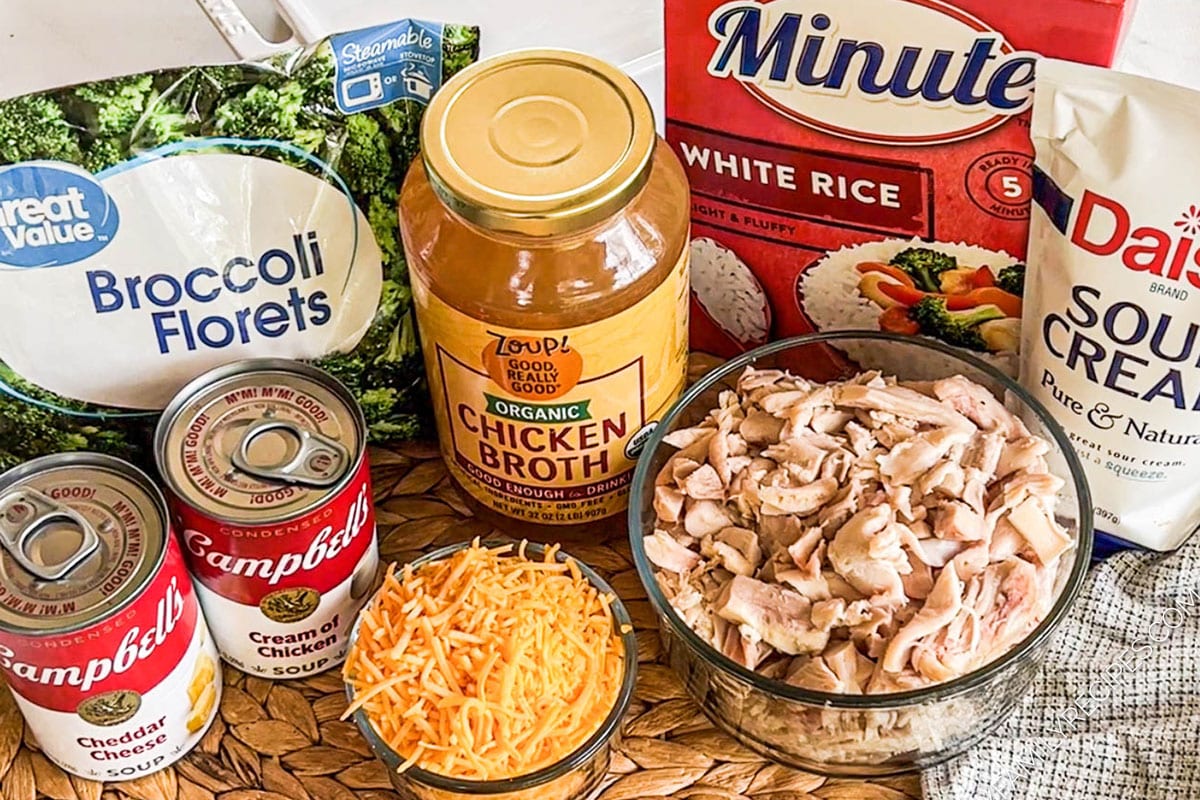 Ingredients + Substitutions
Chicken – You can use cooked and shredded rotisserie or leftover chicken from a previous meal, like my oven-baked chicken recipe. Another option is to use chopped chicken thighs that are richer and more flavorful.
Campbell's cream of chicken soup – If you prefer a homemade version or have dietary restrictions, you can substitute a cream of chicken soup using a roux of all purpose flour and chicken broth.
Campbell's cheddar cheese soup – Using this soup adds an additional layer of creamy cheesiness to the sauce. If you can't find cheddar cheese soup, substitute it with another creamy soup like cream of mushroom soup, or cream of celery soup.
Sour cream – Sour cream adds even more creamy deliciousness to the mix! Regular or light sour cream will both work in this recipe.
Chicken broth – The broth helps loosen the condensed soup and adds a rich flavor. You could also use vegetable broth or milk.
Rice – Using minute rice is crucial when making this recipe as is. You can use any variety of quick cooking rice including white or brown rice, as long as it is instant style rice. The liquid ratio and cook time are noted with this style of rice in mind. See the recipe notes below on the best way to swap the rice out for regular long-grain rice.
Broccoli – You can use fresh or frozen broccoli florets. No need to thaw them before using them in the casserole.
Cheese – My favorite to use is shredded sharp cheddar cheese. It's extra gooey when melted and has a stronger cheese flavor meaning I can use less but still have all that delicious cheese flavor! Feel free to swap it out for your favorite melting cheese.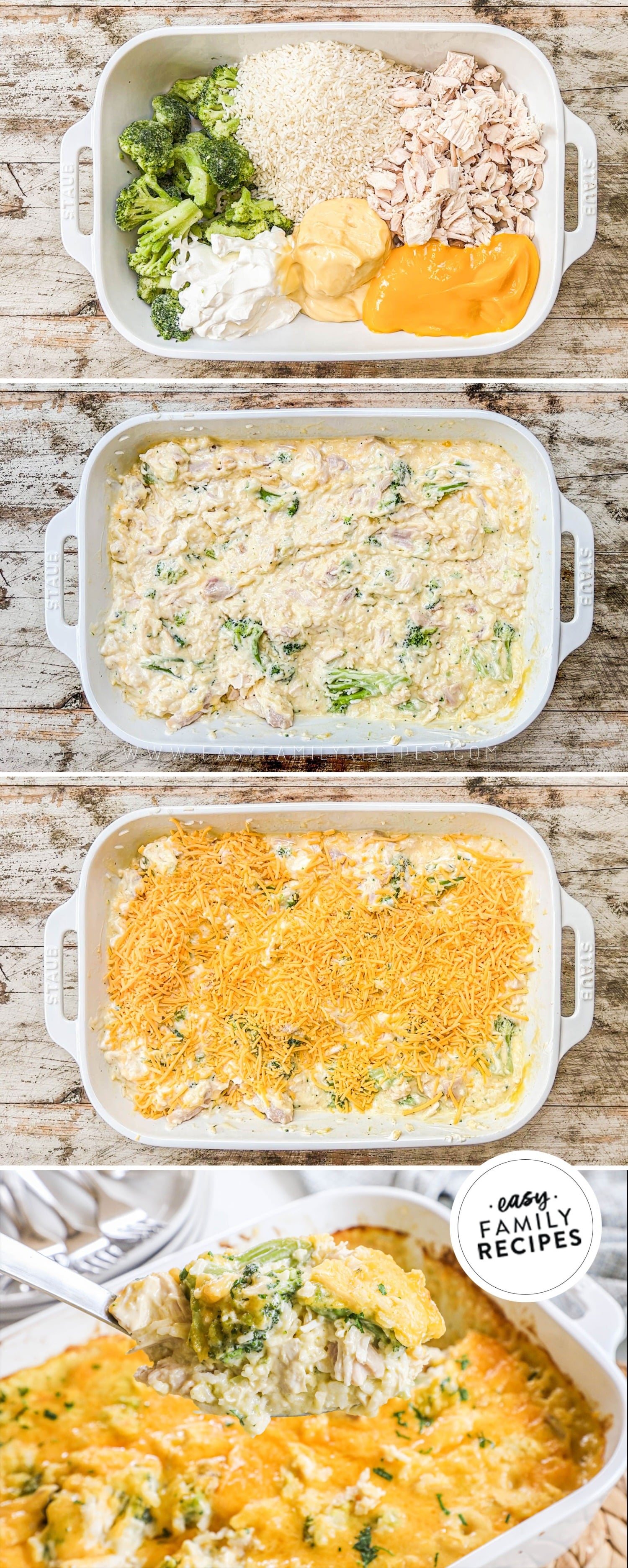 Recipe Tips
Precook the chicken – To save time, cook the chicken breasts in advance and shred or cube them before adding them to the casserole. You can use leftover cooked chicken or a rotisserie chicken for convenience.
Use long-grain rice – While Minute rice or quick-cooking rice is recommended for this recipe, you can use long-grain rice by adjusting the liquid ratio and cook time. Use 3 cups of cooked rice and reduce the chicken broth to ¾ cup.
Customize the vegetables – While broccoli is the star of this casserole, feel free to add other vegetables like chopped mushrooms, mixed veggies, or sweet green peas to enhance the nutritional value and taste.
Dissolve chicken base – If you add a chicken base for extra flavor, stir to dissolve it in a small amount of hot water before incorporating it into the casserole. This ensures even distribution of flavor.
Cover the casserole while baking – For the most delicious and gooey cheese, I recommend covering it while baking. Towards the end, remove the foil and allow the edges to turn a light brown for a crispier texture. If you prefer a crustier cheese, you can remove the foil earlier.
Add extra seasoning – Add about 1 teaspoon of both onion powder and garlic powder for more flavor.
Recipe Short Cuts
If you need to make this recipe, but are extra short on time, here are a few ideas that can help make this recipe even faster!
Use Rotisserie Chicken–Instead of cooking and shredding the chicken breasts, save time using a store-bought rotisserie chicken. Simply shred the chicken and proceed with the recipe as directed.
Precooked Rice Option–If you have leftover cooked rice, you can use 4 cups in place of the minute rice. Just make sure to reduce the amount of chicken broth by one cup, as the rice won't absorb as much liquid during baking.
Frozen Pre-Cut Vegetables–You can use pre-cut frozen broccoli to save time on chopping and prepping the broccoli. It eliminates the need for thawing and speeds up the assembly process, and they cook perfectly from frozen!
Recipe Variations
If you love this recipe as much as we do and want some quick ways to change it up for variety, these little tips will do the trick!
Chicken Broccoli Casserole with Cauliflower Rice–For a low-carb alternative, substitute cauliflower rice for regular rice. Simply replace the rice with equal cauliflower rice, reduce the chicken broth to 3/4 cup, and adjust the cooking time as needed.
Bacon Lovers Twist–Add cooked and crumbled bacon into the casserole and extra on top right before serving for a savory, crunchy bite.
Mexican-Inspired Twist–Give your casserole a Mexican flair by adding some diced green chilies, cumin, and chili powder to the mix. Top it off with a sprinkle of shredded Mexican cheese blend and garnish with fresh cilantro. Serve with a dollop of sour cream and a squeeze of lime for a zesty and flavorful twist.
Ritz Cracker Chicken Broccoli Casserole– Add an irresistible topping. Crush a sleeve of ritz crackers, then combine with 1/4 cup melted butter. Sprinkle the crumbs over the top of the casserole before baking. You can also use this same method with breadcrumbs.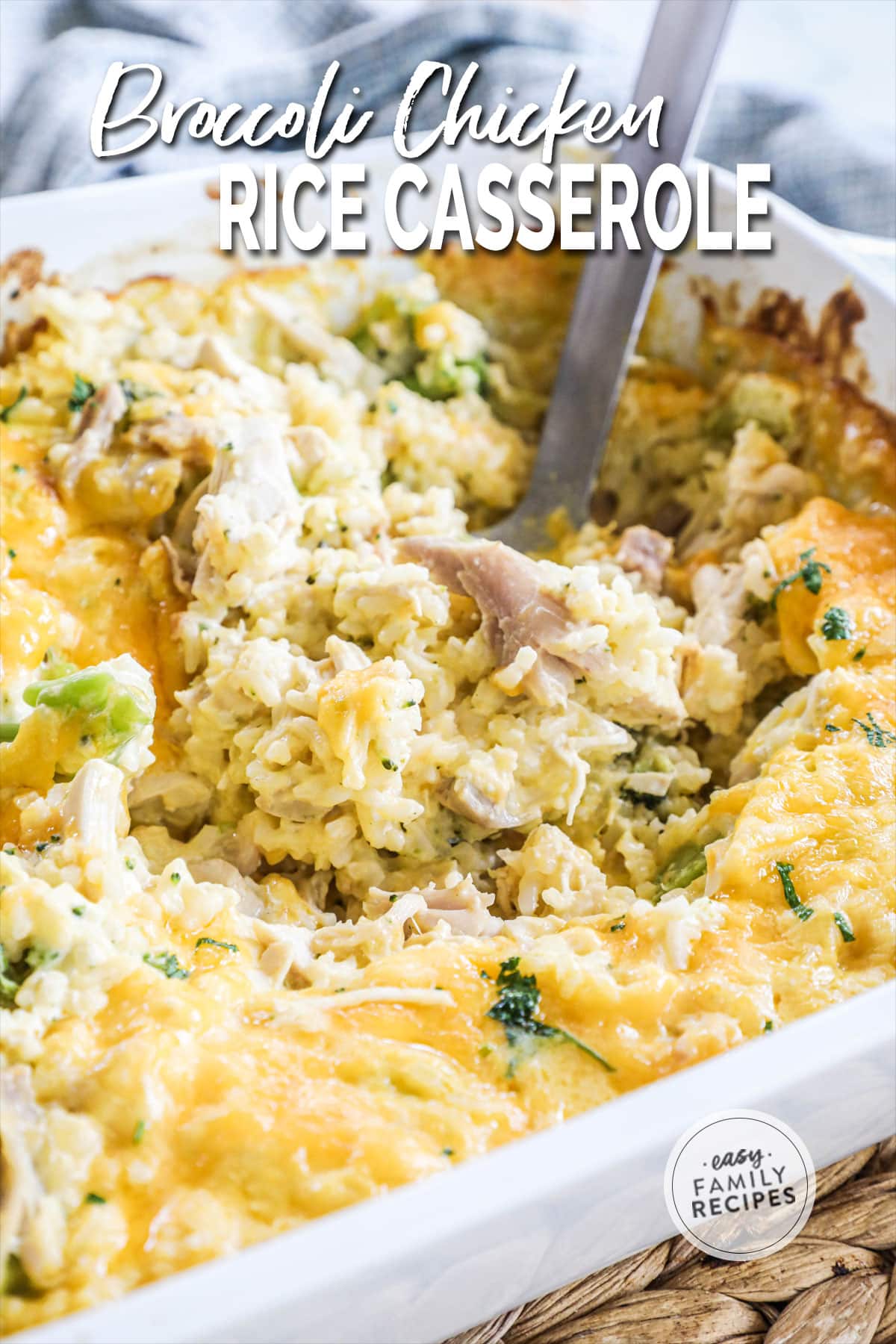 Freezer Meal Instructions
Making this chicken broccoli rice casserole with Campbell's soup into a freezer meal is simple! Follow the steps below and you can store this recipe in the freezer for up to 6 months.
Prepare the Casserole: Start by preparing the Cheesy Broccoli Chicken Rice Casserole as instructed in the recipe. Mix together the cream of chicken soup, cheddar cheese soup, shredded chicken breast, broccoli florets, uncooked rice, chicken broth, and sour cream until well combined. Transfer the mixture to a freezer-safe baking dish.
Freeze the Casserole: Cover the baking dish tightly with aluminum foil or a freezer-safe lid. Make sure it is well-sealed to prevent freezer burn.
Thaw overnight in the fridge or bake from frozen. Follow the baking instructions in the recipe card, and if baking from frozen, simply add an additional 20 minutes or so.
Easy Chicken Broccoli Rice Casserole Leftovers
If you have leftovers after making this easy chicken rice broccoli casserole, then it is your lucky day! They save and reheat well, and can make the start of another delicious dish.
To save leftovers, separate into meal sized portions and then place in an airtight container and store:
in the refrigerator for 3-4 days
in the freezer up to a month
More Casserole Recipes
If you enjoyed this recipe, I really hope you will take a moment to grab a few more easy recipes for another busy night!
You can check out all of my casserole recipes here, or see a few of our readers favorite recipes below.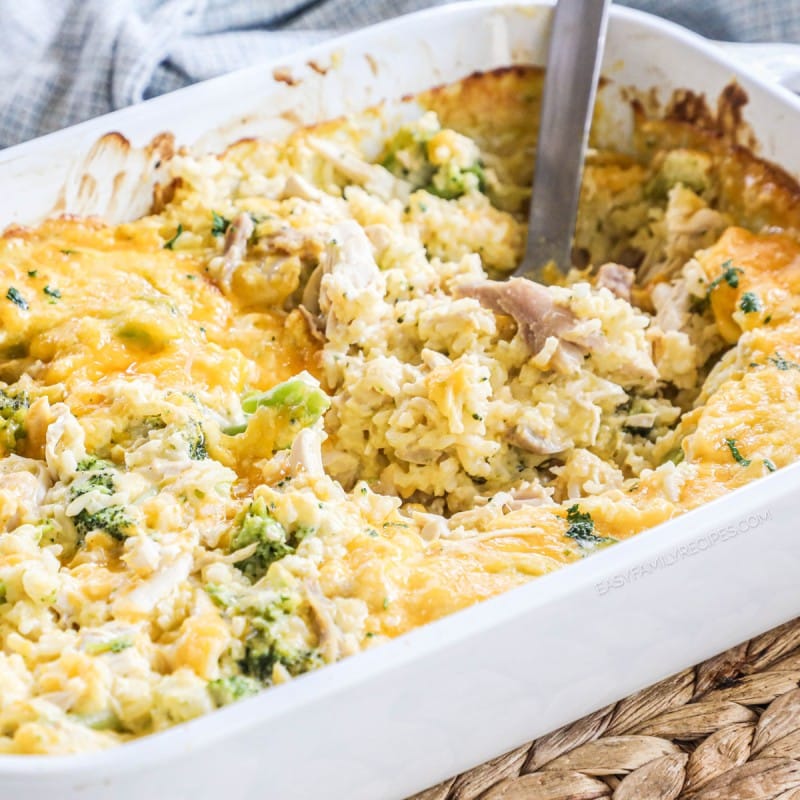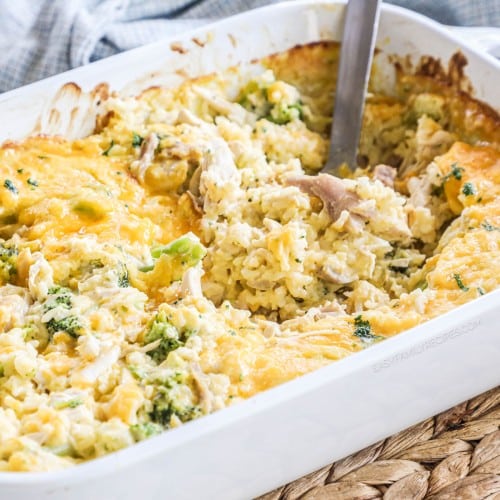 Cheesy Broccoli Chicken and Rice Casserole
Enjoy a family-friendly meal with Cheesy Broccoli Chicken Rice Casserole. It's creamy, flavorful, and satisfying with every bite!
Ingredients
3

chicken breasts

,

cooked and shredded or cubed (about 4 cups)

10.5

ounces

Campbell's cream of chicken soup

,

(1 can)

10.5

ounces

Campbell's cheddar cheese soup

,

(1 can)

2

cups

Minute rice

,

or quick cooking rice (Uncooked)

12

ounces

broccoli florets

,

frozen or fresh

2

cups

chicken broth

1

cup

sour cream

1

cup

shredded cheddar cheese
Optional
1

tablespoon

chicken base

,

optional, but amps up the richness and flavor

chopped fresh parsley

,

for garnish
Instructions
Preheat the oven to 400˚F.

In a large bowl, mix cream of chicken soup, cheese soup, shredded chicken breast, broccoli florets, (uncooked) rice, chicken broth and sour cream together until everything is incorporated, then spread the mixture into a 9×13 baking dish.

Sprinkle the shredded cheddar cheese evenly over the top. Cover with foil.

Bake on the middle rack of the oven for 40 minutes. Remove the foil and bake for an additional 10 minutes. Optional: Broil for the last 3-4 minutes to create crispy bits on the top. Enjoy!
Recipe Notes
Substitutions and Variations:  
Other vegetables can be added before cooking. Try:

chopped mushrooms
mixed veggies
sweet green peas

Try different toppings for a new taste! To try any of these, crush them up and mix them with 1/4 cup melted butter, then spread over the top of the casserole.

Ritz crackers
crushed pretzels
crushed cheese crackers
crushed cornflakes
stuffing mix
How to Store: To save leftovers, separate into meal sized portions and then place in an airtight container and store:
in the refrigerator for 3-4 days
in the freezer up to a month
How to Freeze: This recipe freezes well. It can be frozen before or after cooking. See "how to freeze" section in original post for full instructions.

 
How to Reheat: This can be reheated in the microwave in 30 second increments, or cover with tin foil and place into the oven to reheat

 
How to Scale: This casserole can be cut in half and made in a 9×9 inch casserole dish.
Nutrition Information
Calories:
502
kcal
(25%)
,
Carbohydrates:
38
g
(13%)
,
Protein:
36
g
(72%)
,
Fat:
22
g
(34%)
,
Saturated Fat:
10
g
(63%)
,
Polyunsaturated Fat:
2
g
,
Monounsaturated Fat:
6
g
,
Trans Fat:
0.01
g
,
Cholesterol:
121
mg
(40%)
,
Sodium:
1386
mg
(60%)
,
Potassium:
933
mg
(27%)
,
Fiber:
2
g
(8%)
,
Sugar:
4
g
(4%)
,
Vitamin A:
1106
IU
(22%)
,
Vitamin C:
52
mg
(63%)
,
Calcium:
238
mg
(24%)
,
Iron:
3
mg
(17%)