These Ground Turkey Enchiladas are easy to make and perfect for a quick family dinner on a weeknight. They're packed with all the yummy flavors of Mexican-style beef enchiladas but made lighter with seasoned ground turkey. You can also make a double batch and freeze them for a quick and delicious dinner any time you want or to bring to a friend in need!
As a mom juggling a million things, I need meals that are quick, easy, and still a hit with the family, which is why these Ground Turkey Enchiladas are my secret weapon for chaotic weekdays. These easy ground turkey enchiladas are a great addition to your meal rotation. They've got that comforting, classic flavor without the extra fuss. If you're looking for a traditional beef recipe, check out my easy ground beef enchiladas or my cheese enchiladas for a vegetarian option!
Why I LOVE this recipe!
Quick and Effortless Family Dinner – When you're short on time during busy weeknights, this recipe for ground turkey enchiladas can come in handy in your kitchen. Preparing it is simple and won't require being stuck to the stove for hours. You can enjoy a wholesome family dinner without sacrificing time or energy.

Lighter Twist with Ground Turkey – The whole family can enjoy enchiladas made with lean ground turkey instead of traditional beef. It's a healthier option that doesn't sacrifice taste and is just a way to switch up your favorite enchiladas with another flavor.

Kid-Friendly Flavor – Win over even the pickiest eaters at the table. The savory ground turkey and melted cheese create a delicious flavor combination that makes dinner enjoyable for kids and adults.

Versatile and Adaptable – Make it your own! This recipe's versatility allows you to play with ingredients and adapt these enchiladas to your family's tastes. It's a versatile dish that can be customized to fit your preferences and busy schedule, whether you add veggies, adjust the spice level, or try out different cheeses.
Recipe Notes
This turkey enchilada recipe is as simple as promised! Just a few simple ingredients and easy prep work for a family friendly meal.
In this section I am going to go through a few tips and tricks I use for how to make ground turkey enchiladas to get the absolute best and most delicious results.
Make sure to scroll to the bottom for the FULL recipe card.
Ingredients + Substitutions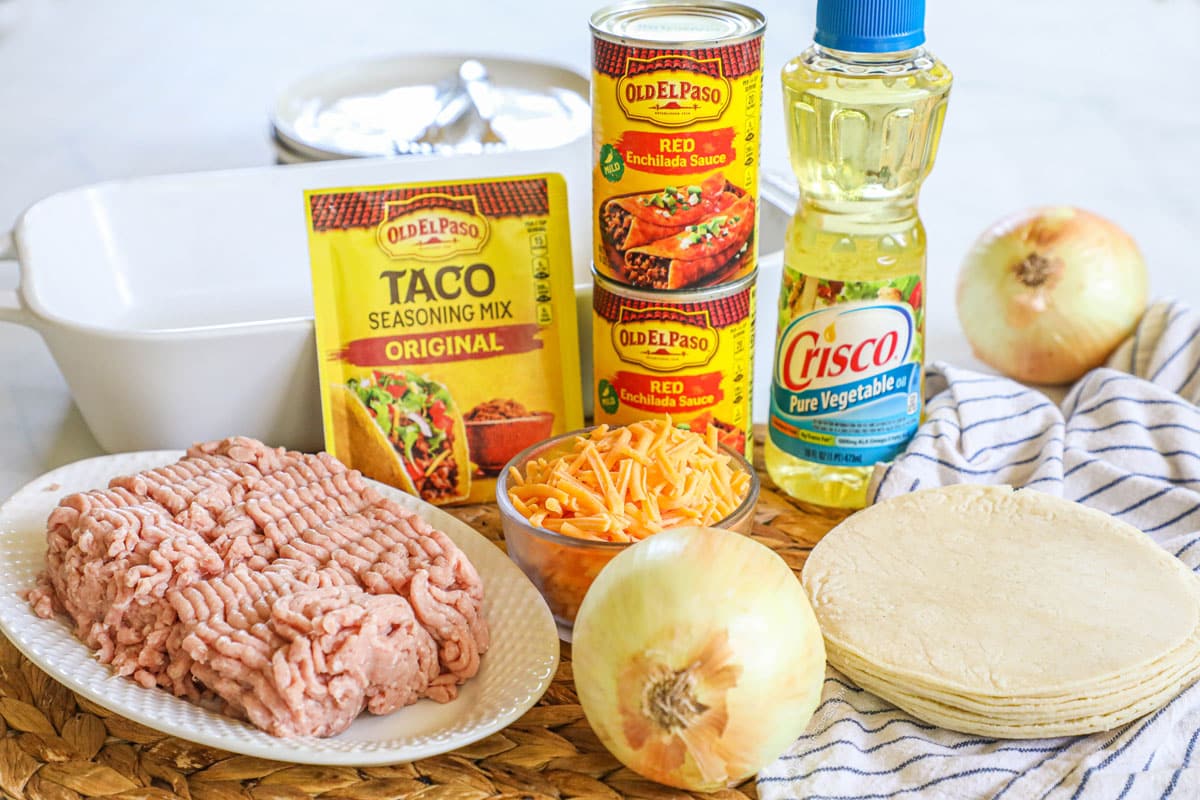 Ground Turkey – Lean ground turkey serves as the star of this recipe, offering a lighter alternative to beef. Its mild flavor absorbs the seasonings and enchilada sauce, creating a savory and satisfying filling.

Onion – I prefer yellow onion, but any onion can add a sweet aroma and depth to the turkey mixture, enhancing the flavor profile of the enchiladas.

Taco Seasoning – Store-bought is quick and easy to use, but you can also customize the flavor of your enchiladas with my homemade taco seasoning.

Corn Tortillas – The canvas for your enchiladas, corn tortillas provide a rustic and authentic texture. They absorb the flavors of the filling and sauce, creating a delightful contrast to the tender ground turkey. Take your time pan-frying in oil to ensure they are pliable enough to roll up- otherwise they will fall apart.

You can substitute flour tortillas here if it is your preference. This is less authentic and won't taste like the traditional ones you get at a Mexican restaurant, but you can skip the pan frying step!

Red Enchilada Sauce – This is a traditional enchilada sauce, and I use canned for ease. You can also substitute green enchilada sauce or use homemade enchilada sauce if you prefer.

Shredded Cheese – Melted cheese is the crowning glory of these enchiladas. I prefer cheddar, but you can substitute Monterey Jack, or a Mexican cheese blend,

Oil – This is used to coat the corn tortillas quickly. Vegetable oil works great, or you can opt for avocado or olive oil.
Garnish and Topping Ideas
Cilantro
Sour cream
Avocado
Make sure to see the recipe card at the bottom of this post for the full quantities and ingredients list.
Recipe Variations
If you love this recipe as much as we do and want some quick ways to change it up for variety, these little tips will do the trick!
Turkey Enchilada Casserole – Try a new twist on enchiladas with Turkey Enchilada Casserole. Made with seasoned ground turkey, sautéed onions, and spices, this dish is layered with corn tortillas and topped with red enchilada sauce and melted cheese. No need to roll anything – this casserole simplifies the process.

Turkey Enchiladas with Green Sauce – Enjoy a delicious explosion of zesty goodness with Green Turkey Enchiladas. Seasoned ground turkey fills corn tortillas covered in green enchilada sauce made from tomatillos and spices. It's an easy and delicious dish with a refreshing twist on classic red enchiladas.

Turkey Black Bean Enchiladas – After browning and seasoning the ground turkey, add in a can of drained black beans to fill your tortillas with. It's a hearty addition and will make for an even more satisfying meal!

Leftover Turkey Enchiladas – If you have turkey leftover from the Thanksgiving, Christmas, or another event, you can use them to make enchiladas extra fast! Just heat the leftover turkey and sprinkle with some taco seasoning, then use in place of the ground turkey as the filling for the enchiladas.
Recipe Step by Step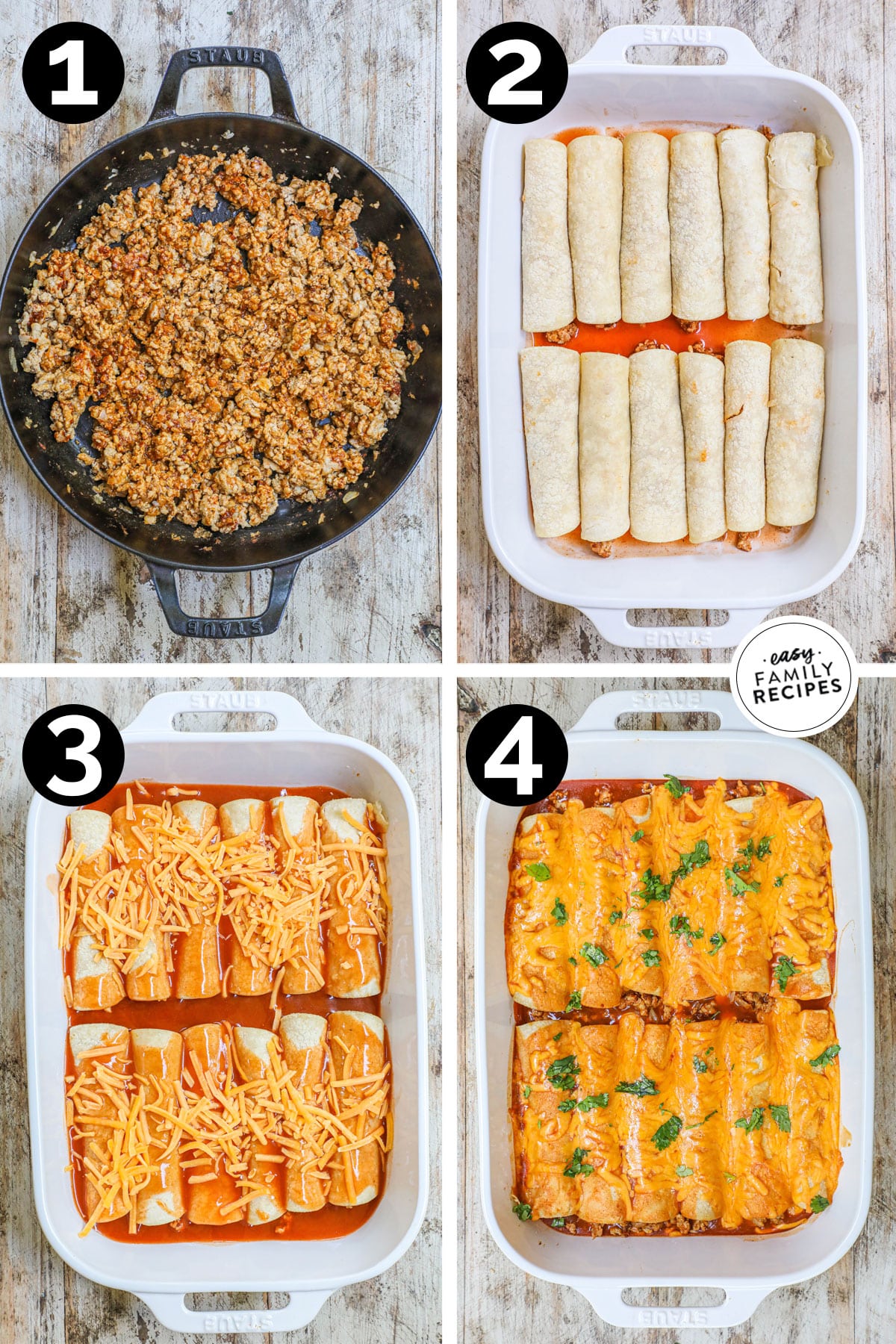 I am going to highlight a few key steps in the recipe here, but make sure to jump down to the recipe card for comprehensive instructions on how to make ground turkey enchiladas.
Step 1 – Start by cooking ground turkey and chopped onion in a large skillet over medium heat until the meat is fully cooked and no longer pink. Break up the turkey as it cooks, drain any excess grease, and stir in the taco seasoning. Once done, remove the skillet from heat.
Step 2 – In a small skillet over medium heat, add 1 tablespoon of oil. Quickly warm each tortilla by flipping and adding more oil as needed. Coat the bottom of a large casserole dish with a small amount of enchilada sauce. Fill each tortilla with a spoonful of the turkey mixture, roll tightly, and place seam side down in the casserole dish. Repeat until all turkey-filled enchiladas are rolled and in the pan.
Step 3 – Pour the remaining enchilada sauce over the enchiladas, ensuring they are fully covered, then sprinkle cheese on top.
Step 4 – Bake until the cheese is melted, the edges bubble, and they're heated through.
Recipe Tips
Warm Tortillas with Care: Heating tortillas with oil gives them a great texture, but avoid overheating them. They should be soft, not crispy.

Season Liberally – Ground turkey can be slightly subtle in flavor, so don't be shy with the seasoning. Whether it's taco seasoning or your own blend of spices, amp up the taste to ensure your enchiladas are flavorful.

Sauté the Onions Right – Cooking the onions with the ground turkey adds flavor and a hint of sweetness. Sauté them until they're translucent to achieve that perfect balance.

Layer Strategically – When assembling, layering is key. Start with enchilada sauce at the bottom to prevent sticking, then roll up those tortillas tightly with the turkey mixture. If you want to stretch the recipe, use the sides of the baking dish to add more ground turkey stuffed corn tortillas.
Recipe Short Cuts
If you need to make this recipe, but are extra short on time, here are a few ideas that can help make this recipe even faster!
Swap Tortillas – Opt for flour tortillas for a quicker assembly—they're pliable straight from the package, eliminating the need for frying.

Precooked Turkey – Save time by using precooked ground turkey or leftover turkey from another meal. Simply season and mix it in, skipping the cooking step.

Assembly Line Approach – Streamline the assembly by setting up an assembly line with all your ingredients. It makes the process efficient and enjoyable.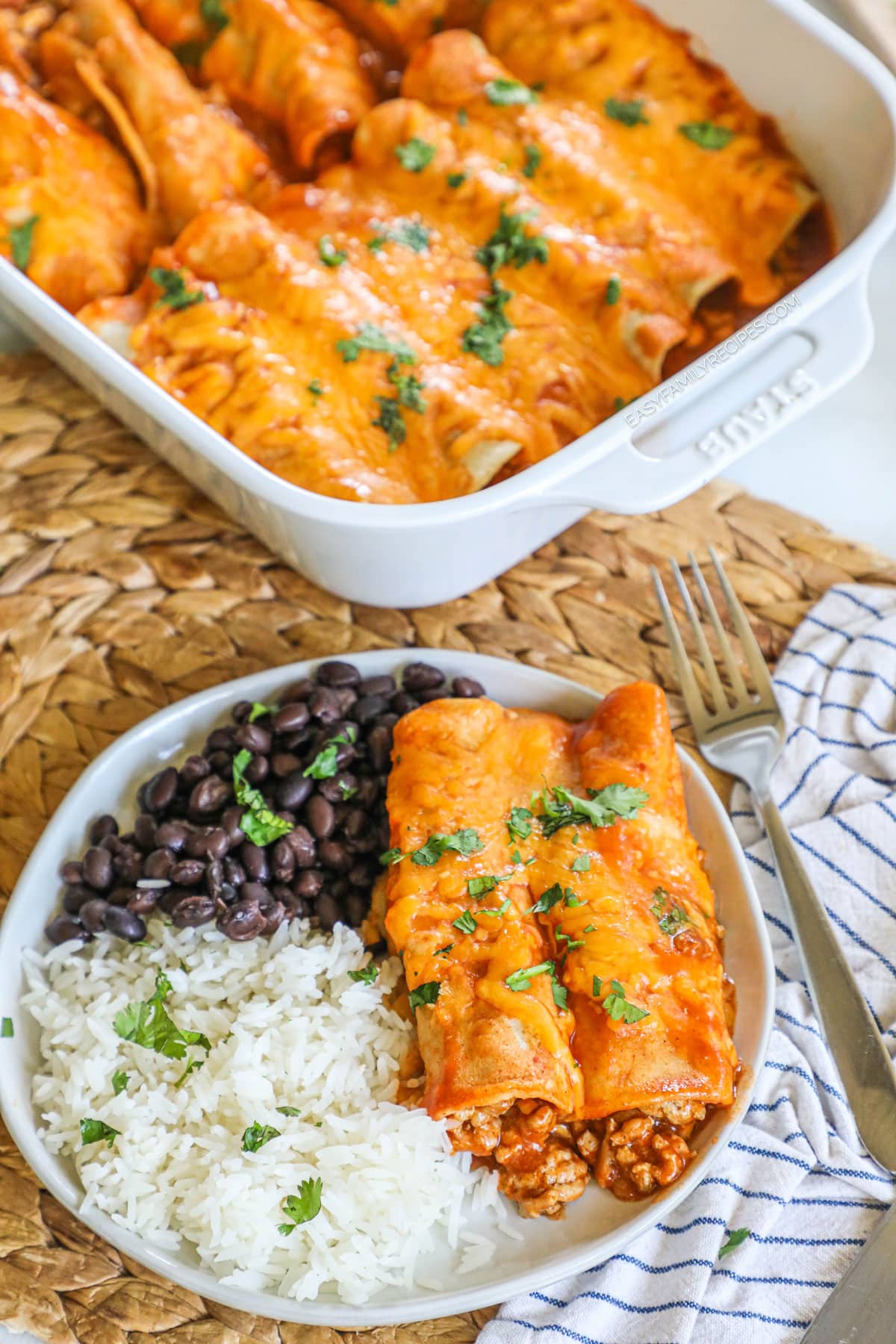 Freezer Meal Instructions
Making this turkey enchilada recipe into a freezer meal is simple! Follow the steps below and you can store this recipe in the freezer for up to 6 months.
To freeze before cooking
Assemble the Enchiladas – Prepare the enchiladas as usual, filling the tortillas with the seasoned ground turkey mixture.
Place in Oven-Ready Pan – Arrange the assembled enchiladas in an oven-ready pan. Ensure that it's a freezer-safe dish that can go from freezer to oven without any issues.
Cover with Sauce – Pour the enchilada sauce over the enchiladas, making sure they are well-coated. Skip the cheese for now and add when ready to bake.
Cover with Lid or Foil – Cover the pan with its lid or tightly with aluminum foil. This helps protect the enchiladas from freezer burn and preserves their moisture.
How to Freeze Turkey Enchiladas After Cooking
Cool Completely: Allow the cooked enchiladas to cool completely.
Arrange in Freezer-Safe Container: Place the enchiladas in a single layer in a freezer-safe container. Ensure they are spaced out to prevent sticking.
Cover Tightly: Seal the container with an airtight lid or cover it tightly with plastic wrap and aluminum foil.
How to Reheat after Freezing
Preheat Oven: Preheat your oven to 350°F.
Unwrap and Place: Unwrap the frozen enchiladas and place them in an oven-safe dish.
Cover and Bake: Cover the dish with foil and bake at 350°F for 20-30 minutes or until thoroughly heated.
Check Temperature: Ensure the internal temperature reaches 165°F.
What to Serve with Ground Turkey Red Sauce Enchiladas
Since this protein based dinner has the delicious flavors of Mexican cuisine, it will pair well with many of your favorite Mexican side dishes.
Choose one or several of these side dishes to create a wholesome, well-rounded dinner. There are both classic options and some healthy options to keep it light.
Side Dish Ideas
Turkey Enchilada Leftovers
If you have leftovers after making this recipe, then it is your lucky day! They save and reheat well, and can make the start of another delicious dish.
To save leftovers, separate into meal sized portions and then place in an airtight container and store:
in the refrigerator for 3-4 days
in the freezer up to a month
Recipe FAQ's
Can I use flour tortillas instead of corn tortillas for ground turkey enchiladas?
Absolutely! Feel free to use flour tortillas for a softer texture and quicker assembly since you can skip pan-frying them in oil first.
Can I add vegetables to the ground turkey mixture?
You can include vegetables in the turkey and onion mix before stuffing the tortillas. Try adding green chilis, zucchini, tomatoes, spinach, or any other vegetables you prefer. For watery vegetables like zucchini, let any excess moisture cook out beforehand to avoid affecting the filling's texture.
Why should I fry corn tortillas for enchiladas?
Frying corn tortillas in oil is key for two reasons. It makes them pliable, ensuring they won't crack during assembly, and it adds a boost of flavor to enhance the overall taste of your enchiladas. Don't skip this step for the best texture and deliciousness.
Should I cover enchiladas with foil before baking?
No, it's not necessary. Baking enchiladas uncovered allows the cheese to melt and develop a delicious golden crust, contributing to the overall texture and flavor.
More EASY Enchilada Recipes
If you enjoyed this recipe, I really hope you will take a moment to grab a few more easy recipes for another busy night!
You can check out all of my easy Enchilada recipes here, or see a few of our readers favorite recipes below.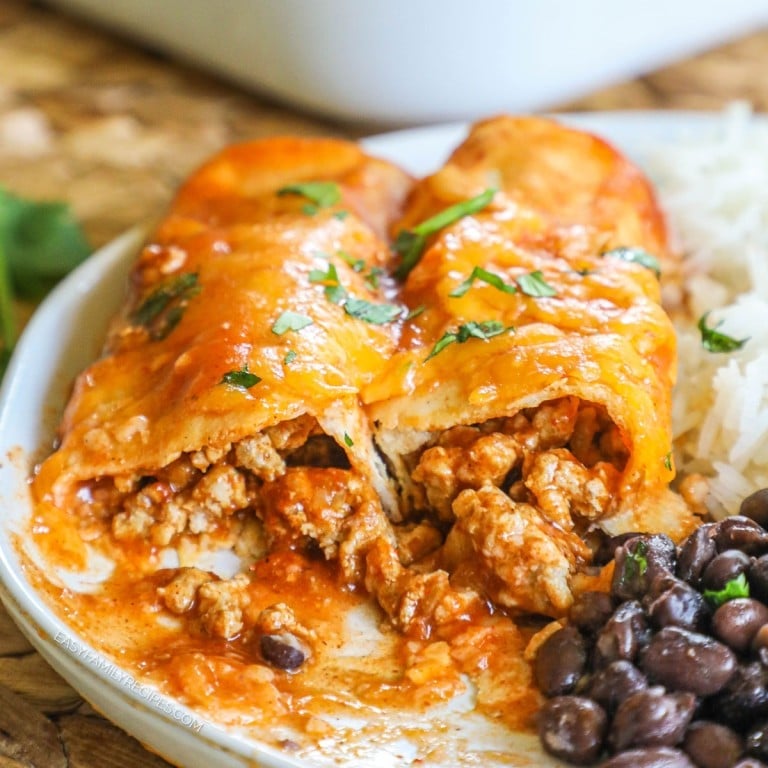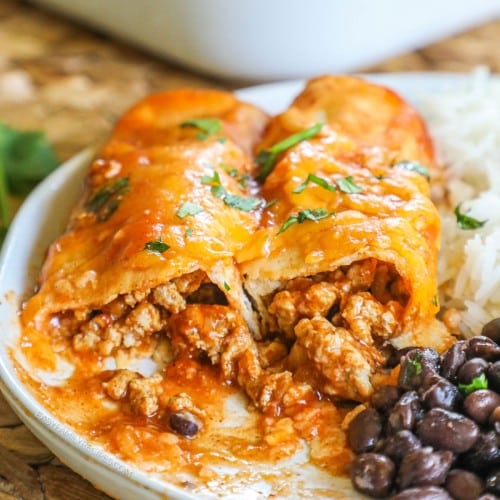 Ground Turkey Enchiladas
These easy ground turkey enchiladas roll seasoned ground turkey into soft corn tortillas, then smother them in red sauce and lots of melty cheese!
Ingredients
Ground Turkey Filling:
1.5

pounds

lean ground turkey

1

onion

,

diced

2

tablespoons

taco seasoning
Enchiladas:
12

corn tortillas

3

tablespoons

cooking oil

,

vegetable oil or canola oil

20

ounces

red enchilada sauce

,

(1 medium can or 2 small cans)

1

cup

shredded cheddar cheese
Instructions
In a large skillet, cook the ground turkey and chopped onion over medium heat. Break the meat up as it cooks until it is cooked through and no longer pink. Drain any excess grease and mix in the taco seasoning.

Once done, remove from heat.

Add 1 tablespoon of oil to a small skillet over medium heat. Once the oil is hot, add the tortillas and flip each side to quickly warm and coat with oil. Repeat with all tortillas, adding additional oil to the skillet as needed.

Pour 1/4 cup of the enchilada sauce in the bottom of a large baking dish. I used a 9×13 inch casserole. Spread to coat the bottom.

Fill each tortilla with a spoonful of meat mixture and roll tightly placing seam side down in the baking dish. Repeat until all of the turkey filled enchiladas are rolled and in the pan.

Pour the remaining enchilada sauce over the enchiladas so that they are all covered in sauce, then sprinkle the cheese over the top.

Bake for 20-25 minutes or until the cheese is melted and the edges start to bubble. Garnish with your choice of chopped cilantro or pico de gallo.
Recipe Notes
Substitutions: 
Swap the meat

 – Substitute ground chicken or a lean ground beef for more variations for enchiladas.

Onion

 – white onions are traditional for Mexican cuisine, but sweet, yellow, or red would also work.

Cheese

 – My cheese of choice is sharp cheddar because it has a stronger flavor, is less greasy than other cheeses, and is a great melting cheese. Mexican blend, colby jack, and Monterey jack are also good options.

Corn tortillas

 – Use corn shells for a traditional Mexican flavor. I use 8 regular size corn tortillas, but if you can find the street size corn taco shells, the work the best. 

Flour tortillas

 can be substituted but it will not of the same taste and texture as the corn shells.
How to Store: 
To save leftovers, separate into meal sized portions and then place in an airtight container and store them in the refrigerator for 3-4 days or
in the freezer up to a month
How to Freeze: 
This recipe freezes well. It can be frozen up to 3 months in advance or after cooking. See "how to freeze" section in original post for full instructions.
How to Reheat: 
This can be reheated in the microwave in 30 second increments, or cover with tin foil and place into the oven to reheat.
How to Scale: 
This recipe can easily be doubled if you are feeding a crowd or halved for smaller portions.
Nutrition Information
Serving:
2
enchiladas
,
Calories:
426
kcal
(21%)
,
Carbohydrates:
34
g
(11%)
,
Protein:
36
g
(72%)
,
Fat:
17
g
(26%)
,
Saturated Fat:
5
g
(31%)
,
Polyunsaturated Fat:
4
g
,
Monounsaturated Fat:
7
g
,
Trans Fat:
0.05
g
,
Cholesterol:
81
mg
(27%)
,
Sodium:
1092
mg
(47%)
,
Potassium:
473
mg
(14%)
,
Fiber:
5
g
(21%)
,
Sugar:
8
g
(9%)
,
Vitamin A:
927
IU
(19%)
,
Vitamin C:
4
mg
(5%)
,
Calcium:
183
mg
(18%)
,
Iron:
2
mg
(11%)