Move over boring breakfast, Shakshuka is quick, easy, healthy, and absolutely loaded with bold flavors. Start your day off right with perfectly cooked eggs, nestled in a rich red tomato sauce and topped with bright, fresh herbs. Eat it with pita, or just dig straight in with a fork.
Breakfast Shakshuka – The EASY Way!
I've always been a traditional breakfast kind of girl. I grew up eating all of the traditional American fare and loved it all! As I grew up and started to travel I learned that breakfast isn't just delicious in America, but it is maybe the most universally delicious meal.
On my recent food tour of Israel we ate our way through the flavors and cultures of the region. Although every bite I had was truly amazing, breakfast was probably my favorite.
Israeli breakfast is a special experience. Unlike America where we favor breads, eggs, and meat, Israeli breakfast often includes an assortment of salads, roasted vegetables and bold fresh sauces. You will still find fresh breads like the Jerusalem bagel though too! And like America, no breakfast would be complete with coffee or tea.
Generally my plate would be filled with potatoes covered in tahini, harrisa, and an olive tapanade, roasted zucchini and cauliflower, pineapple carpaccio, tabbouleh salad, and fresh bread.
While all of the food in Tel Aviv was overwhelmingly delicious, there was one dish that was so good, I kept coming back for it day after day. Red shakshuka eggs!
What is Shakshuka?
Israeli Shakshuka is a traditional breakfast food made with rich tomato, red pepper sauce sauce flavored with paprika, garlic, and cumin. Eggs are poached in the sauce and everything is cooked together in a single skillet. It is the original one pan breakfast!
Shakshuka literally translates to "all mixed up" since the sauce, spices, veggies and eggs are all made together in one pan. It is most often served as a main dish for breakfast or brunch, but also can also be found served for lunch or dinner as well.
You can find different flavor variations of shakshuka such as green shakshuka, chorizo shakshuka, spinach shakshuka, or chicken shakshuka, but the most popular is traditionally made red shakshuka eggs like the recipe I am sharing with you here.
Why I LOVE this recipe!
Bold Fresh Flavors– This wakes you in the morning in the best way, with fresh, bold flavors!
Quick– Even though this recipe is fresh and bright, it is still quick to make. You just need one pan and about 20 minutes!
Easy– Even though this dish is from the Middle East, there are so special skills or exotic ingredients required. You may even have everything you need on hand right now.
Filling– The combination of the wholesome tomato sauce with the protein packed eggs makes for a filling breakfast that doesn't weigh you down.
What to Serve with Shakshuka
Shakshuka is perfect to be served for breakfast or brunch and can easily serve a crowd if needed. You can keep it light and eat it right out of a bowl, or serve it with an assortment of options.
Side Dish Ideas
Pita bread- this is the most common thing to serve with shakshuka
Roasted vegetables- mainly cauliflower, but sometimes also zucchini or carrots
Potatoes- this is less traditional but still very delicious!
You can choose one or add a few sides to make a wholesome, and filling breakfast meal.
Recipe Notes
This Shakshuka recipe is as simple as promised! Just a few ingredients and a pan for a family friendly meal.
My recipe is a based on the traditional Israeli shakshuka I had in Tel Aviv, and the tips given to me by the locals we studied the food, cooked, and ate with. There may be different variations of shakshuka based on the region, but this one is true to Tel Aviv, Israel.
In this section I am going to go through a few tips and tricks I use for how to make shakshuka to get the absolute best and most delicious results.
Make sure to scroll to the bottom for the FULL recipe card.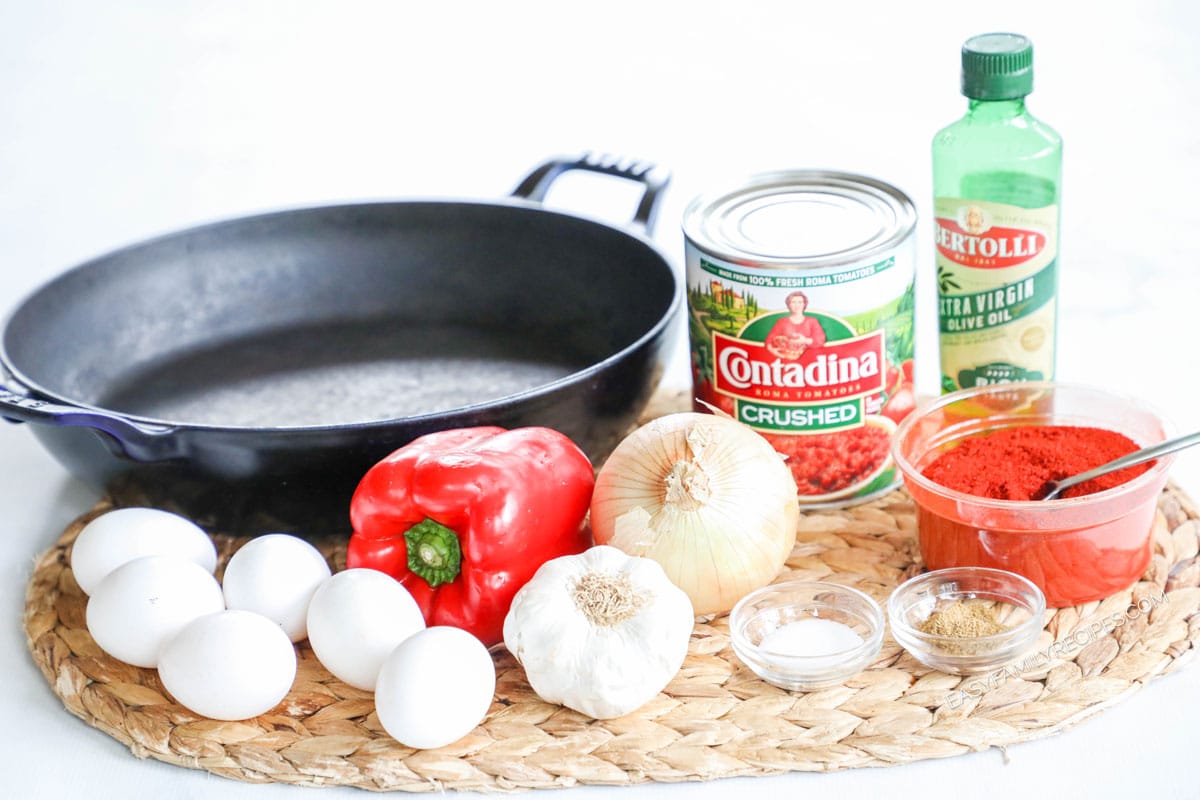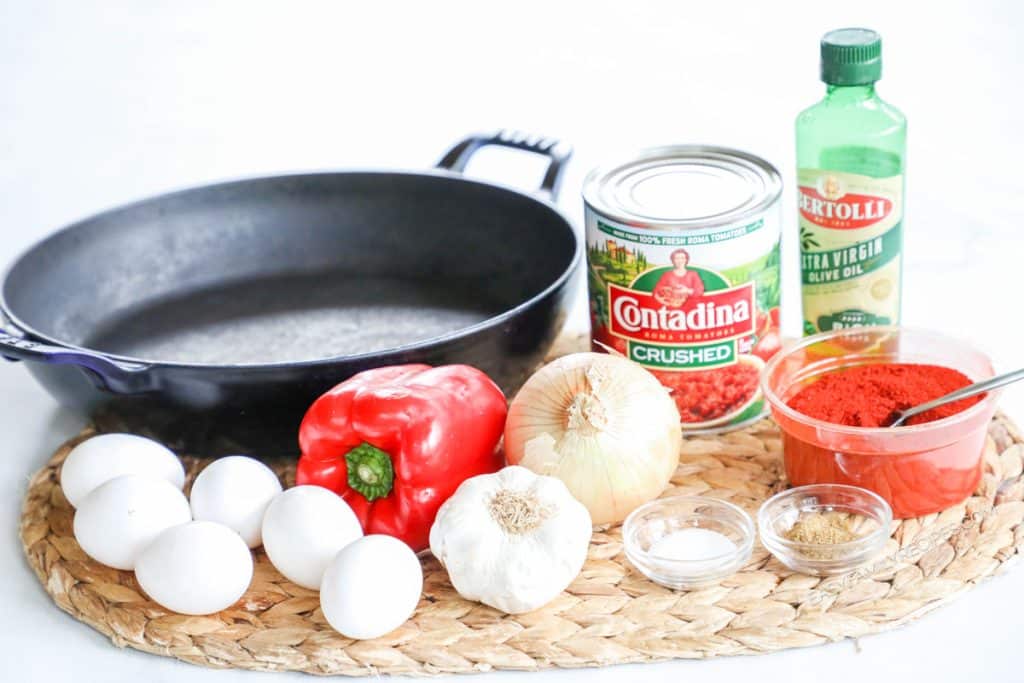 Ingredients + Substitutions
Olive oil
Onion– Any white, yellow, or sweet onion will work well in this recipe
Red bell pepper– If you don't have red on hand, you could substitute orange bell pepper or yellow bell pepper which have a similarly sweet flavor.
Fresh garlic– fresh garlic carries through the tomato sauce. I highly recommend fresh, but if you are in a pinch, jarred can work.
Seasonings– Paprika, cumin, and salt are used to give the sauce bold flavor with just a few ingredients
Crushed tomatoes– You can make shakshuka with fresh tomatoes, or whole canned tomatoes, but I find the combination of using canned crushed tomatoes along with fresh garlic and spices gives you all the flavor and makes the shakshuka recipe much more easy to make. I pick up 28 ounce cans at our local grocer.
Eggs– The eggs will be poached on top of the sauce so you can use more or less as desired.
Garnish – we use a combination of freshly chopped cilantro and freshly chopped parsley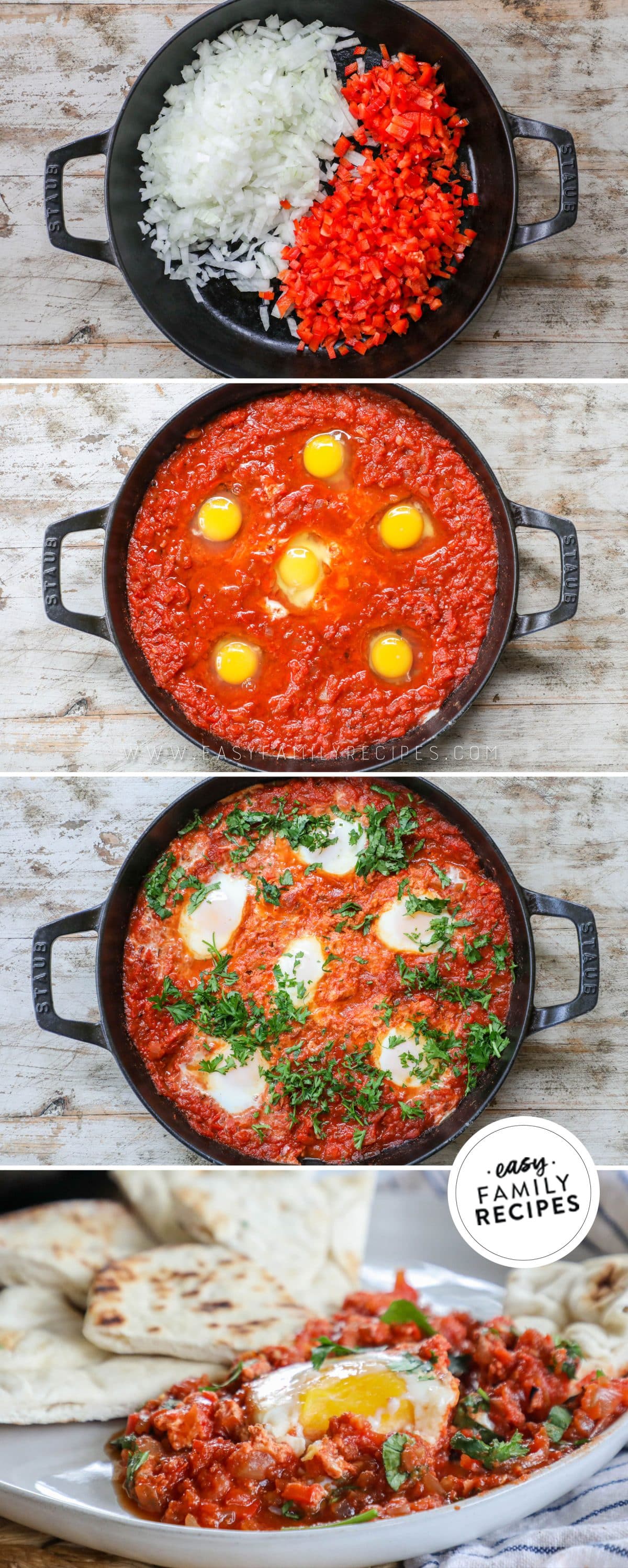 Recipe Tips
Use a large skillet– This makes enough for a crowd and needs room for it all to simmer together, so you are going to want to use your biggest skillet!

Be prepped– This recipe moves quickly once you start, so it is very helpful to have the ingredients prepped (cut, chopped, measured) ahead of time so you don't get in a bind when the shakshuka is cooking and you are trying to get an ingredient ready to go.

Chop small– I like to use very finely diced onion and bell pepper so the flavor gets more distributed throughout each bite. It can speed up and make it easy to finely dice if you use a food processor or mini chopper!

Cover the pan– You will need a pan or skillet that has a lid to get the eggs cooked quickly. This allows the bottom to cook from the heating element underneath and the top of the eggs to cook as the heat circulates within the pan. If you don't have a large skillet with lid, you can transfer an oven-safe skillet to the oven after you crack the eggs in and bake at 350˚F for 10-20 minutes to your desired level of doneness.

Blend smooth– I don't blend my shakshuka sauce mixture since I want to keep this an easy shakshuka recipe that is made as quickly as possible. Generally I just give it a stir and call it good. If you prefer a completely smooth sauce you can use a hand blender to blend the sauce before adding the eggs.

Doneness– Once the sauce is done simmering, you will add in the eggs and cook just until they reach your favorite level of doneness for both the egg whites and yolks. I always cover my pan for this part which helps the eggs cook more quickly and evenly by recirculating the heat from the top of the pan.
Recipe Short Cuts
If you need to make this recipe, but are extra short on time, here are a few ideas that can help make this recipe even faster!
Make the sauce in advance– You could make the sauce up to 3 days in advance, then transfer it back to the skillet, heat, and add the eggs when you are ready to serve. The finished dish will also reheat well.
Use precut veggies– You can find both onion and red bell pepper pre-chopped in the produce section of many major grocery stores. Also take a peek in the freezer section to see if they offer precut frozen onions or peppers.
Prepare as a freezer meal– Shakshuka can be prepared up to 6 months in advance using the freezer method. See details below.
Recipe Variations
If you love this recipe as much as we do and want some quick ways to change it up for variety, these little tips will do the trick!
Spicy Shakshuka– Make the recipe as directed adding in either 1 teaspoon – 1 tablespoon of red pepper flakes -OR- 1/2 teaspoon – 2 teaspoons of cayenne pepper with the spices. Choose the amount you want to add based on your desired level of spiciness of the dish.

Shakshuka with Feta– Make the recipe as directed, sprinkling feta cheese over the top with the garnish.

Baked Shakshuka– this method works well if you do not have a skillet with a lid. Make the shakshuka sauce as directed. Once it is prepared, transfer the sauce to a casserole dish, add the eggs to the sauce in the dish, then bake for 10-20 minutes or until the egg yolks reach your desired level of doneness.

Veggie Shakshuka– There are many vegetables that go great in or with tomato shakshuka. kale, cauliflower, and spinach are my top 3 choices, but the options are endless!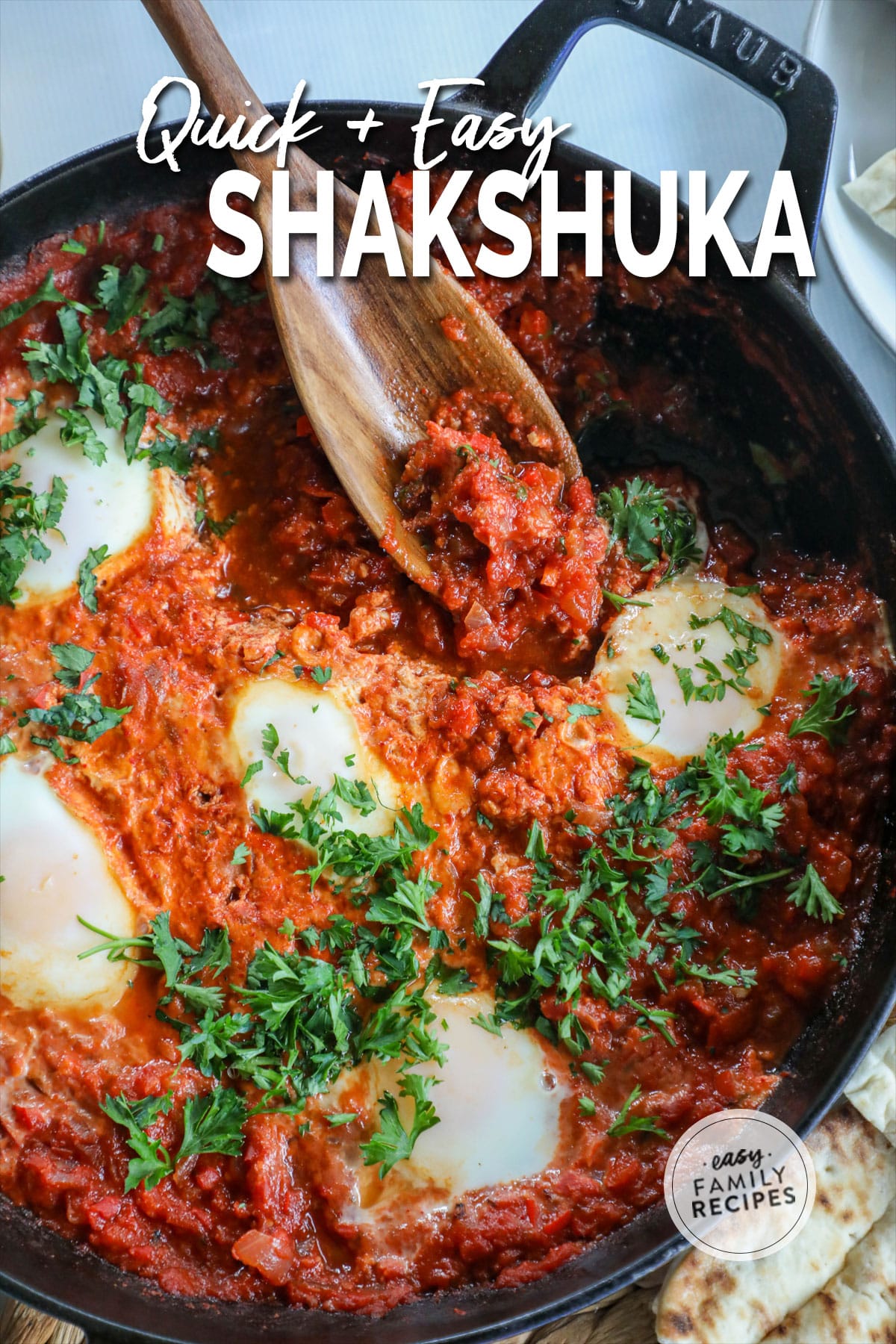 Freezer Meal Instructions
Making this Easy Shakshuka recipe into a freezer meal is simple! Follow the steps below and you can store this recipe in the freezer for up to 6 months.
Make the shakshuka sauce as directed.
Let the shakshuka sauce cool to room temperature.
Transfer the sauce to a zip top freezer bag or air tight container.
Freeze.
Once ready to make, thaw the shakshuka sauce for 24-48 hours in the fridge.
Place the sauce in a skillet or baking dish and continue where you left off.
Leftover Shakshuka
If you have leftovers after making Shakshuka, then it is your lucky day! They save and reheat well, and can make the start of another delicious dish.
To save leftovers, separate into meal sized portions and then place in an airtight container and store:
in the refrigerator for 3-4 days
in the freezer up to a month
More Easy Breakfast Recipes
If you enjoyed this recipe, I really hope you will take a moment to grab a few more easy recipes for another busy night!
You can check out all of my ||||| recipes here, or see a few of our readers favorite recipes below.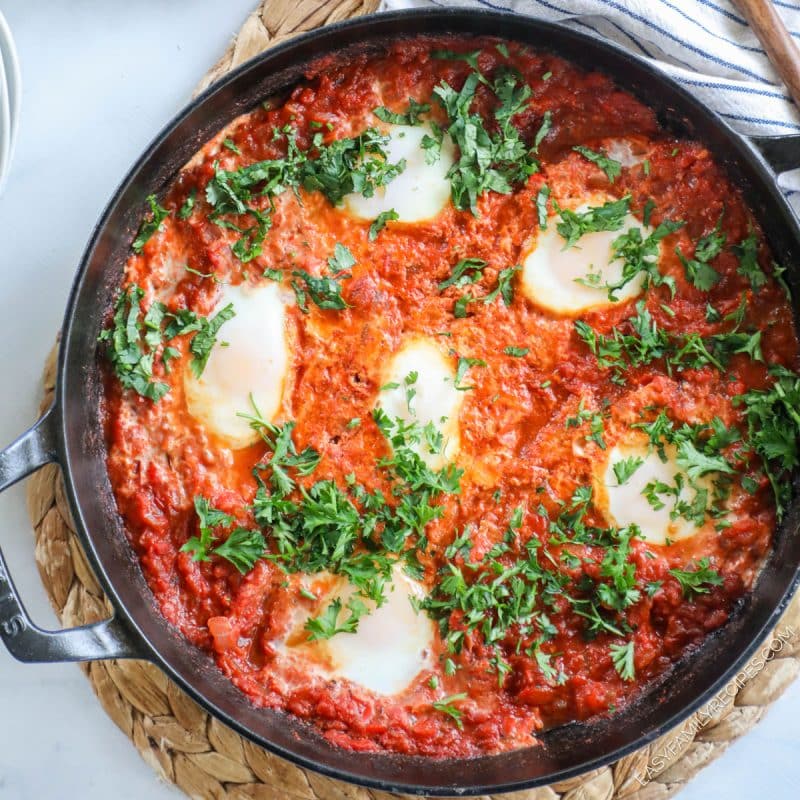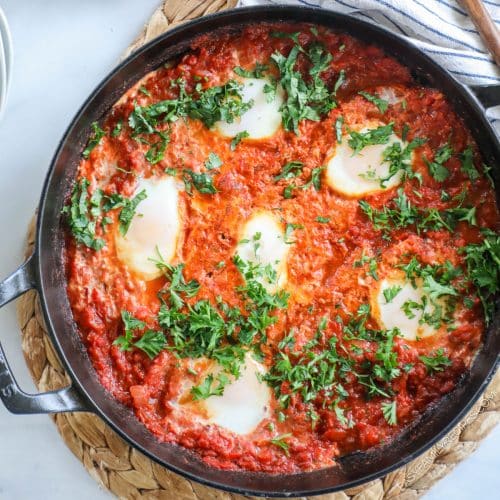 Easy Shakshuka
Shakshuka eggs are quick, easy, healthy, and absolutely loaded with bold flavors. Start your day off right with perfectly cooked eggs, nestled in a rich red tomato sauce and topped with bright, fresh herbs. Eat it with pita, or just dig straight in with a fork.
Ingredients
1

tablespoon

olive oil

1

onion

,

finely diced

1

red bell pepper

,

finely diced

3

cloves

garlic

2

teaspoons

paprika

1

teaspoon

cumin

1/2

teaspoon

salt

28

ounces

crushed tomatoes

6

eggs
Garnish
Freshly chopped cilantro

Freshly chopped parsley
Instructions
Heat the olive oil in a large pan over medium heat. Once hot add the onion, bell pepper. Saute around 3-5 minutes or until the onion is clear.

Stir in the garlic, paprika, cumin, and salt. Then add the crushed tomatoes and mix to combine. Reduce heat to low.

Use the back of a spoon to create a hole, then crack an egg to fill the hole. Repeat with each egg. Then cover the pan and cook until the eggs reach your desired level of doneness.

Cooking time can vary, but I find a minimum 3-5 minutes gives me an over easy egg, 6-8 is over medium, and 9-12 will make an over hard egg.

Garnish the top with a generous amount of chopped cilantro and parsley and serve warm with pita or just dig in with a fork.
Nutrition Information
Calories:
144
kcal
(7%)
,
Carbohydrates:
14
g
(5%)
,
Protein:
8
g
(16%)
,
Fat:
7
g
(11%)
,
Saturated Fat:
2
g
(13%)
,
Polyunsaturated Fat:
1
g
,
Monounsaturated Fat:
3
g
,
Trans Fat:
0.02
g
,
Cholesterol:
164
mg
(55%)
,
Sodium:
434
mg
(19%)
,
Potassium:
544
mg
(16%)
,
Fiber:
4
g
(17%)
,
Sugar:
8
g
(9%)
,
Vitamin A:
1476
IU
(30%)
,
Vitamin C:
39
mg
(47%)
,
Calcium:
83
mg
(8%)
,
Iron:
3
mg
(17%)