These No Bake Cookies are PACKED with chocolate, peanut butter, and oatmeal to make the perfect tender and super delicious treat. The cookies have long been a favorite because they have the most addicting rich chocolate and peanut butter flavor. No Bake Cookies are special because they are boiled on the stove top instead of being baked in the oven, which is what gives them their unique flavor and texture! These Chocolate No Bake Cookies are a classic family favorite to keep for your recipe box!
Chocolate No Bake Cookie Recipe
Chocolate No Bake Cookies are one of my all time favorite cookies. They have a super rich chocolate flavor and the perfect tender texture. The recipe has only 7 simple ingredients, the stars being the chocolate, peanut butter and oatmeal, and can be made in as little as 20 minutes!
This classic recipe gets it's name from the fact that these cookies are not baked like traditional cookies such as chewy chocolate chip or snickerdoodles are. Instead these No Bake Cookies are boiled. By boiling the sugar with the butter, milk and cocoa we are able to make a little baking magic (or chemistry!) happen and allow the cookies to firm up as they cool.
How to Make No Bake Cookies
These cookies are quick and easy to make and by following a few simple rules you should end up with perfect cookies every time! I am going to go over the main steps here, but you can find the FULL recipe card at the bottom of this post.
Place a medium-large pot on the stove top and stir together the milk, sugar, and cocoa powder, then add the butter. Turn the heat to medium-high and stir frequently until the mixture starts to boil.
Once the mixture reaches a rolling boil, continue to cook stirring for 60-90 seconds, or until the mixture reaches 235-240˚F on a candy thermometer, then remove it from the heat. Make sure that it is at a rolling boil once you start timing. It should look like the top picture where there are large bubbles throughout, not just bubbles on the sides.
Immediately stir in the vanilla and peanut butter until combined, then fold in the quick cooking oats.
Lay parchment or wax paper on the counter and drop the cookies by the spoonful onto the paper. Let rest for 15-20 minutes or until the cookies have set.
Make sure and wait until the cookies have set to dig in as, one, they will be really hot until they cool, and two, the oatmeal absorbs the moisture of the cookies as they set which will change the texture of the cookie making it tender and delicious. This should get you pretty close to some pretty perfect Chocolate No Bake Cookies, but if you do have trouble, see my tips below!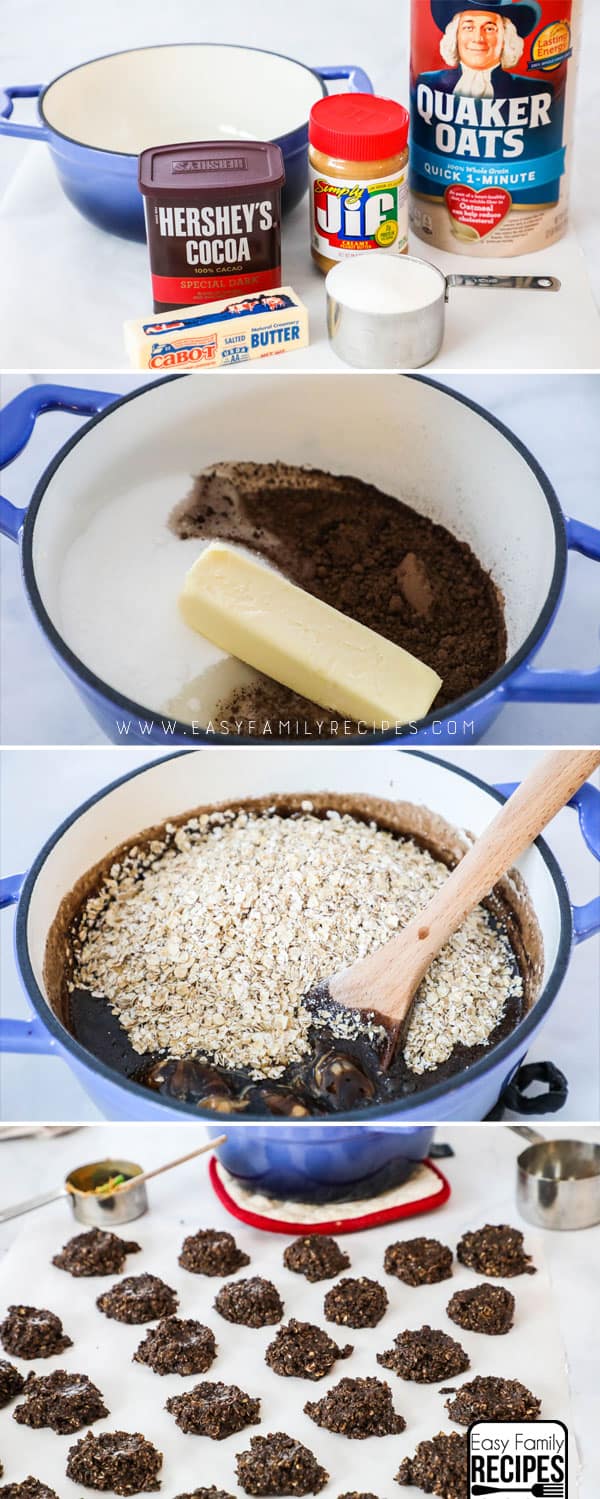 Why Are My No Bake Cookies Not Hardening?
The short answer is that you probably didn't cook them long enough.
The longer version is that when you make no bake cookies, you really aren't making cookies, you are making candy. Candy is made by cooking sugar to a certain temperature which allows the sugar to change on a molecular level so that it can harden. That sounds super fancy, but what you really need to know is that without the mixture reaching the right temperature it won't set like it should.
If you have a candy thermometer use it! It is easy to do and ensures a perfect result! The mixture should reach 235-240˚F for it to set properly.
If you find yourself with chocolate no bake cookies that won't set, you can try placing the cookies in the refrigerator or freezer. This won't really fix the problem as they will soften again as they warm, but it will most likely get them solid enough to eat cold, and chances are they will still taste pretty darn good!
Why Are My No Bake Cookies Dry or Crumbly?
If you make your no bake cookies and find that they are too dry and crumbly, you probably have the opposite problem that we discussed above. You may have cooked the mixture too long which can make have more of a dry texture when they set.
The other thing that occasionally happens is that you use too much, or not the right kind of oatmeal which can cause it to absorb too much of the moisture as the no bake cookies set. This recipe calls for quick cooking oats, if traditional old fashioned oats are used they can cause the cookies to be more hard to chew or dry.
How long do Chocolate No Bake Cookies Last?
No Bake Cookies can be stored in an airtight container at room temperature for up to a week, and may stay good a little longer.
No Bake Cookies can be placed in the refrigerator for up to two weeks.
No Bake Cookies can be stored in the freezer for up to a month.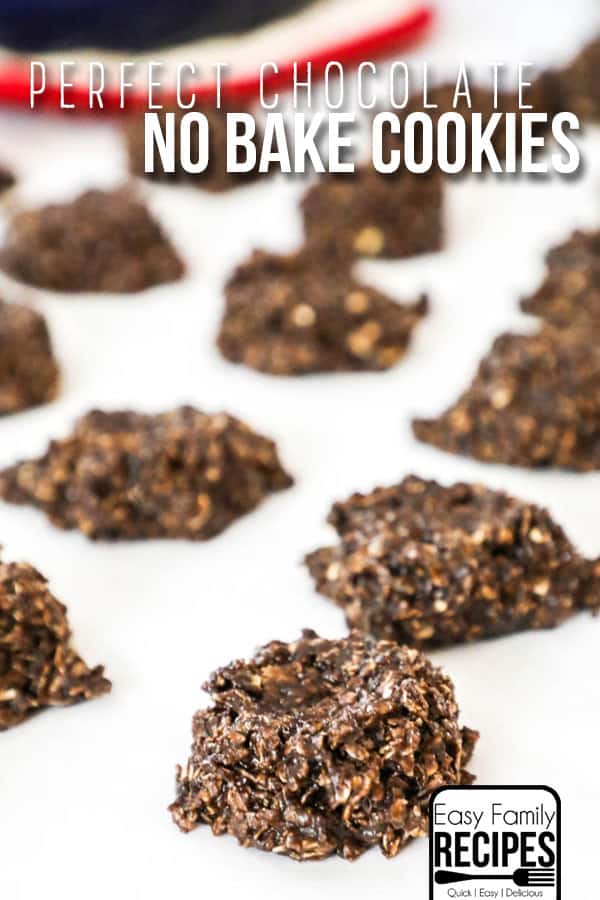 More Cookie Recipes
If you are a cookie lover like me, you might want to add these recipes to your list to make. They are tried and true!
Chewy Peanut Butter Cookies
Soft Sugar Cookies
Ultimate Chewy Chocolate Chip Cookies
Soft & Chewy Gingersnaps
I hope that you get to make these soon and your family enjoy these as much as me and mine do!
If you do get a chance to try it, I would love it if you let me know! You can leave me a comment below, or if you post a picture on Instagram, make sure to tag me @easyfamilyrecipes so that I can see what you are cooking up! It makes my day to see others enjoying the recipes that I share!
Oh and before you go!… If you need a regular rotation of recipe inspiration like me, make sure to sign up to get our emails! I send out my new favorites, the recipes my family has been devouring, and some of the best tried and true recipes. It is easy and free of course! You can click here to sign up!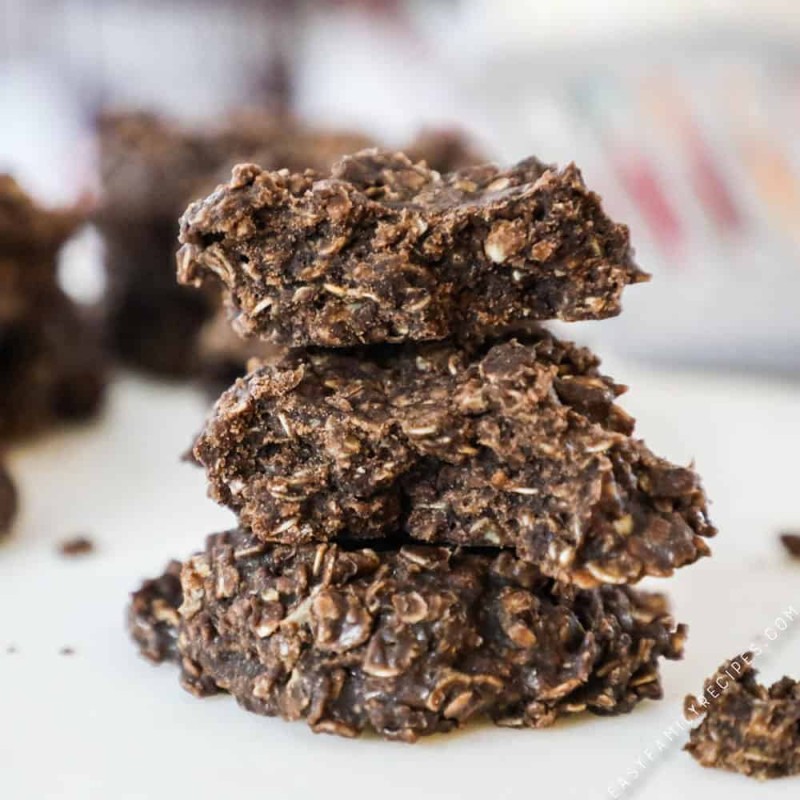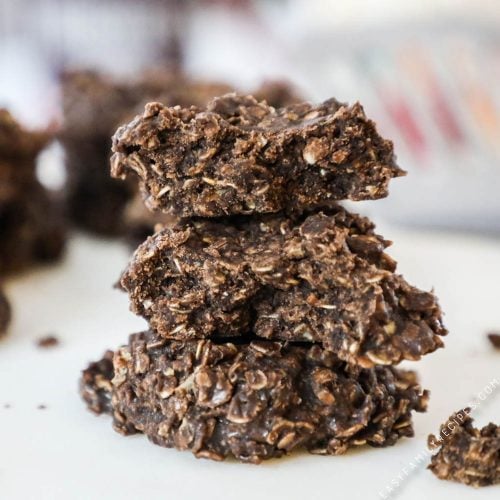 Chocolate No Bake Cookies
These Chocolate No Bake Cookies are packed with rich chocolate, creamy peanut butter and oatmeal. These cookies cook by boiling on the stove top and then cool to a perfect tender cookie.
Ingredients
1/2

cup

butter

2

cups

white sugar

1/2

cup

milk

1/4

cup

cocoa powder

3

cups

oatmeal

,

quick cooking

1

teaspoon

vanilla extract

1/2

cup

peanut butter

,

creamy or crunchy
Instructions
In a medium-large pot, combine the butter, sugar, milk, and cocoa powder and cook over medium-high heat stirring regularly until it boils.

Once the mixture comes to a rolling boil continue to cook for 60-90 seconds (or until the mixture reaches 235-240˚F) while stirring frequently, then remove from heat.

Immediately add the vanilla and peanut butter and stir until combined. Then fold in the oatmeal until it is evenly distributed.

Drop spoonfuls onto parchment paper let set for 15-20 minutes. Enjoy!
Recipe Notes
Cookies can be stored in an airtight container in a cool dry place for 1 week days, or in the freezer for up to a month.
*This recipe is naturally gluten free. Please check packaging on individual ingredients purchased to ensure compliance.
Nutrition facts provided based on my best estimation for the recipe and may not be accurate depending on what brands you use or modifications you make to the recipe.  I recommend using a nutrition calculator with the exact brands and measurements you use for the most accurate calculation.
©2018 Easy Family Recipes- Recipe found at: https://www.easyfamilyrecipes.com/chocolate-no-bake-cookies/
For more great easy dinner inspiration,

sign up for our emails here!
Nutrition Information
Serving:
1
cookie
,
Calories:
102
kcal
(5%)
,
Carbohydrates:
14
g
(5%)
,
Protein:
1
g
(2%)
,
Fat:
4
g
(6%)
,
Saturated Fat:
2
g
(13%)
,
Cholesterol:
7
mg
(2%)
,
Sodium:
40
mg
(2%)
,
Potassium:
48
mg
(1%)
,
Fiber:
0
g
,
Sugar:
11
g
(12%)
,
Vitamin A:
80
IU
(2%)
,
Calcium:
9
mg
(1%)
,
Iron:
0.3
mg
(2%)