These Chewy Peanut Butter Cookies are easy to prepare and are baked to perfection for an irresistible soft bite. Add this classic peanut butter cookie recipe to your collection for a foolproof dessert the whole family will love. Double this recipe and freeze some for snacking on through the month whenever your sweet tooth calls. Add to lunchboxes, enjoy as an afternoon snack, and indulge in this chewy peanut buttery goodness after dinner.
Best Peanut Butter Cookies – The EASY Way!
This recipe is super simple, and when followed through with each step, you'll get a soft peanut butter cookie with a chewy bite and the best peanut butter flavor. The golden edges crisp up to perfection and have a roasty toasty peanut butter taste with a soft bite in the center for an irresistible mouthfeel.
Why I LOVE this recipe!
The BEST chewy texture! – This is such a fantastic recipe for a thick and chewy peanut butter cookie. The combination of peanut butter and brown sugar adds to the chewy soft texture.

Standard peanut butter cookie recipe -While this might not be the 3 ingredient peanut butter cookie recipe that tends to be crumbly, this is a classic cookie that compares more to a chocolate chip cookie and other chewy, tender recipes.

THICK! Every cookie lover has a style, and mine is thick cookies. These thick peanut butter cookies spread just enough, but will not end up thin and crunchy, they stay thick and even throughout.

Scaleable – Double this batch of cookies without any changes in the result. The first batch won't last long anyhow, and even so, you can freeze some now for snacking later!
Recipe Notes
This soft peanut butter cookie recipe is as simple as promised! Just 25 minutes for a family friendly snack.
In this section I am going to go through a few tips and tricks I use when making this recipe to get the absolute best and most delicious results.
Make sure to scroll to the bottom for the FULL recipe card.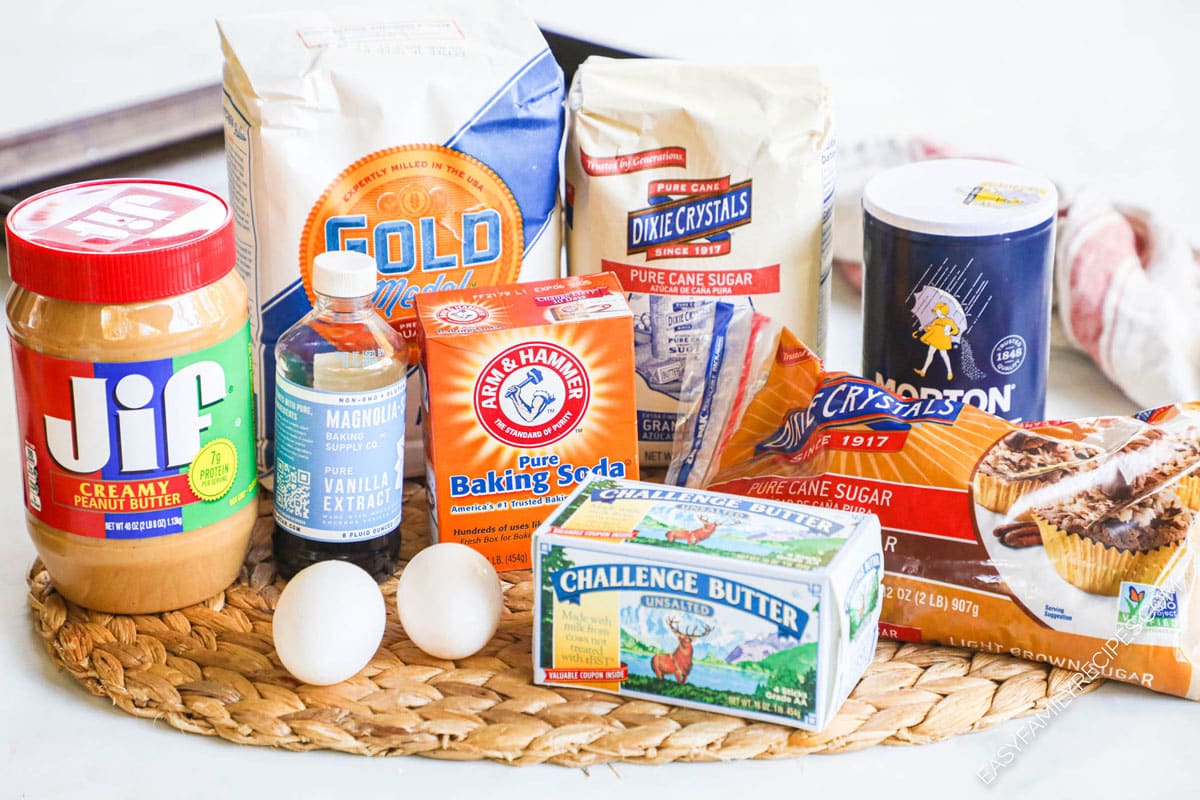 Ingredients + Substitutions
Butter – The key to a smooth and evenly distributed recipe is softened butter, but not melted. If the butter melts, it'll result in a greasy cookie. If the butter is too cold, it won't distribute evenly throughout the batter and cream in the sugars correctly. Feel free to use whatever butter you have on hand, salted or unsalted, as there isn't much difference in flavor between the two.

You can choose to use unsalted butter or salted butter. You won't notice much difference in taste either way, so just use what you have on hand.

Peanut butter – This recipe uses creamy peanut butter, but you could use crunchy peanut butter for these cookies for added texture. Skip using the natural peanut butter that separates and can create inconsistent results. Stick to using the regular traditional kind which works better for baking recipes. I like Jif or Skippy best for their flavor.

Brown sugar – Use light or dark brown sugar. For a chewier bite, dark has extra molasses to add a more robust flavor and give you that delicious chewiness.

White sugar – Granulated sugar helps create texture, and the combination of both white and brown sugar makes these Jif peanut butter cookies irresistible.

Eggs – Eggs play a big part in cookie recipes. They add structure, flavor, and leavening for a soft cookie that's not too crumbly.

Vanilla extract- A magical addition that enhances all the flavors for a mouthwatering cookie recipe.

All-purpose flour – For best results, spoon the flour into a measuring cup instead of dipping it straight into the bag or container. When you dip it compresses the flour and you're likely to scoop up more than required.

Baking soda – Acts as a leavening agent for cookies.

Salt – Balances the sweetness of sugars and peanut butter.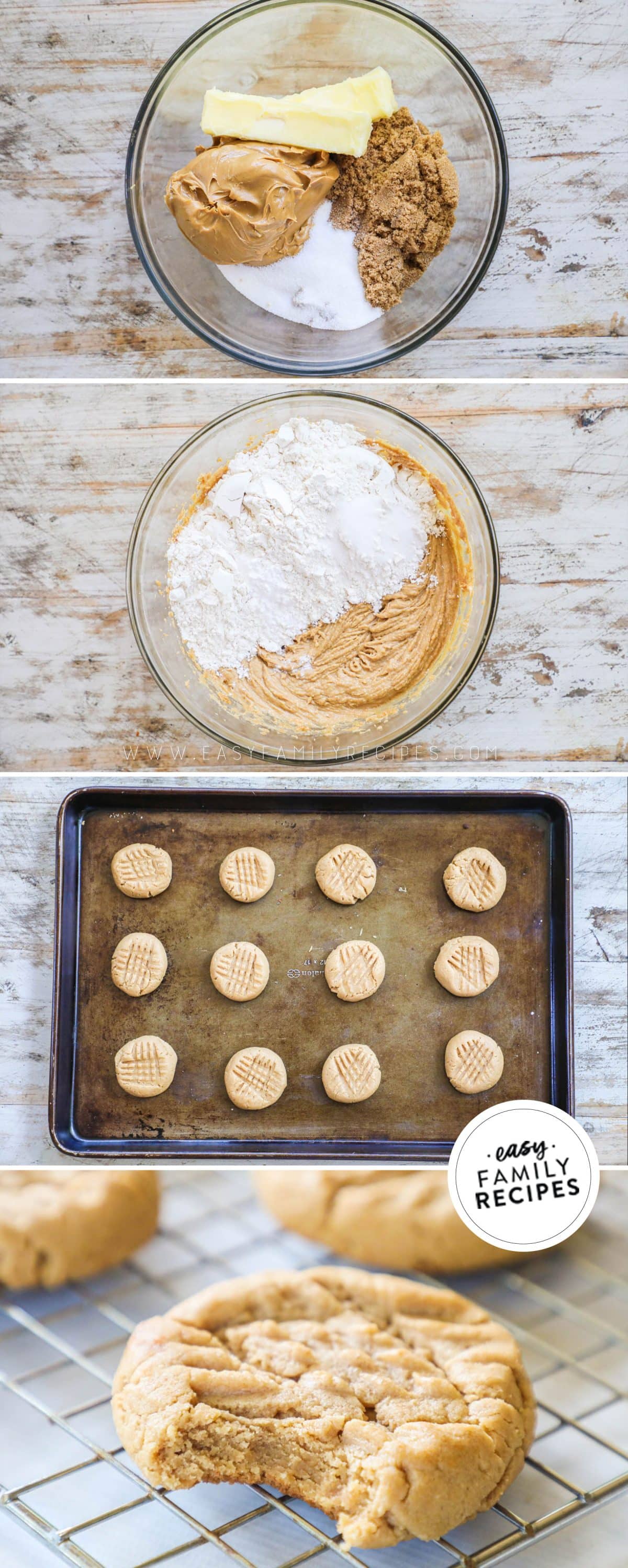 Recipe Tips
This recipe is super easy and ensures you get the best results the first time. Here are a few tips for making peanut butter cookies from scratch and getting the best, chewiest cookie.

Set the temperature to 375 degrees: This is the perfect temperature for this recipe, resulting in the best combo of crispy golden edges and a soft center. These classic cookies are all about their chewy texture.

Adjust the dough consistency, if needed. Once you've combined the ingredients and have your dough, it should NOT be sticky or crumbling. If the dough is sticking, add in flour a tablespoon or two at a time until it is no longer sticky. If the peanut butter cookie dough is crumbly, add water the same until you have a soft tender dough. Do this quickly and try not to overwork the dough, if possible.

Cook longer for larger cookies – If you decide to make these homemade peanut butter cookies bigger, use ¼ cup dough instead of 2 tablespoons. They'll be twice as big which means they will need a few additional minutes to cook just right. Start with adding 4 minutes and check for doneness. They should be golden brown and crispy on the edges with a soft center.

Don't overmix: Mixing too much can cause the cookie to be tough. Once the flour is just streaks and the batter is the right consistency and not sticky, your dough is good to go. You can use a stand mixer with a paddle attachment, a hand mixer on a low speed, or mix by hand with bowl and spoon.

Chill the dough for a few minutes: After mixing the dough, cover it with plastic wrap and pop the bowl into the fridge for about 10 minutes before forming the cookie dough balls. Chilling the dough will keep them from becoming too soft, which prevents the fork markings from creating clean lines that get nice and toasty while baking.
Recipe Short Cuts
If you need to make this recipe but are extra short on time, here are a few ideas that can help make this recipe even faster!
Use a cookie scoop. You'll get even-sized cookies and it will make it easier to form the cookies quickly.

Make the dough ahead of time. You can either refrigerate or freeze the dough and bake it when you're ready. They can keep uncooked in the fridge for a day or two, and in the freezer for a month.

Set butter on the counter. Make sure you pull the butter out and bring to room temperature. This way you're ready to start baking without waiting on the butter to become soft.

Peanut Butter Blossoms– Bake cookies as directed. Instead of making a criss-cross pattern with a fork, form them into balls. Once done stick a hersheys kiss in the middle of each cookie as soon as they come out of the oven.
Recipe Variations
If you love this recipe as much as we do and want some quick ways to change it up for variety, these little tips will do the trick!
Peanut Butter chocolate chip cookies – Toss chocolate chips into the flour before combing with the butter mix. Alternatively, you can press a few chocolate chips into the cookie tops before baking.

Peanut Butter Kiss Cookies – As soon as the cookies come out of the oven, press a chocolate kiss into the center. Transfer to a wire rack for cooling.

Peanut Butter Cup Stuffed Cookies – This will be a ridiculous peanut butter packed cookie, to say the least! Scoop ¼ cup of dough and divide into two dough balls. Place a small peanut butter cup between the two and shape them around the candy. These will be large, so leave enough room for them to spread. Add 4-6 minutes to the cooking time, or until the cookies are slightly crisp on the outside and soft in the middle.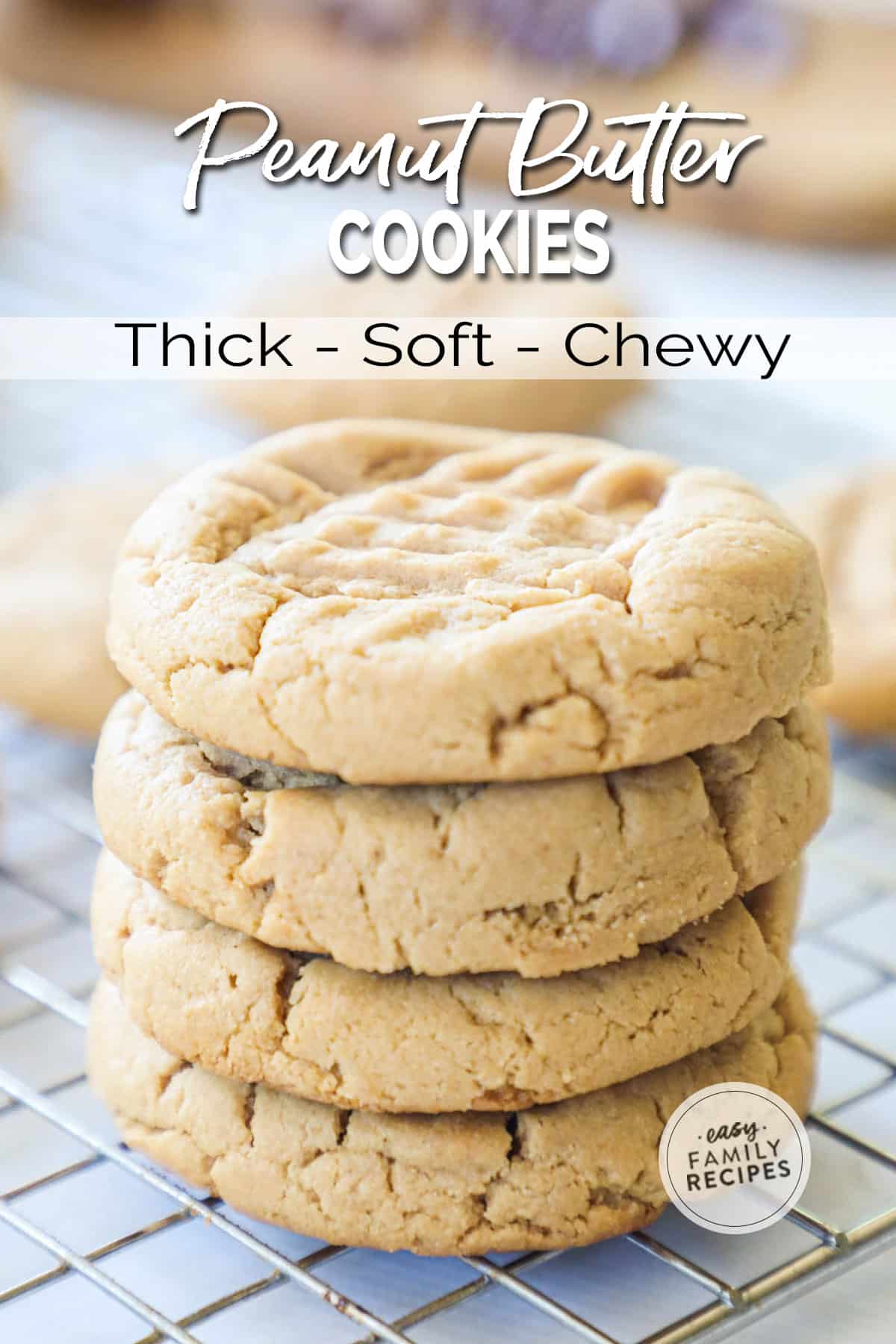 How to Freeze Cookies
Cookies can be frozen before or after baking. If freezing the cookie dough you are able to just pop out a few or as many as you need to bake to have hot, fresh cookies on demand.
If you prefer, you can bake all of the cookies and freeze after baking. Freezing the baked cookies will preserve them and once, thawed they come out just as soft, chewy, fresh, and perfect as they are when freshly baked.
Both are great options for keeping cookies fresh and delicious!
Shape cookie dough into balls and place on a parchment-lined baking sheet. Use a fork to flatten with a crisscross on the top of each cookie.
Place the tray in the freezer for about an hour or two until the raw cookie dough is frozen completely.
Transfer the cookies to a freezer-safe bag until ready to use.
When ready to bake, arrange the frozen cookies on a baking sheet and bake as directed, adding an additional 2-3 minutes.
After baking, allow cookies to cool completely on a wire rack.
Transfer cookies to a freezer-safe bag or container and store them for up to 1 month.
When ready to eat, remove however many you'd like and thaw on the counter or pop in the microwave for 30 seconds.
If you have extras after making these easy peanut butter cookies from scratch, then they can be saved to munch on at a later time.
To save leftovers, separate into meal sized portions and then place in an airtight container and store:
in the refrigerator for 3-4 days
in the freezer up to a month.
More EASY Cookie Recipes
If you enjoyed this recipe, I really hope you will take a moment to grab a few more easy recipes for another busy night!
You can check out all of my dessert recipes here, or see a few of our readers favorite cookie recipes below.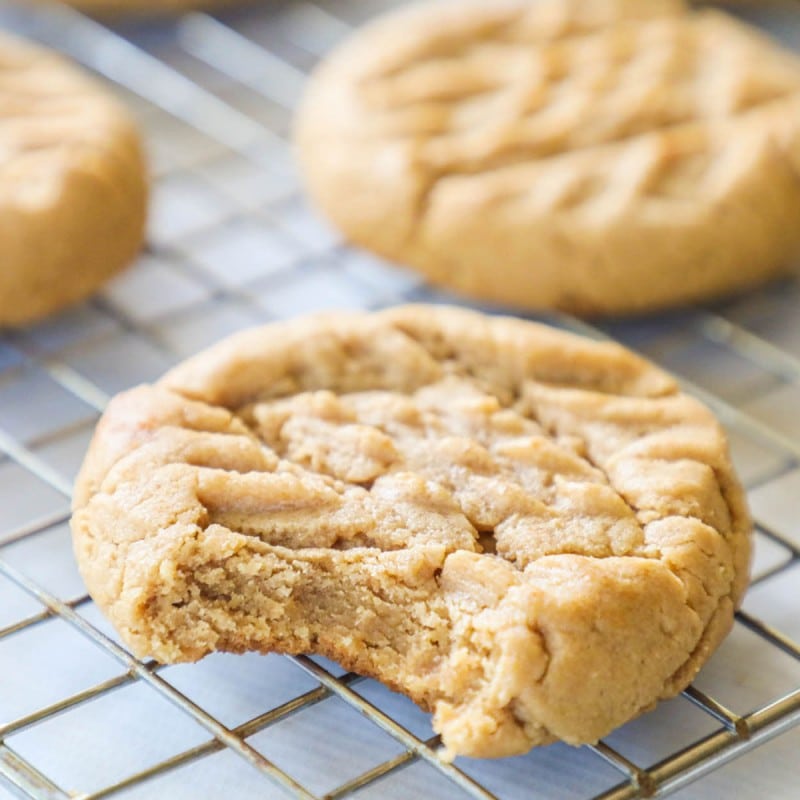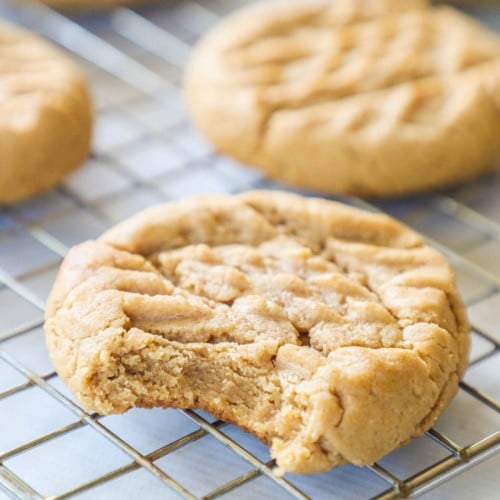 Chewy Peanut Butter Cookies
These Chewy Peanut Butter Cookies are easy to prepare and bake to perfection for an irresistibly soft bite. Just 9 ingredients, one mixing bowl, and 25 minutes for a family favorite cookie recipe.
Ingredients
1

cup

butter

,

softened

1 1/2

cup

peanut butter

,

creamy or crunchy (see note)

1 1/2

cup

brown sugar

,

light or dark

1/2

cup

white sugar

2

eggs

1

tablespoon

vanilla

2.5

cups

all purpose flour

2

teaspoons

baking soda

1

teaspoon

salt
Instructions
Preheat the oven to 375˚F.

Combine the flour, salt, and baking soda, in a medium bowl and set aside.

Next, cream the butter and peanut butter with an electric mixer or by hand in a large mixing bowl.

Mix the sugars in with the peanut butter mixture until it is light and fluffy. Then stir in the eggs and vanilla until everything is combined.

Take the dry ingredients and mix it into the peanut butter mixture in thirds. The dough should not be sticky to the touch and should be easy to form into balls for cookies.

Use a 2 tablespoon measure to scoop the dough out then roll it into a ball and flatten very slightly using a fork to criss-cross the tops. Or, if you don't have a 2 tablespoon scoop, you can prepare the cookies by measuring it out with a 1/4 cup measure, then dividing the dough in half before rolling into balls.

Bake at 375˚F for 8-12 minutes, depending on how crispy you like them. Remove from oven and let sit for 2 minutes then move to a wire cooling rack.
Recipe Notes
Substitutions:
Peanut Butter — Make sure to use traditional peanut butter, not the natural variety.  I use creamy PB, but crunchy peanut butter can also be used for added texture. 
Butter — Salted or unsalted will work. 
Brown sugar – Use light or dark brown sugar.
How to Store: To save leftovers, separate into meal sized portions and then place in an airtight container and store:
in the refrigerator for 3-4 days
in the freezer up to a month.
How to Freeze:
These cookies can easily be frozen before or after baking. Read the freezer section in the post for full instructions. 
How to Scale: Double this recipe and freeze some for snacking on through the month whenever your sweet tooth calls. 
Nutrition Information
Serving:
1
cookie
,
Calories:
164
kcal
(8%)
,
Carbohydrates:
18
g
(6%)
,
Protein:
3
g
(6%)
,
Fat:
9
g
(14%)
,
Saturated Fat:
4
g
(25%)
,
Polyunsaturated Fat:
1
g
,
Monounsaturated Fat:
4
g
,
Trans Fat:
0.2
g
,
Cholesterol:
19
mg
(6%)
,
Sodium:
187
mg
(8%)
,
Potassium:
75
mg
(2%)
,
Fiber:
1
g
(4%)
,
Sugar:
11
g
(12%)
,
Vitamin A:
146
IU
(3%)
,
Calcium:
15
mg
(2%)
,
Iron:
1
mg
(6%)