There is SO MUCH to love about this veggie loaded, Easy Crock Pot Broccoli Cheese Soup! It's packed with healthy vegetables that are blended with cream and cheddar to create a velvety, cheesy soup that even the pickiest eaters love. Best of all, this slow cooker soup is a super easy, one-pot meal that delivers rich, flavorful homemade broccoli cheese soup to the table with hardly any effort.
Broccoli Cheese Soup – The EASY Way!
Are you ready to have the secret to getting your kids to eat TONS of vegetables with no arguments? This Crock Pot Broccoli Cheese Soup will do it every time! Seriously this soup is loaded with veggies! But, by the time it's done cooking, they've transformed into a fantastically rich, cheesy soup.
All those healthy veggies are blended with cream and cheddar, disguising them from even the pickiest eaters while still adding tons of flavor and nutrition. It's so velvety and delicious that even you'll be impressed with how many veggies are in there! It's great as a lunch or dinner, super easy to make, and cooks from start to finish in your Crock Pot. That's what I call an easy recipe for busy families!
Why I LOVE this recipe!
So EASY! – Just your slow cooker, 10 minutes of prep, and then let it go!
Hidden Veggies – 2 pounds of broccoli plus heaps of carrots and celery are cooked into a lusciously creamy soup.
Cheesy Decadence – Despite all the veggies, the creamy, cheddar flavor makes this easy broccoli cheese soup feel indulgent.
Main or Side Dish – You can easily serve this up as a main course. Or, serve it as a side dish to make any meal more comforting and delicious.
Easy Clean Up! – Since it cooks from start to finish in the Crock Pot, there are no extra pots or pans to wash when dinner is done.
What to Serve with Crock Pot Broccoli Cheese Soup
Since this homemade broccoli cheese soup has the classic flavors of cheddar, veggies, and cream, it will pair well with many of your favorite traditional side dishes. There are both classic options and some healthy options to keep it light.
Sides to serve with soup
Main dish to serve soup with
You can choose one or add a few sides to make a wholesome, well rounded dinner.
Recipe Notes
This Crock Pot broccoli cheese soup recipe is as simple as promised! Just 10 minutes of prep and your slow cooker for a family friendly meal.
In this section I am going to go through a few tips and tricks I use when making this recipe to get the absolute best and most delicious results.
Make sure to scroll to the bottom for the FULL recipe card.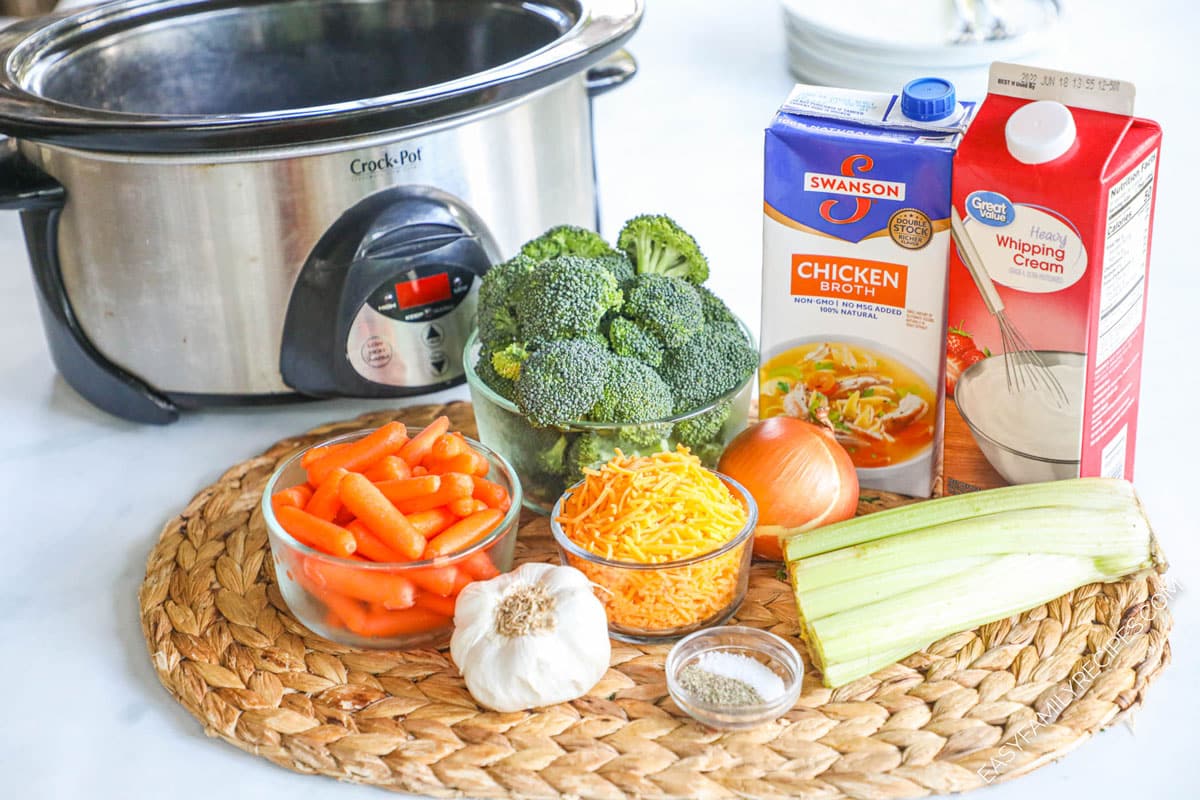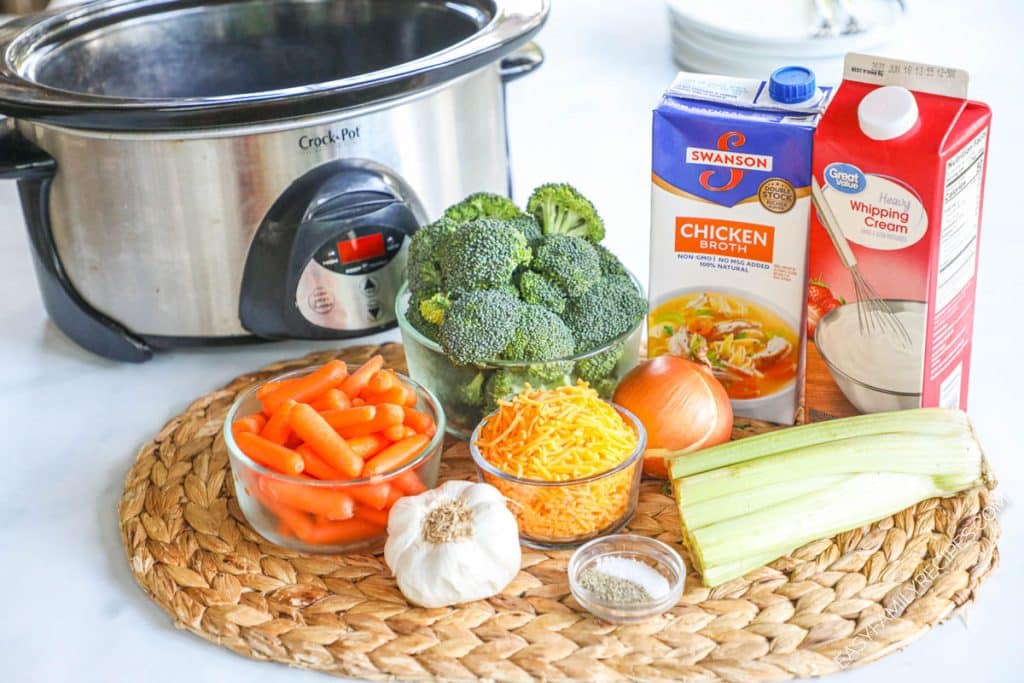 Ingredients + Substitutions
Broccoli – You want 2 full pounds of broccoli to make this soup. I like fresh, but frozen will work just as well. Thawing it first can help make sure the soup cooks in the same amount of time.

The great part is that you don't need to waste any of the broccoli! You can use the entire stalk and the florets. They get cooked until they're so tender that it all blends into a creamy soup.

Carrots – I used fresh baby carrots because they require no chopping. You can definitely use regular carrots and just chop them into rough chunks before adding them in to the Crock Pot. Frozen carrots will also work just fine!

Celery – You want enough chopped celery to fill 1 1/2 cups, which should be between 2-4 stalks. This adds tons of flavor and extra nutrition.

Onion – You want an entire onion for best flavor. I used yellow, but white or red onion, or even 2-3 shallots would work too.

Garlic – I always prefer the flavor of fresh garlic, and I recommend using 6 full cloves to really enhance the soup. If needed you can swap in 1 1/2 teaspoons of granulated garlic instead.

Chicken Broth – I used chicken broth, but chicken stock, or vegetable broth also work great in this recipe.

Heavy Cream – For the creamiest, richest soup, use full fat heavy cream. Half and half or light cream can be used but the soup will be a bit thinner and less decadent.

Cheddar Cheese – I recommend using a sharp cheddar cheese to really pack a punch of cheesy flavor. Pre-shredded cheeses don't melt as smoothly, so if possible shred it yourself. If you prefer, a mild or medium cheddar will also work.

Salt & Pepper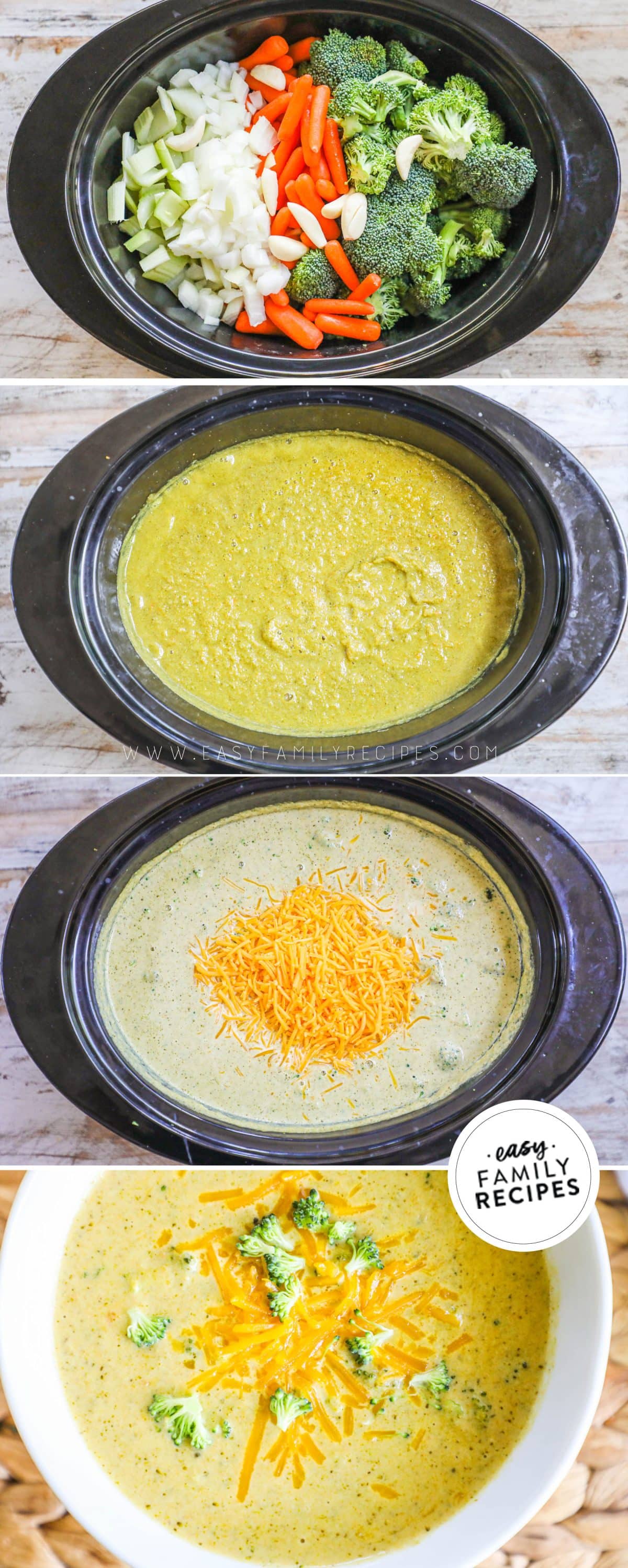 Recipe Tips
Set aside some broccoli – If you're a fan of whole broccoli florets in your finished soup like I am, then I definitely recommend setting some aside at the very beginning. Keep about 1/4 of the total florets whole and uncooked. Stir in the raw florets after you've added the cream and cheese, then cook for an additional 20-30 minutes. They'll be tender, delicious, and will add great texture to the soup.

Use an immersion blender – The best way to achieve the creamiest Crock Pot broccoli cheese soup is to use an immersion, or hand, blender. You can stick it right in the pot and puree everything to silky perfection. If you don't have one, you can also use an upright blender or a food processor.

Use caution if you're transferring it to a traditional blender or processor. The soup will be hot, and can expand when pureed, which can lead to hot spattering liquid. To keep yourself safe from risk of hot soup burns, only fill the blender halfway at a time and puree in bursts. It also helps to keep your hand on top of a folded kitchen towel on the lid while you blend it.

Add the cream and cheese in slowly – The best way to make sure the cream and cheese melt into the velvety final texture is by going slowly. Stir as you pour in the cream, and add small handfuls of the cheese at a time. Once one handful has melted in, add another bit until it's all incorporated.

Serve with your favorite toppings – Offering a variety of toppings is a great way to let the kids have a hand in dinner – and be more likely to devour the whole bowl! Options like crumbled bacon, crisp onion straws, croutons, extra shredded cheese, green onions, parsley, or chopped raw broccoli are all great.
Recipe Short Cuts
If you need to make this recipe, but are extra short on time, here are a few ideas that can help make this recipe even faster!
Use Frozen or Prepared Vegetables– Shave a few minutes off of your prep time by using frozen veggies. If possible, let them thaw in the fridge overnight so they'll cook that much faster the next day.

Pre-chopped fresh broccoli, carrots, and celery from the produce section are also great. You can just dump them in and get cooking quickly.

Blend it all– While I love whole florets in the finished soup, it's not technically necessary. The soup can be ready 30 minutes soon if you skip adding them in at the end. Simply serve the soup once the cream and cheese has been mixed in.

Make Ahead– This is a great soup to reheat! If you know you'll be rushing to get dinner on the table, let it cook that morning or even the night before. Then just chill, refrigerate, and reheat as needed. I recommend warming it in a pot on the stove over low heat if possible.
Recipe Variations
If you love this recipe as much as we do and want some quick ways to change it up for variety, these little tips will do the trick!
Broccoli Cheese Soup with Ham– Make the soup as directed. Chop cooked ham into cubes and add it into the soup with the uncooked broccoli florets for the final 20-30 minutes of cooking.

Broccoli Cheese Soup with Cream Cheese– Make the soup exactly as written up to the point of adding the heavy cream. Swap out 1/2 cup of heavy cream for 4 ounces (half a block) of room temperature cream cheese that has been chopped into smaller cubes. Stir until melted then add in the cheese.

Broccoli White Cheddar Soup– Swap out the sharp cheddar cheese for shredded white cheddar cheese and then make it as directed. You could even use other cheeses like gouda, gruyere, or fontina for a fun change.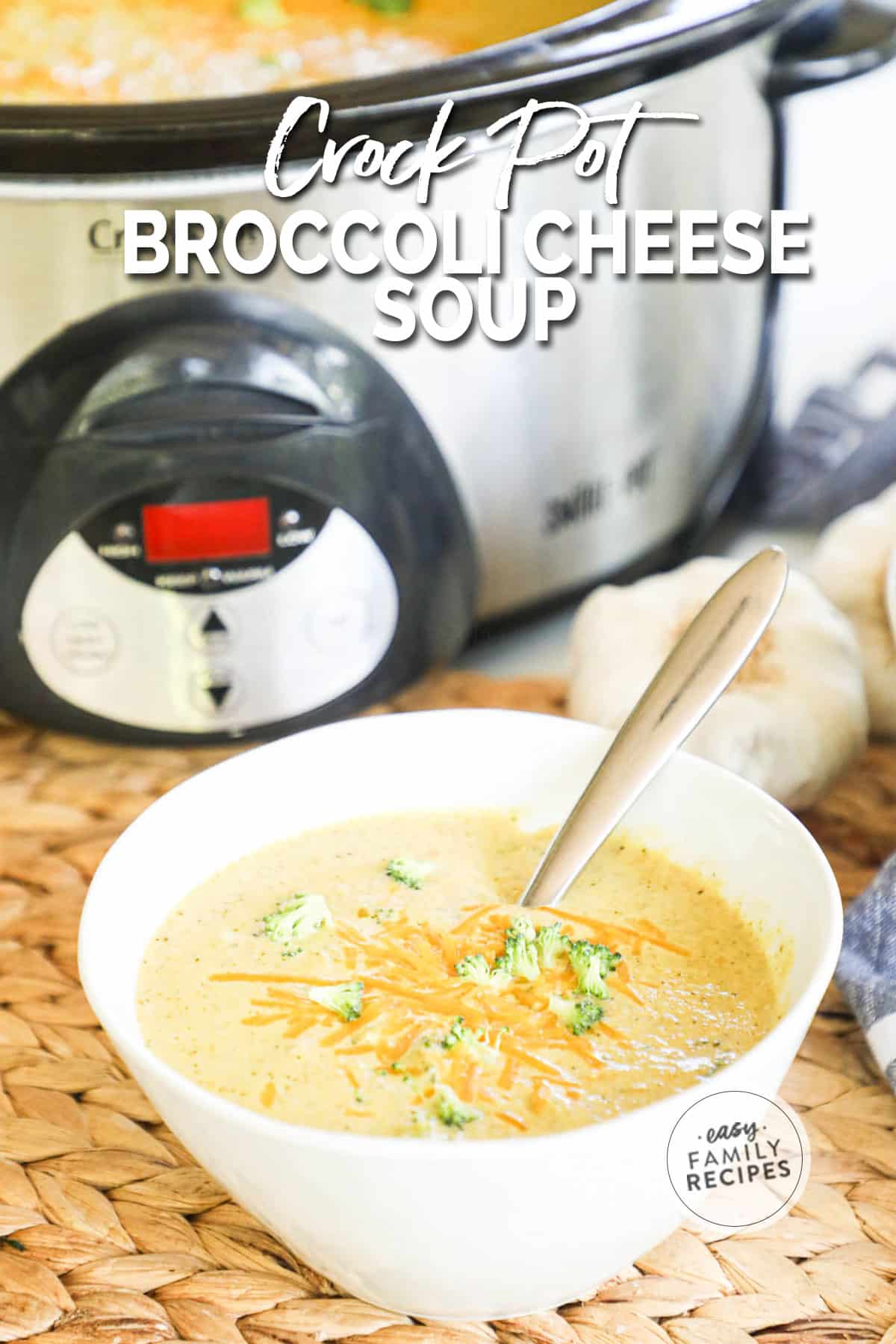 Freezer Meal Instructions
Making this Crock Pot broccoli cheese soup recipe into a freezer meal is simple! Follow the steps below and you can store this recipe in the freezer for up to 6 months.
Prep the veggies, onion, and garlic and combine them in a large freezer bag or container.
Freeze them.
When ready to cook, combine the frozen veggies and stock in the Crock Pot.
Cook the rest of the recipe as directed with fresh cream and shredded cheese.
Broccoli Cheese Soup Leftovers
If you have leftovers after making slow cooker broccoli cheese soup, then it is your lucky day! They save and reheat well, and can make the start of another delicious dish.
To save leftovers, separate into meal sized portions and then place in an airtight container and store:
in the refrigerator for 3-4 days
in the freezer up to a month
Leftover Recipes
There are a few great ways to reinvent this soup to make it great for another meal another day!
More Crock Pot Recipes
If you enjoyed this recipe, I really hope you will take a moment to grab a few more easy recipes for another busy night!
You can check out all of my easy dinner recipes here, or see a few of our readers favorite recipes below.
Hungry for more family-friendly recipes? Sign up for my free recipe club to get new family-friendly recipes in your inbox each week! Find me sharing daily meal-time inspiration on Pinterest, Instagram, and TikTok.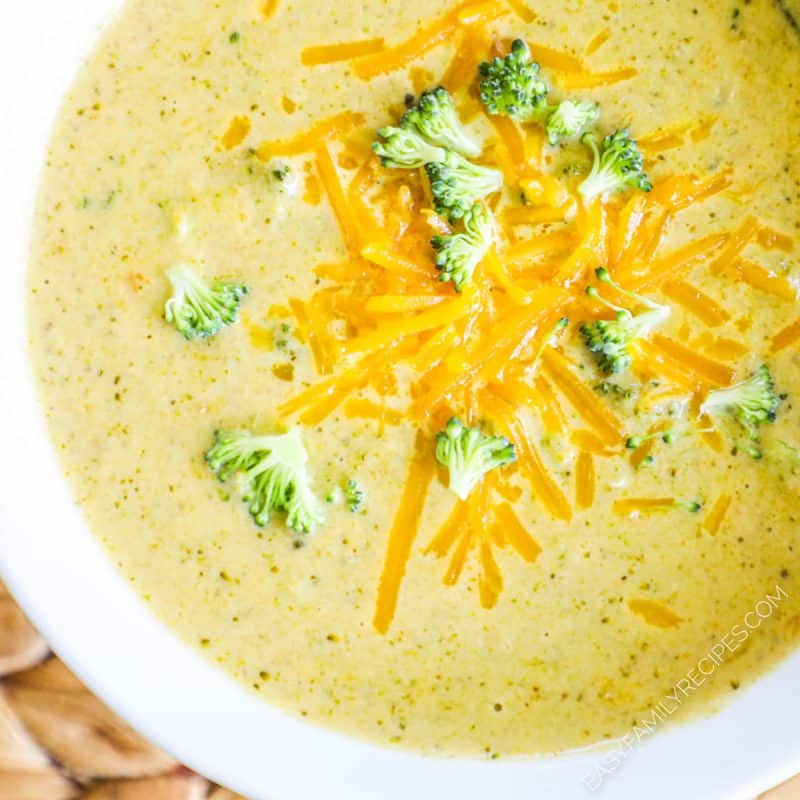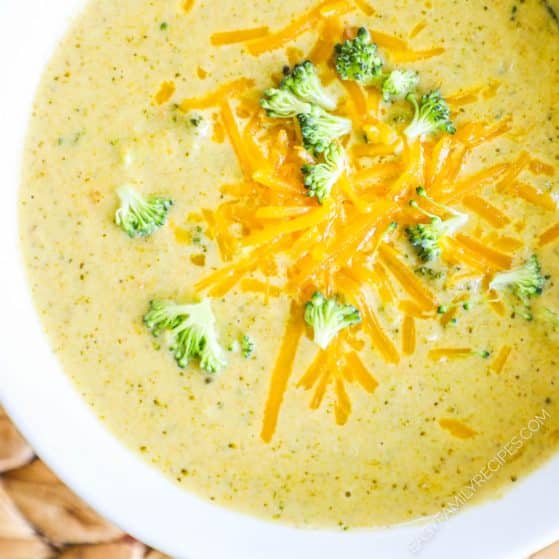 Easy Crock Pot Broccoli Cheese Soup
A creamy broccoli cheese soup that's loaded with veggies and made entirely in the Crock Pot. After the slow cooked vegetables are tender, they're pureed and mixed with rich cream and sharp cheddar cheese to create a velvety, decadent soup that the whole family will love.
Prep Time: 10 minutes
Cook Time: 4 hours
Total Time: 4 hours 10 minutes
Serves:12 people
Hover over "serves" value to reveal recipe scaler
Ingredients
32 ounces fresh broccoli
8 ounces carrots (I use baby carrots)
1.5 cups celery
1 onion
6 garlic cloves
4 cups chicken broth or vegetable
2 cups heavy cream
8 ounces sharp cheddar shredded
2 teaspoons salt
1/2 teaspoon pepper
Instructions
Chop the broccoli, celery, and onions into chunks and place in the crock pot, reserving 1/4 of the broccoli florets. Add the carrots and garlic, and then cover with the broth.

Cook on low for 4-6 hours, or high 3-4 hours. Once everything is tender, use a hand blender (immersion blender) to puree the vegetables in the broth.

Once smooth, slowly stir in the cream. Then add the cheddar cheese a little at a time mixing as you go until it is all combined. Season to taste with the salt and pepper.

Add the remaining broccoli florets in and allow to cook for an additional 20-30 minutes on low. This is optional to give you a chunkier soup. If you like the soup smooth, you can add all the broccoli in the first step.
Recipe Notes:
Save leftovers after cooking in the refrigerator for 3-4 days, or the freezer for up to a month! I like to separate the leftovers into meal sized portions when freezing so that it makes it extra easy to reheat.
Nutrition Information:
Serving: 1cupCalories: 258kcal (13%)Carbohydrates: 11g (4%)Protein: 9g (18%)Fat: 21g (32%)Saturated Fat: 13g (81%)Polyunsaturated Fat: 1gMonounsaturated Fat: 5gCholesterol: 65mg (22%)Sodium: 861mg (37%)Potassium: 419mg (12%)Fiber: 3g (13%)Sugar: 4g (4%)Vitamin A: 4460IU (89%)Vitamin C: 70mg (85%)Calcium: 215mg (22%)Iron: 1mg (6%)
(Nutrition information provided is an estimate and will vary based on cooking methods and brands of ingredients used.)