The ABSOLUTE BEST Chicken Noodle Soup is quick and easy to make using a rotisserie chicken, and so delicious people beg for the recipe!
There is no recipe that compares with the flavor in this soup. It is warm and comforting and the broth is gently thickened so it sits well on your stomach making it especially great for cold and flu season.
Chicken Noodle Soup – The EASY Way!
Chicken Noodle Soup is one of those recipes that can be way too time intensive. There are a lot of recipes that have long lists of ingredients and endless steps to follow.
GOOD NEWS!
This isn't one of them.  Not only that, but it is the BEST chicken noodle soup I have ever had, and I am so excited for you to try it too.
We have been making this for years!  I adapted it from a family recipe after I started making bone broth from the leftovers of our rotisserie chickens.
I had a hunch that I could cook the whole rotisserie chicken right in the soup to up the flavor in a major way just like I do with the broth, and it worked better than I could have ever hoped for!
We have been making chicken noodle soup like this ever since, and the rest is history!
This method makes the best chicken noodle soup and it is just so ridiculously easy!
What to Serve Chicken Noodle Soup
If you are planning chicken noodle soup for your menu, you might want some quick idea for things that go well with it to complete your menu and make your grocery list.
We have a few go to favorites for serving with chicken noodle soup. Although this soup is filling enough to hold it's own, these round out the meal and give you a little something extra depending on how hungry you are, or how far you need to stretch the soup.
Garlic Bread– This recipe is my fav! It is easy and perfect for soaking up all the juices from the soup. Or go crazy with some Garlic Cheese Bread!
Crackers– We prefer simple buttery crackers like Ritz, although you can go with sprinkling crackers like oyster crackers as well!
Side salad– I like to do classic flavors like homemade ranch or a simple Italian dressing.
Chicken Salad Sandwich– This is great because the cool chicken salad compliments the hot soup well. Serve it on a croissant for an extra treat.
Grilled Cheese– Grilled cheese isn't just for tomato soup! Chicken noodle soup pairs exceptionally well with a grilled sandwich made with mozzarella or provolone cheese.
Bread Bowl– Most chicken noodle soups are too thin for a bread bowl, but this one is thickened slightly so it can hold up! You can buy these at the store in the bakery section or make them from scratch.
Tips for Making Chicken Noodle Soup
This recipe is as quick and easy as promised, but since it is a bit different from the normal process of making chicken noodle soup I want to go though a few of my notes and tips for getting the absolute best soup.
Make sure to scroll to the bottom of the post for the FULL recipe card!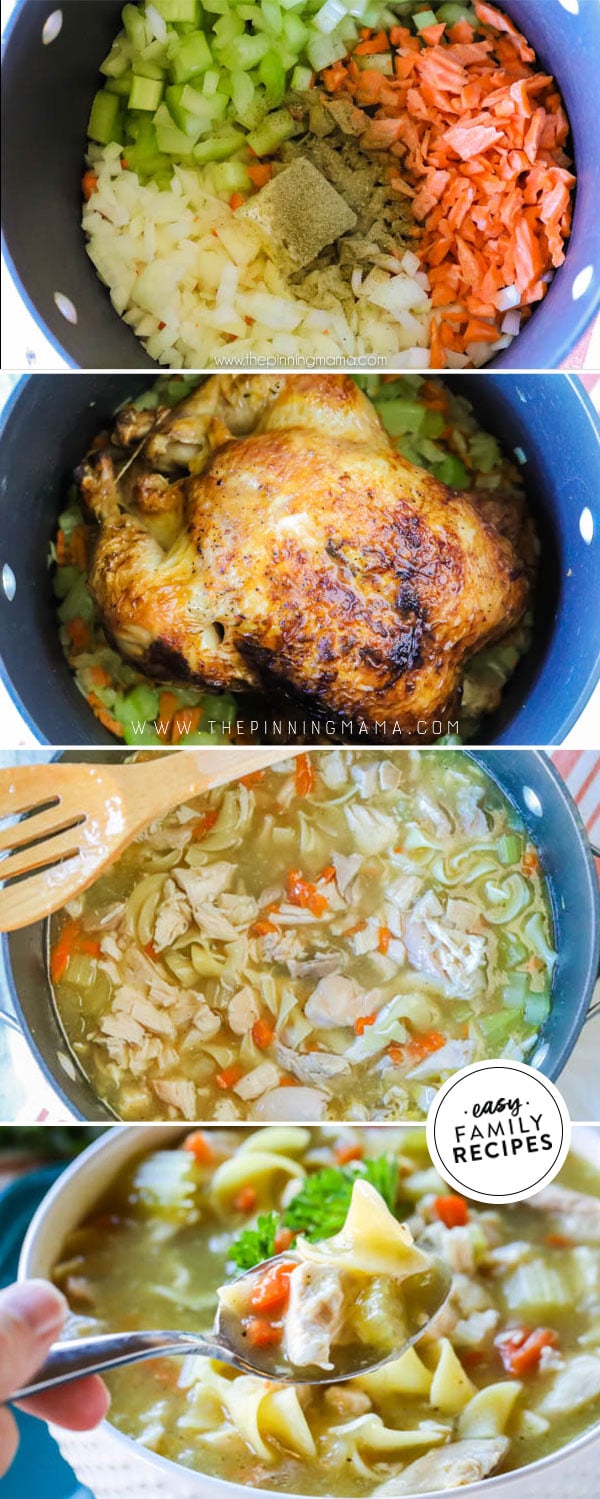 Using the Whole Chicken
This recipe is unique in that it uses a whole rotisserie chicken. Most recipes will use shredded chicken breast, thighs, or occasionally a whole uncooked chicken.
Using the rotisserie chicken gives us a few advantages:
Fast– Speeds up the time to make the soup start to finish for a quick chicken noodle soup recipe!
Flavor– Rotisserie chicken is already deliciously seasoned which will pass an extra level of flavor to the soup.
Tender– The chicken is cooked low and slow for an incredibly tender, juicy quality that we get to pass on to our soup with out all the waiting for it to cook!
Easier– Since the rotisserie chicken is already done, we have a head start on all of the things above which just makes cooking this dish AND getting the best flavor and texture far more easy than alternate recipes.
When buying a rotisserie chicken for this soup, the main thing you want to ensure is that you are getting an original flavor rotisserie chicken.
Most stores including Sam's and Costco carry an abundance of these. Other grocery stores carry original flavor along with other flavors like BBQ, lemon, and others. These flavors may not work well with the flavor of the soup.
You can buy your rotisserie chicken at any grocery store. I tend to lean towards the ones at the warehouse stores just because they are usually a little bigger so I get more meat from them. Any precooked original flavor rotisserie chicken will work though.
My last note on the rotisserie chicken is that in making soup this way you need to be VERY careful in transferring the whole chicken in and out of the soup. It will be VERY hot and a little heavy as well. I generally try to lift and transfer it with tongs to have a good grip.
Thickening the Soup
One of my favorite parts about this soup is that the broth is slightly thickened. It gives the soup a little more substance, holds the flavor better, and works wonders if you are nursing a cold or the flu!
We use cornstarch to thicken the soup. To do this step correctly it is important that you first mix the cornstarch with the 1/4 cup of water.
This is called creating a slurry. What it does is dissolves the cornstarch evenly so that it will combine with the soup without forming lumps and thicken evenly. No one wants lumpy soup!
Two Options for Noodles
Ie: How to avoid soggy noodles in leftover chicken noodle soup
There are two really good options for adding noodles to this soup. The recipe card below is written in the traditional way, however based on how you are planning to serve the soup and how much you will be saving, you might want to use the alternate method.
Traditional method
For the traditional method for making chicken noodle soup you will cook the vegetables and chicken in the broth, then add the noodle to cook at the end.
Pros– The benefit of this method is that the noodles become extra flavorful as they soak up the rich flavors of the broth as they cook.
Cons– The downside of this method is if you have a lot of leftovers you are planning to save, the noodles can get more and more soft and have a more "mushy" texture when serving subsequent days.
When to use this method
Use the traditional method when you plan to immediately eat most or all of the chicken noodle soup, resulting in little to no leftovers to save for later.
Optional Method
The second method for adding the noodles to the soup is to complete the soup without adding noodles. (Skip adding noodles to the soup in step 4.)
Make the noodles separately from the soup per the package directions.
As you serve the soup you can stir in the desired amount of noodles to just the amount of soup you want to serve. 
Then when storing leftovers, store the soup and noodles separately, and recombine when ready to serve and heat again.
Pros- When not eating all of the soup immediately, this method allows the noodles to remain at the best texture, no matter how long the soup is saved.
Cons- The noodles are slightly less flavorful since they are cooked in water and not the flavorful broth of the soup.
When to use this method
Use this optional method when you are making soup and plan to keep a decent amount of the leftovers in the refrigerator or freezer for later.
Recipe Short cuts
This recipe is much quicker than many chicken noodle soup recipes out there, but there still are a few extra things you can do to make this recipe even faster when you know you will be in a time crunch.
Use Pre-cut veggies- Vegetables can be chopped up to 48 hours in advance to cut down on prep time. Also, many grocery stores offer pre-cut veggies in the fresh produce section.
Use Freezer Method- See details below- this allows you to prepare part of the soup and just finish it right as you are ready to serve.
Dietary Considerations
This soup can be easily modified to meet a variety of different dietary needs. See notes below for instructions on each.
Dairy Free- This recipe is naturally dairy free. Make sure to check any store bought ingredients to ensure compliance.
Gluten Free- This recipe can be made gluten free by using gluten free noodles. Also ensure that the rotisserie chicken, and any other store bought ingredients are compliant.
Low Carb- This recipe can be made low carb by substituting pre-cooked spaghetti squash for noodles. You will also need to omit the cornstarch so the soup will have a more thin broth when using this modification.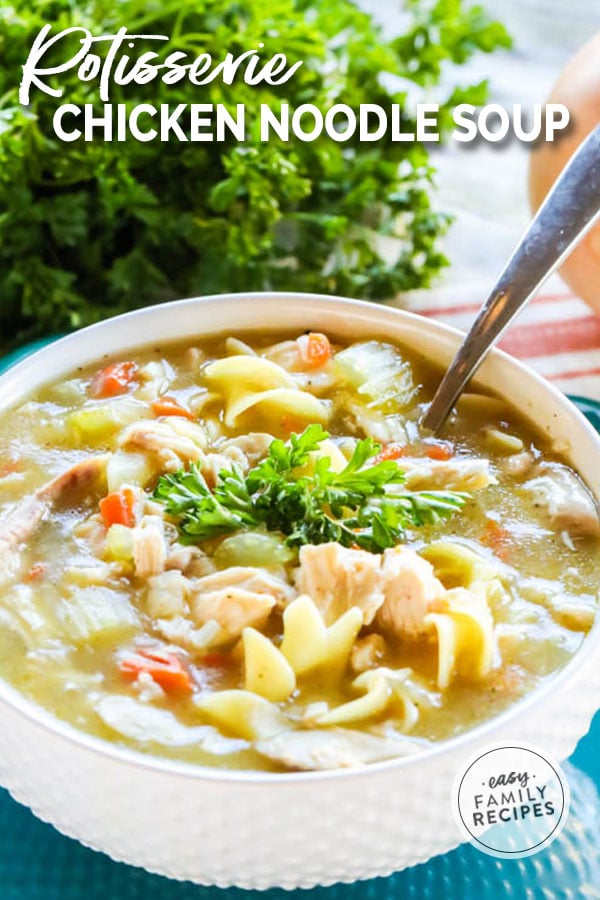 How to Freeze Chicken Noodle Soup
Can chicken noodle soup be frozen? Definitely YES!
Freezing chicken noodle soup can serve as a great way to save leftovers for another day, a way to prep this soup as a freezer meal so that it is almost ready to go when you need to get dinner on the table fast, or to keep on hand to pull out when someone is sick.
Freezer Meal Instructions
To pepare Chicken Noodle Soup as a freezer meal:
Follow recipe instructions through step 3.
Remove the chicken from the pot and then remove and shred meat from the chicken.
Stir cornstarch mixture into the soup and simmer until thickened (5-8 minutes). Then stir chicken into soup and remove heat.
 Freeze in one large airtight container or individual meal sized containers.
When ready to eat, heat soup in a pot over medium heat. Cook noodles per package directions and drain. Mix desired amount of noodles into soup. Serve immediately.
More Delicious Soup Recipes
If you enjoyed this soup, I hope you will take a moment to check out our recipe box to find more simple and super delicious family meals! Or check out a few of my other favorite soups below!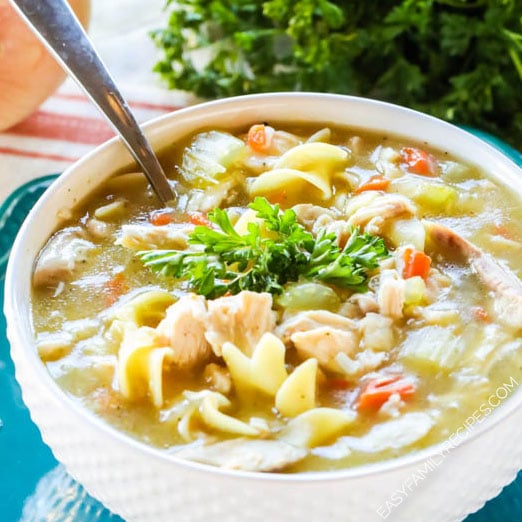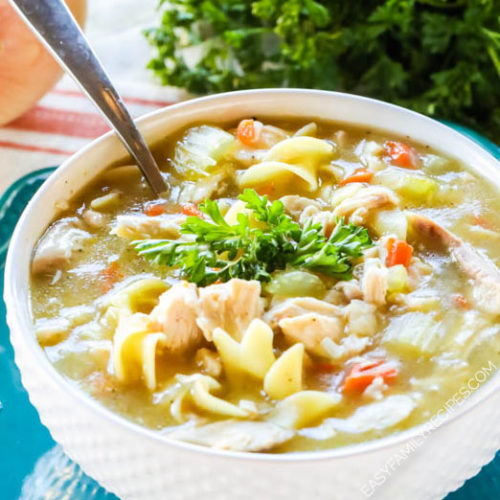 Rotisserie Chicken Noodle Soup
This Chicken Noodle Soup is made with a whole rotisserie chicken for unbelievable flavor! Not only is it delicious but it's almost too easy to make. The perfect recipe for a cozy meal, or soothing sick loved ones!
Ingredients
1

Rotisserie Chicken

,

Whole, prepared

2

cups

celery

,

chopped

2

cups

carrots

,

chopped

1

yellow onion

,

chopped

3

tbsp

olive oil

2

tsp

poultry seasoning

96

oz

chicken broth

12

oz

wide egg noodles

,

(1 package) uncooked

1/3

cup

cornstarch

1/4

cup

water
Instructions
Heat olive oil in a large stock pot over medium -medium high heat. Once it becomes bubbly and fragrant, add the celery, carrots, onion and poultry seasoning. Sauté until the vegetables are tender, about 5-10 minutes.

Remove any string or bands from the rotisserie chicken. Place the entire rotisserie chicken on top of the vegetable mixture. Then pour the broth over the top of the chicken. Bring the pot to a boil, then reduce heat to low and allow soup to simmer for 30 minutes.

While the soup simmers, mix the cornstarch and water until the cornstarch is completely dissolved.

At the end of the 30 minute simmer, very carefully remove the chicken from the soup and pour the cornstarch mixture into the broth slowly while stirring continuously. Once it is all combined, stir in the noodles and let them cook 6-8 minutes or until just tender. (see notes)

As the noodles are cooking, remove the chicken meat from the bones (careful, it will be very hot) and discard the skin and bones. Chop meat into bite sized pieces. When the noodles are tender, add the chicken and stir to combine.

Garnish with fresh parsley if desired. Serve hot!
Recipe Notes
For the noodles
There are two options on adding the noodles. First is adding them as directed. The benefit to this is that they cook in the broth to make a more flavorful noodle. The downside is that if you have leftovers they get soggier in the fridge as they sit.
The alternative is to cook the noodles separately and add them to each bowl as it is served. The pro for this is that if you have leftovers you can store the soup and noodles separately which means they stay al dente and don't get mushy. The con is that they aren't quite as flavorful.
Leftovers
Leftovers of the Chicken Noodle Soup can be stored in the refrigerator 3-4 days or in the freezer for up to 3 months.
See post for detailed directions on how to convert this recipe to a freezer meal.
Nutrition Information
Calories:
492
kcal
(25%)
,
Carbohydrates:
42
g
(14%)
,
Protein:
41
g
(82%)
,
Fat:
18
g
(28%)
,
Saturated Fat:
4
g
(25%)
,
Cholesterol:
151
mg
(50%)
,
Sodium:
1714
mg
(75%)
,
Potassium:
911
mg
(26%)
,
Fiber:
3
g
(13%)
,
Sugar:
3
g
(3%)
,
Vitamin A:
5552
IU
(111%)
,
Vitamin C:
28
mg
(34%)
,
Calcium:
81
mg
(8%)
,
Iron:
3
mg
(17%)