This super creamy Buffalo Chicken Rice Casserole is the perfect meal for a busy night. It goes from the fridge to the oven in minutes, and is loaded with the flavor of creamy buffalo sauce, tender chicken and rice, and buttery crushed crackers. Both kids and grownups can agree that this meal is a winner!
This post is sponsored by Zoup! Good, Really Good®. All recipes, tips, and opinions are cooked up right here at Easy Family Recipes.
Buffalo Chicken Rice Casserole – The EASY Way!
Chicken and rice casserole has long been one of my husband's favorite dinners, so I have made it countless times over the years. If you want a classic chicken and rice casserole, you can't beat my original recipe. But if you are looking for something to change up a dinner time rut, THIS Buffalo Chicken Rice Casserole is where it is at!
It is just as quick and easy and super creamy as the original, but it is loaded with even more rich chicken flavor thanks to a special ingredient, a tangy twist of buffalo sauce, and the best buttery cracker topping. That combination makes this is a dinner that rarely has leftovers at our house!
Why I LOVE this recipe!
Quick prep– It takes just minutes to take this from the fridge to the oven
Bold flavors– The combination of delicious chicken, tangy buffalo sauce, and creamy casserole is over the top delicious! I use Zoup! Culinary Concentrate™ Chicken Bone Broth to give this dish an even richer flavor.
Kid friendly– You can adjust the buffalo from mild to spicy based on what your family likes!
Super comforting– With lots of chicken, creamy sauce, tender rice and buttery crushed crackers, there isn't a cozier dinner than this!
Make ahead– This meal can be prepped ahead as a freezer meal to use on an extra busy night, or gift to a friend in need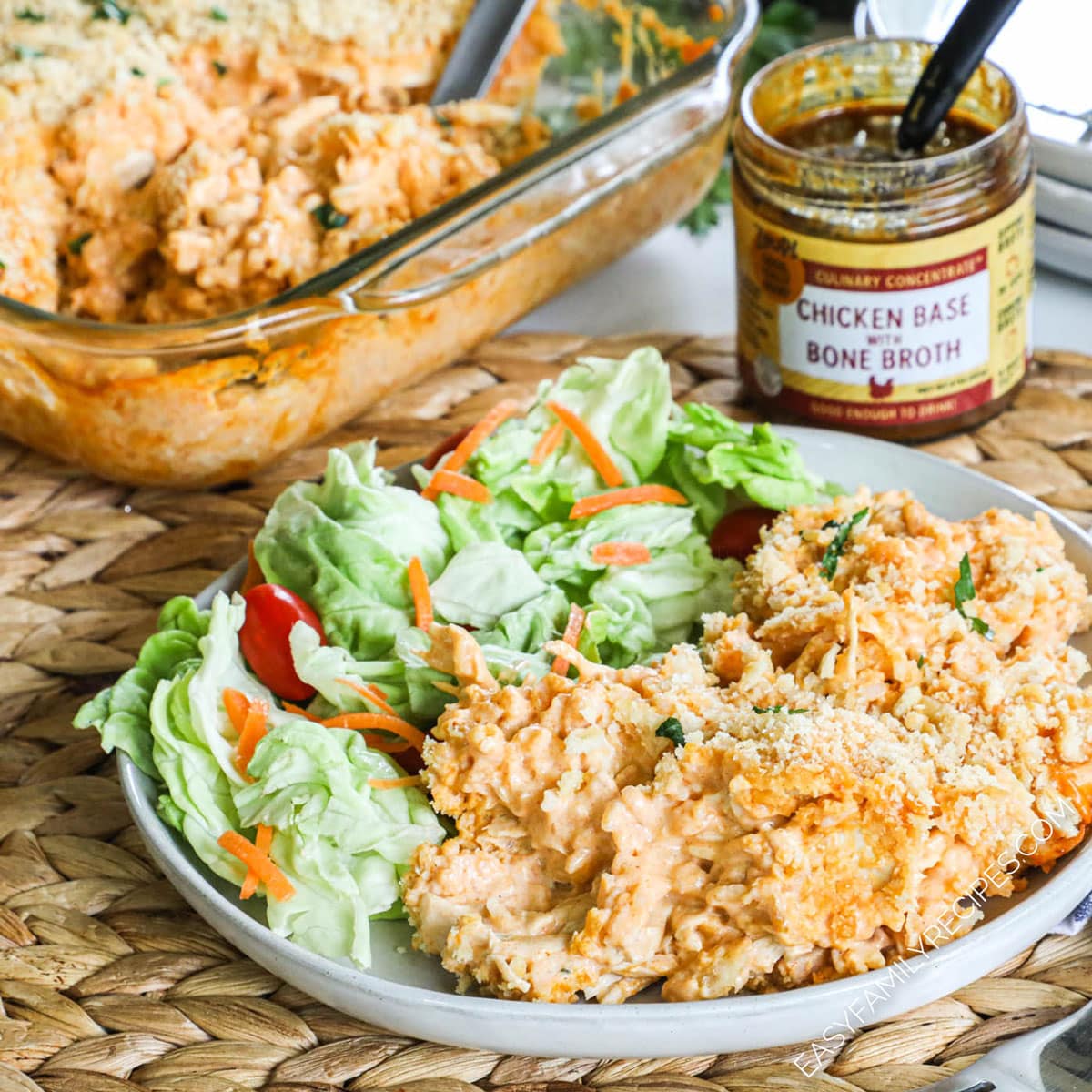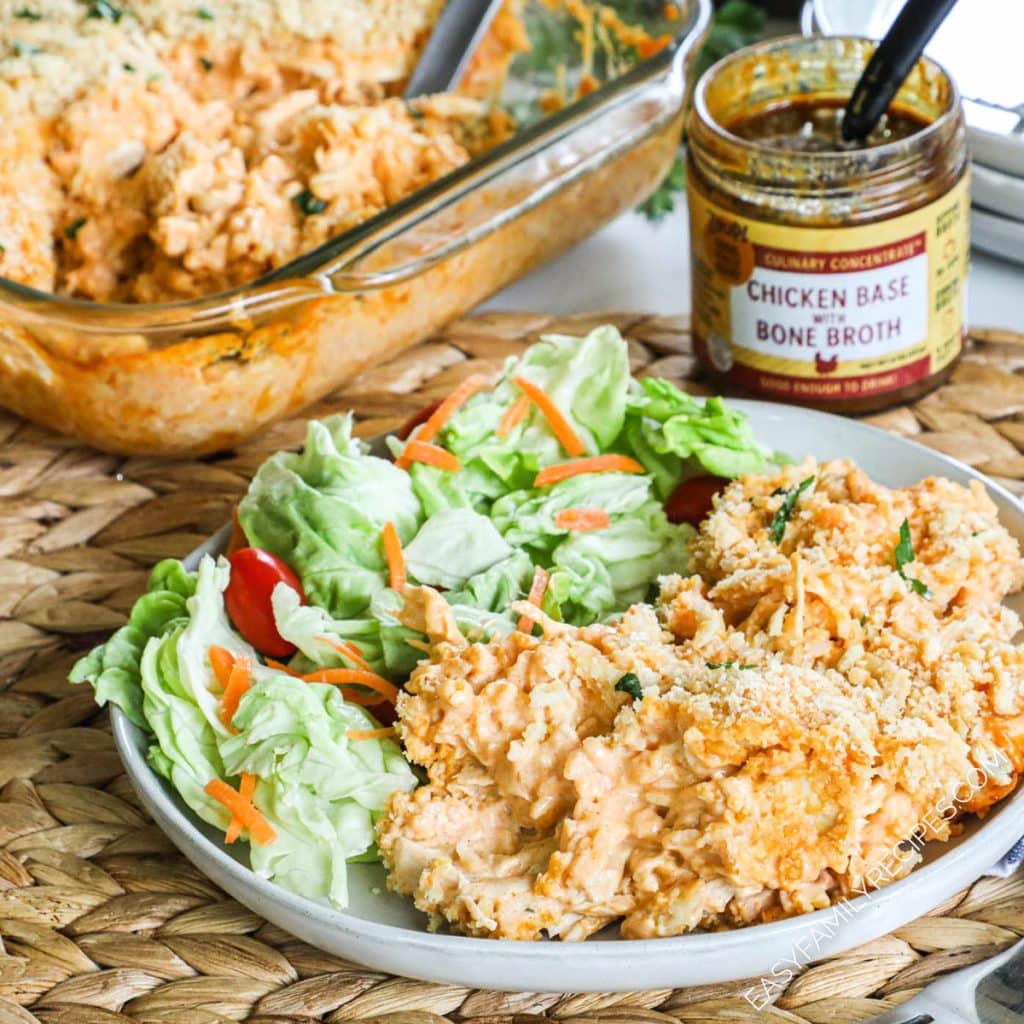 What to Serve with Buffalo Chicken and Rice Casserole
Since this dish has the classic flavors of creamy chicken and rice, it will pair well with many of your favorite comfort food side dishes. There are both classic options and some healthy options to keep it light.
Side Dish Ideas
You can choose one or add a few sides to make a wholesome, well-rounded dinner.
Recipe Notes
This Buffalo Chicken Rice Casserole recipe is as simple as promised! Just a few ingredients and one casserole dish for a family-friendly meal.
In this section I am going to go through a few tips and tricks I use when making this recipe to get the absolute best and most delicious results.
Make sure to scroll to the bottom for the FULL recipe card.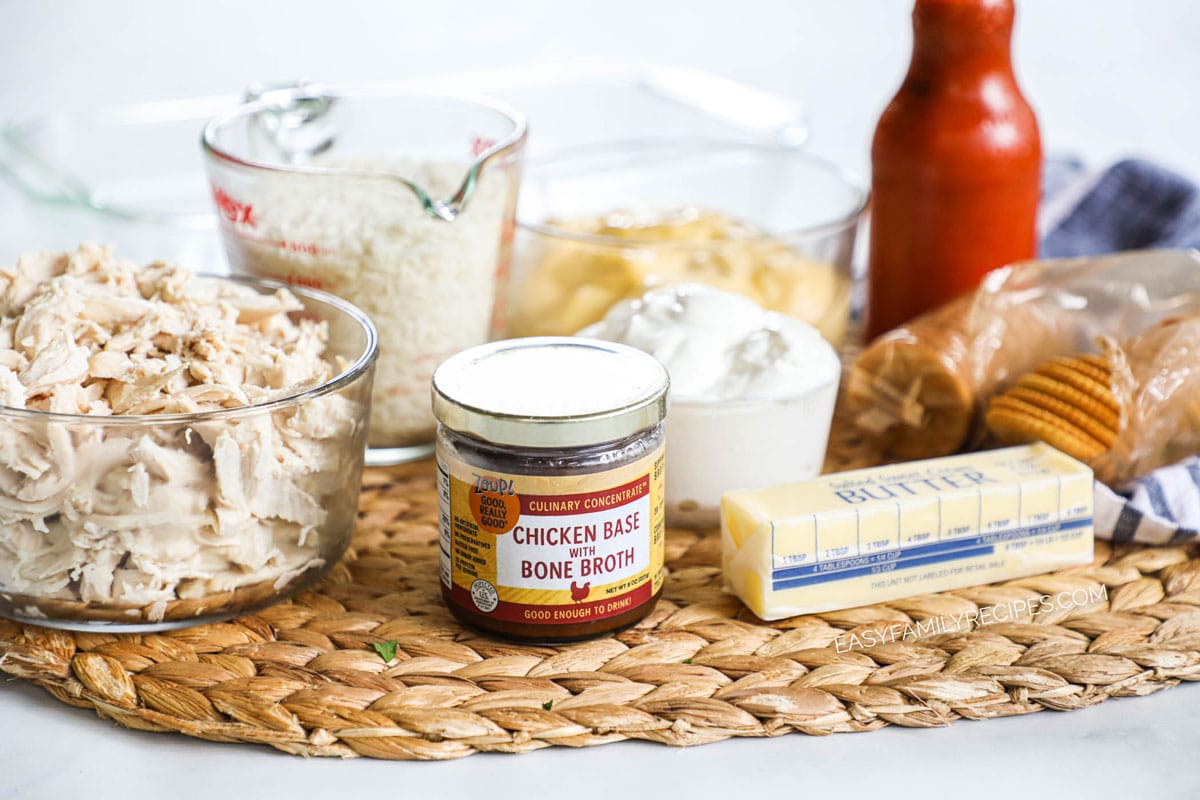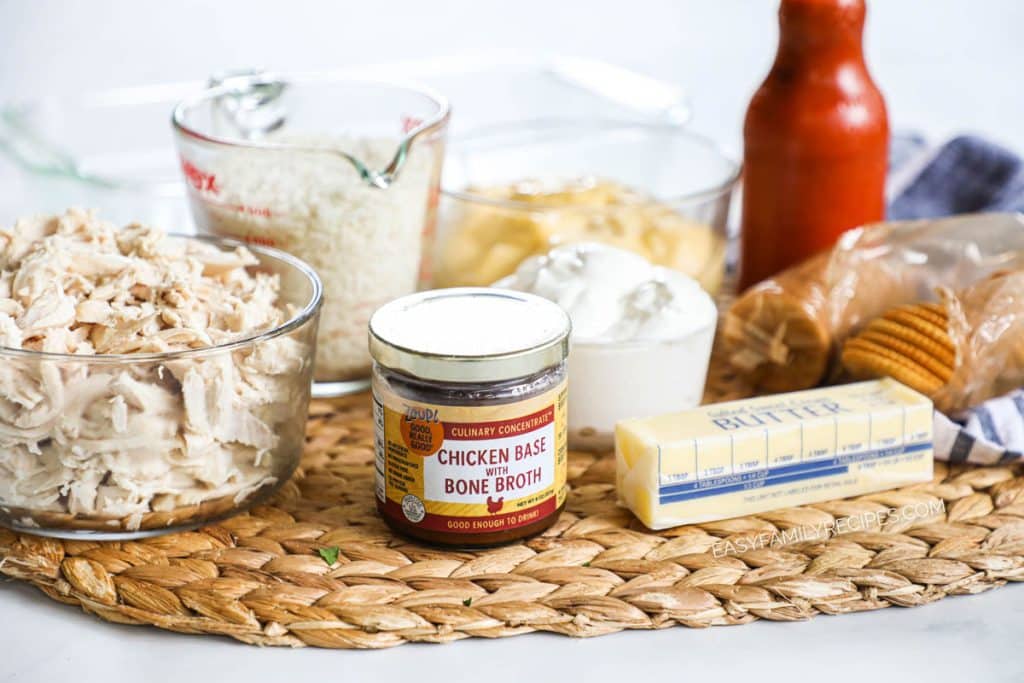 Ingredients + Substitutions
Cream of chicken soup– This creates the creamy base for the casserole. I use the classic cream of chicken soup, but you could also use the low fat version.

Sour cream- I use regular, but you can use light as a substitute.

Buffalo sauce– Make sure to grab buffalo sauce (not just hot sauce) for a more authentic buffalo flavor. You can adjust the amount for more or less kick.

Zoup! Culinary Concentrate™ Chicken Base with Bone Broth– The real MVP of the recipe! This super-premium, small-batch broth concentrate features an incredibly rich chicken taste. You can use it to add homemade flavor to recipes like this one or to make a delicious sipping broth. In addition to chicken, the lineup also includes beef and savory vegan bases, and each is packaged in economical, 8oz recyclable glass jars that create up to 10 quarts of broth! Made with clean ingredients, the products are also lower in sodium and higher in protein than the competition and contain no artificial flavors or ingredients, no preservatives, no inexpensive fillers, and no added sugar. They're also paleo and keto friendly, plus completely free of GMO's, gluten, and the eight major allergens.

I have talked about Zoup! products before, especially their chicken broth since it is one of my favorites to use in recipes! The products were developed by a 20+ year soup industry veteran and the team behind Zoup! Eatery. The broth lineup includes new seafood broth and new spicy chicken bone broth, original and low sodium chicken broth, veggie broth, chicken and beef bone broth, plus certified organic chicken and veggie broth.

You can purchase Zoup! Good Really Good® Culinary Concentrates™ and Broth at retailers across the country and online at ZoupBroth.com and Amazon.com. Use my coupon code 20EASYFAMILY for 20% off your Zoup! order on Amazon (one time use!)

Quick cooking rice– It is very important to use quick cooking rice in the casserole as the liquid ratio and the cooking time is based on this type of rice. I use regular white quick cooking rice, but you can also use brown.

Shredded chicken- This recipe is perfect for leftover chicken, rotisserie chicken, or you can bake, boil, or grill chicken for this recipe. Basically any neutrally flavored chicken can be shredded or cubed and used in this recipe.

Buttery crackers- Use your favorite buttery crackers and crush them up for the topping.

Butter- Make sure your butter is melted so it evenly coats the cracker crumbs so they get nice and flavorful and crispy.

Chopped fresh parsley– Use this as a garnish if you want a little color. It is totally optional!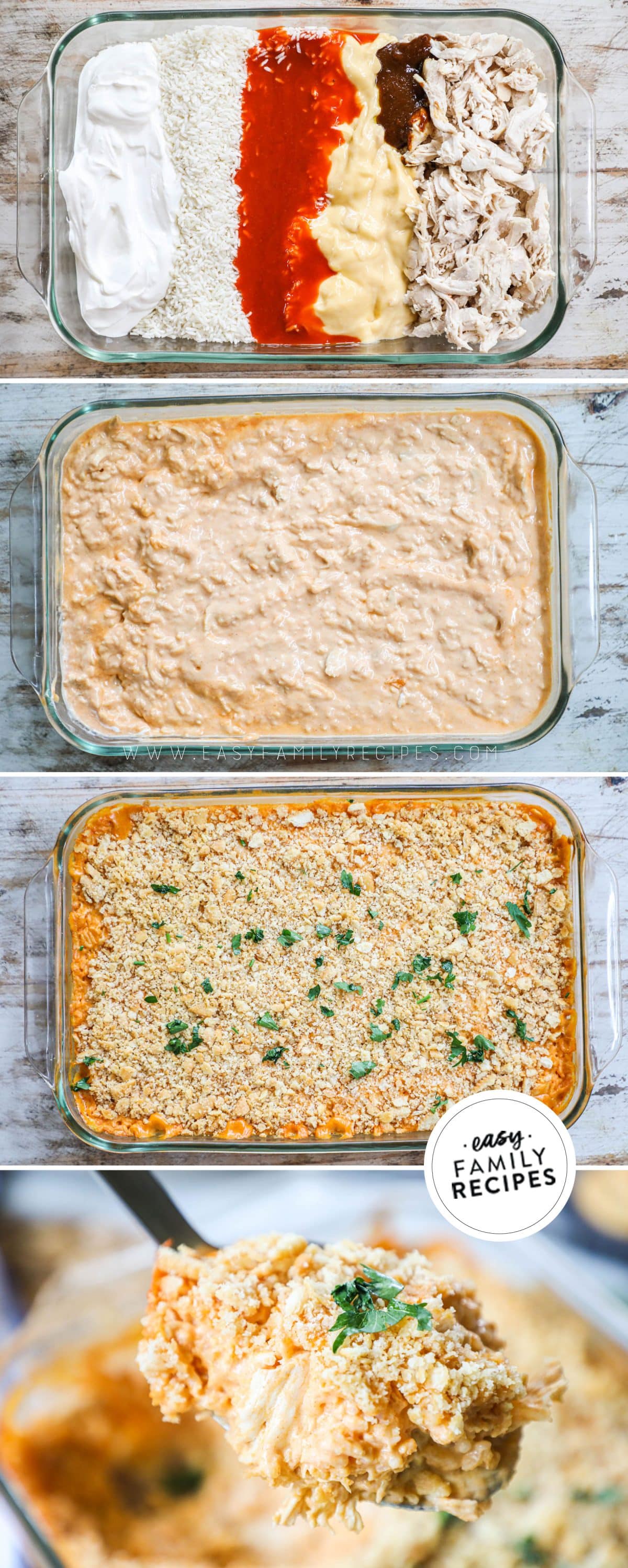 Recipe Tips
Use QUICK COOKING RICE – I mentioned it above, but it is worth saying again because I get the question so often. This recipe is made for quick cooking rice. You can use Minute brand, or a store brand, but it needs to be quick cooking. If you want to use another variety of rice, you will likely need to change both the amount of liquid and the cooking time so that you get a good result.

Zoup! Culinary Concentrate™ Chicken Base with Bone Broth– This adds SO MUCH FLAVOR! It makes a huge difference in the final dish and takes it from something that would be average to a dinner that is really flavorful and amazingly delicious!

Adjust the heat– I have this casserole balanced to what our family thinks is the perfect amount of heat, but you can ramp the spiciness of the buffalo flavor up or down to get more (or less buffalo flavor). The recipe calls for 3/4 cup of buffalo sauce. You can use as little as 1/4 cup to reduce the heat and buffalo flavor or go up to one 1 whole cup to add more heat.

Crushed Cracker topping– This topping is my family's favorite part of the casserole! It is buttery, crispy, and ridiculously delicious! To make it easy and mess free, I dump the crackers in a zip top bag, then use a rolling pin to crush them into small crumbs and add the butter right in the bag and mix. Then you can just pour them right over the top of the casserole
Recipe Short Cuts
If you need to make this recipe, but are extra short on time, here are a few ideas that can help make this recipe even faster!
Use rotisserie chicken– using chicken that is already cooked and ready makes this recipe super quick and easy to assemble.
Assemble ahead of time– The casserole can be assembled up to the point of adding the cracker crumb topping up to 24 hours in advance and then stored in the fridge until ready to bake. Using this method, you will need to add 5-10 minutes to the cook time since you will start the baking from a colder temperature.
Make as a freezer meal– See directions below to prepare this up to 6 months in advance.
Recipe Variations
If you love this recipe as much as we do and want some quick ways to change it up for variety, these little tips will do the trick!
Buffalo Chicken Rice Casserole with Broccoli– Mix in 12 ounces of fresh or frozen broccoli florets to the creamy rice mixture then proceed as directed.

Buffalo Chicken Rice Casserole with Cauliflower Rice– Replace the 2 cups of quick cooking rice with 4 cups of cauliflower rice. Reduce the 1 3/4 cup water to 1/2 cup water. Continue as directed.

Cheesy Buffalo Chicken Rice Casserole– Make recipe as directed. Instead of cracker crumbs, cover the top of the casserole with cheddar or Colby jack cheese. Optional- sprinkle blue cheese crumbles over the top of the cheddar cheese. Bake as directed.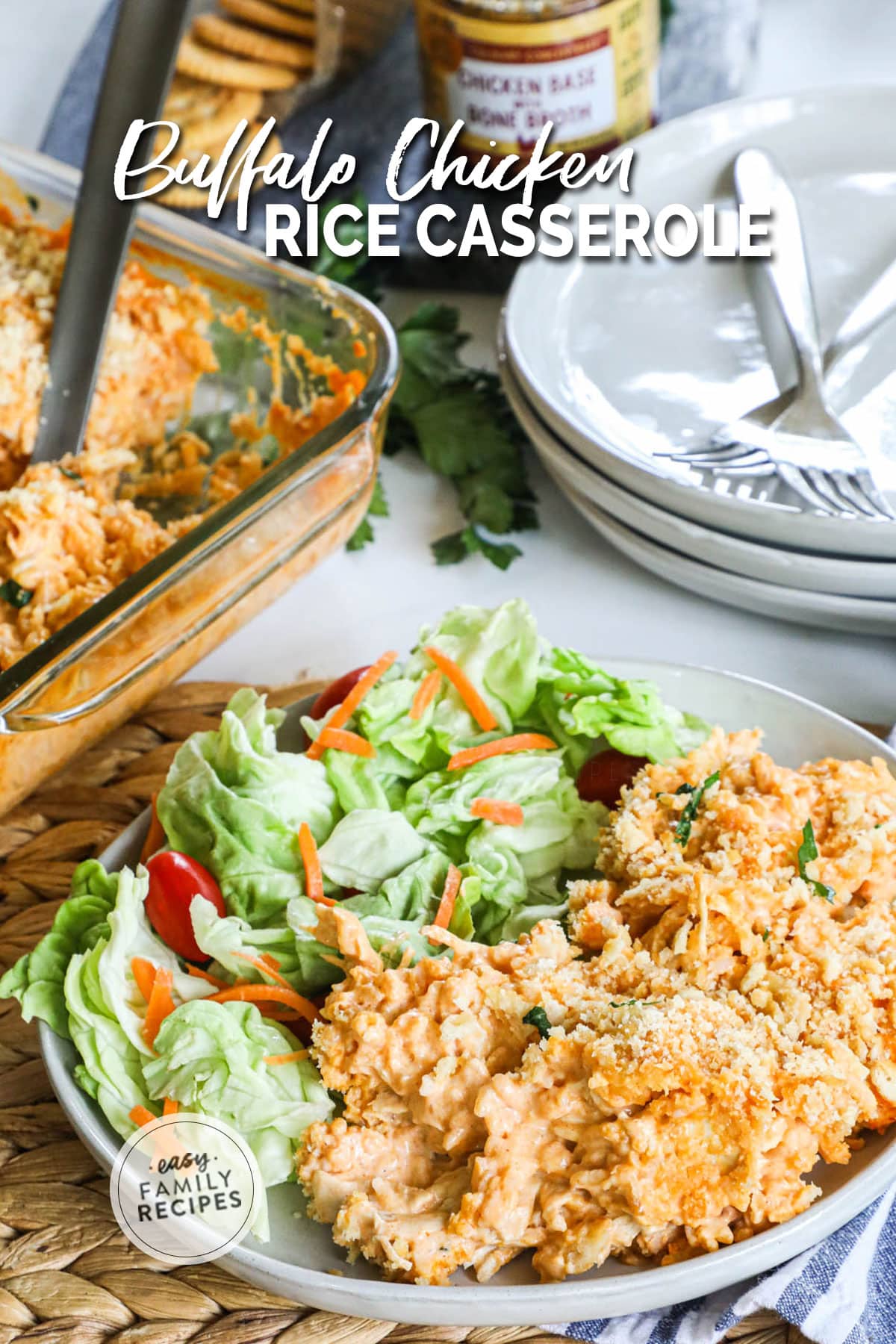 Freezer Meal Instructions
Making this Buffalo Chicken Rice Casserole recipe into a freezer meal is simple! Follow the steps below and you can store this recipe in the freezer for up to 6 months.
Stir together the cream of chicken soup, water, sour cream, buffalo sauce, and Zoup! Culinary Concentrate™ Chicken Bone Broth in a large bowl. Then stir in the rice and once combined, stir in the chicken. Spread in a 9×13″ casserole dish or place into a zip top freezer bag.
Cover the casserole dish tightly with plastic wrap, then aluminum foil, or press all air from the freezer bag and seal.
Freeze.
Once ready to cook, thaw the casserole mixture 24-48 hours in the fridge. If in a zip top bag, spread in a casserole dish.
Finish with cracker topping per recipe directions and bake as directed. You may need to add 5-10 minutes to the cooking time.
Buffalo Chicken Rice Casserole Leftovers
If you have leftovers after making this easy casserole, then it is your lucky day! They save and reheat well, and can make the start of another delicious dish.
To save leftovers, separate into meal sized portions and then place in an airtight container and store:
in the refrigerator for 3-4 days
in the freezer up to a month
Leftover Recipes
Here are a few ways to repurpose those leftovers and give them a delicious makeover!
Buffalo Chicken Stuffed Peppers– Split sweet bell peppers (any color) in half and deseed them. Lay the peppers in a baking dish and fill with leftover buffalo chicken rice casserole and sprinkle cheese over the top. Pour 1 cup of water, or Zoup! Chicken Bone Broth in the bottom of the dish. Bake at 400˚F for 25-35 minutes or until the peppers are tender and the chicken and rice is heated through.

Buffalo Chicken Baked Burritos – Place a scoop of buffalo chicken rice casserole in the center of one or more large flour tortillas. Fold the ends in and roll each tortilla tightly and place on a baking sheet seam side down. Brush lightly with cooking oil and then bake at 400˚F for 20-30 minutes, flipping half way through baking. Optional- Mix sour cream and buffalo sauce and drizzle it over the top of the burritos once done.
More EASY Casserole Recipes
If you enjoyed this recipe, I really hope you will take a moment to grab a few more easy recipes for another busy night!
You can check out all of my Easy Casserole recipes here, or see a few of our readers favorite recipes below.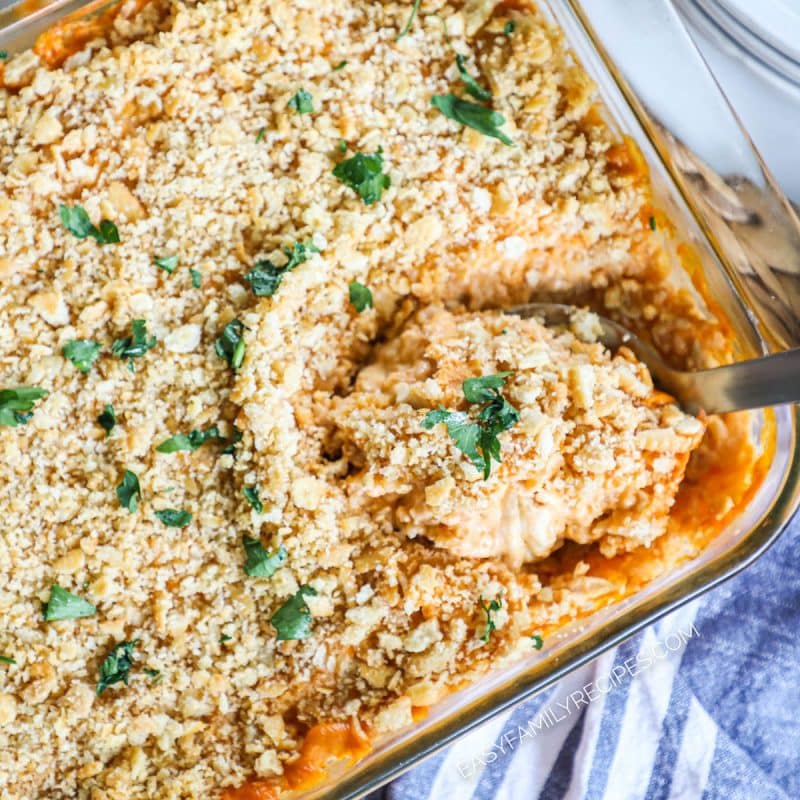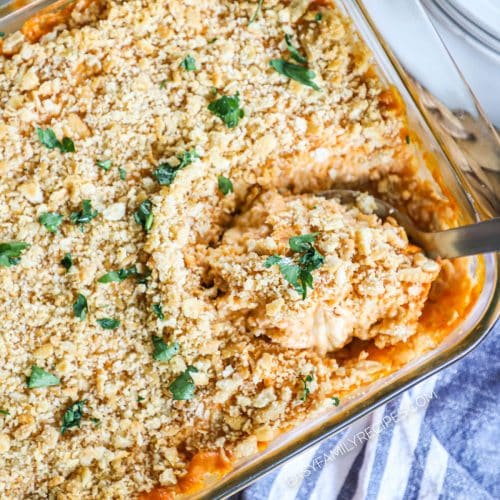 Buffalo Chicken Rice Casserole
This Buffalo Chicken Rice Casserole is comfort food at its finest! Loaded with tender chicken and rice all nestled in a creamy buffalo sauce and topped with a buttery cracker topping, this casserole is a huge win for flavor and ease!
Ingredients
2

cans

cream of chicken soup

,

(2- 14.5 oz cans, or 1 large can)

1 3/4

cups

water

1

cup

sour cream

3/4

cup

buffalo sauce

2

cups

quick cooking rice

,

(Uncooked)

4

cups

shredded chicken

,

or chopped

1 1/2

sleeves buttery crackers

,

crushed

1/4

cup

butter

,

melted
Instructions
Preheat the oven to 350˚F.

Stir together the cream of chicken soup, water, sour cream, buffalo sauce, and Zoup Chicken Base in a large bowl. Then stir in the rice and once combined, stir in the chicken. Spread in a 9×13" casserole dish.

Crush the buttery crackers into a fine crumb. Mix the butter into the crumbs until evenly coated. Spread crumb mixture in a thin layer on top of the casserole.

Bake for 40-50 minutes, or until the edges start to bubble.

Garnish with fresh parsley and serve warm. Enjoy!
Recipe Notes
Adjust the spiciness of the casserole by reducing the the amount of buffalo sauce to as little as 1/4 cup to make it less spicy, or increase the amount of buffalo sauce to up to 1 cup to make it more spicy.
Nutrition Information
Calories:
379
kcal
(19%)
,
Carbohydrates:
25
g
(8%)
,
Protein:
22
g
(44%)
,
Fat:
21
g
(32%)
,
Saturated Fat:
9
g
(56%)
,
Polyunsaturated Fat:
2
g
,
Monounsaturated Fat:
6
g
,
Trans Fat:
0.2
g
,
Cholesterol:
91
mg
(30%)
,
Sodium:
1491
mg
(65%)
,
Potassium:
244
mg
(7%)
,
Fiber:
0.4
g
(2%)
,
Sugar:
2
g
(2%)
,
Vitamin A:
524
IU
(10%)
,
Vitamin C:
0.3
mg
,
Calcium:
58
mg
(6%)
,
Iron:
3
mg
(17%)